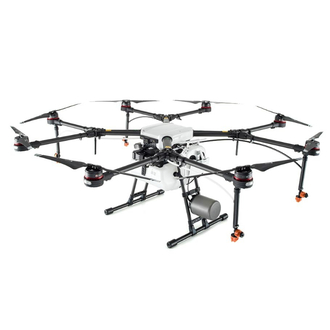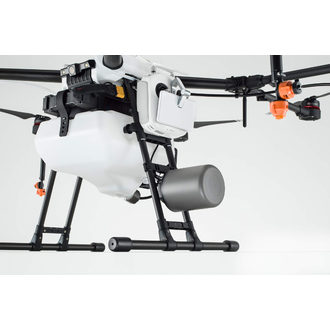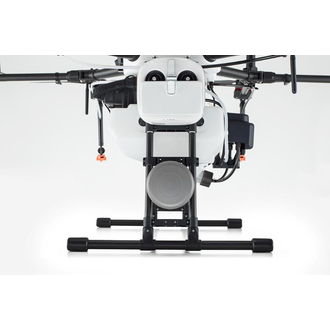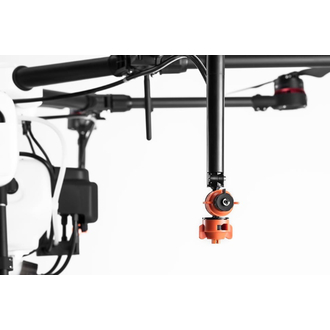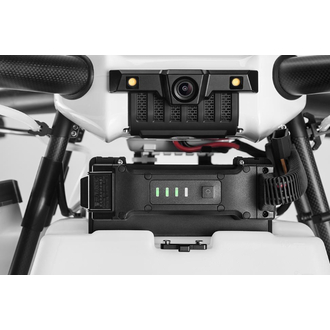 DJI Agras MG-1P (Complete Combo)
The Agras MG-1P is the latest in agricultural spray drones from DJI. The MG-1P offers upgraded high-precision radar obstacle avoidance and height management system, Integrated FPV camera with a spotlight and improved drip-free spray heads.
---
Features
The DJI Agras MG-1P is an octocopter designed for precision variable rate application of liquid pesticides, fertilisers and herbicides, bringing new levels of efficiency and manageability to the agricultural sector. The powerful propulsion system enables the MG-1P to carry up to 10kg of liquid payload, including pesticide and fertiliser. An area of 4,000-6,000 m² can be covered in just 10 minutes, approximately 40 to 60 times faster than manual spraying operations. It has a very long flight time of 20 minutes with a fast turn-around for refills.
High-Precision Obstacle Avoidance Radar Module
The high-precision obstacle avoidance radar allows for detection of obstacles in front of, or behind the aircraft at a distance ranging from 1.5 to 30 meters. While flying over fields with complex terrain conditions, the aircraft will alert the pilot when it detects an object. It will automatically hover in front of the obstacle and pause the operation.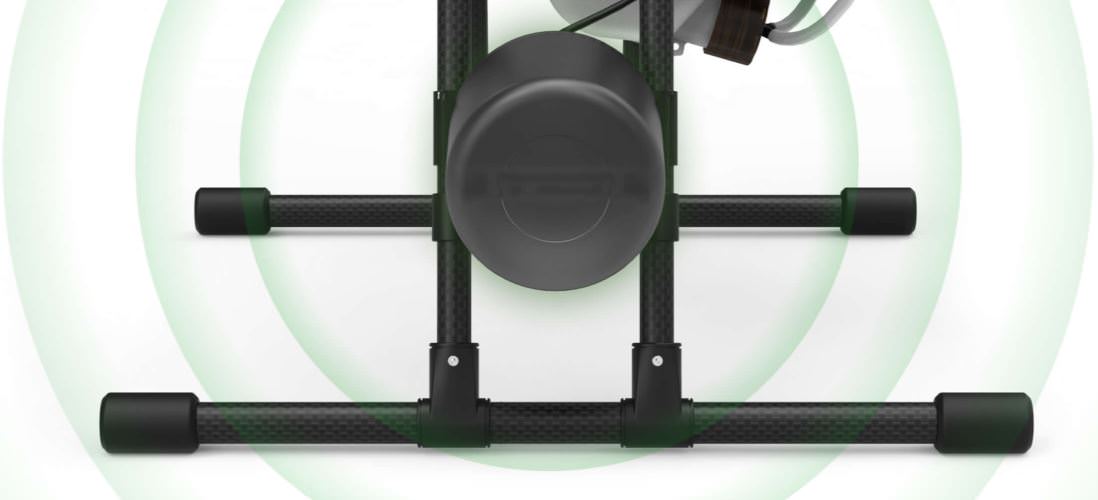 FPV Camera
MG-1P series drones are equipped with 123° FOV wide-angle cameras that transmit clear, front-facing live views. For long distance operation, the remote controller's built-in display indicates obstacle avoidance information to ensure safety. With the help of the FPV camera feed, users can effortlessly record A/B points or waypoints, increasing work accuracy and efficiency.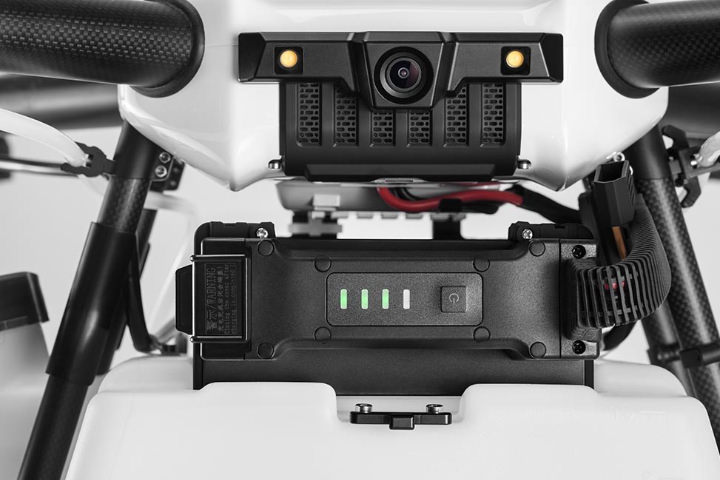 Efficient Management
With the DJI Agriculture Management Platform, the DJI Agras MG-1P allows users to check aircraft status and closely monitor the operation. It also makes it more convenient to manage aircraft and operators, check the land, and allocate operation tasks, making for more efficient team management. Sharing field plan files can help pilots avoid repeated labour, and the new optimized Banked Turning mode improves flight operation efficiency.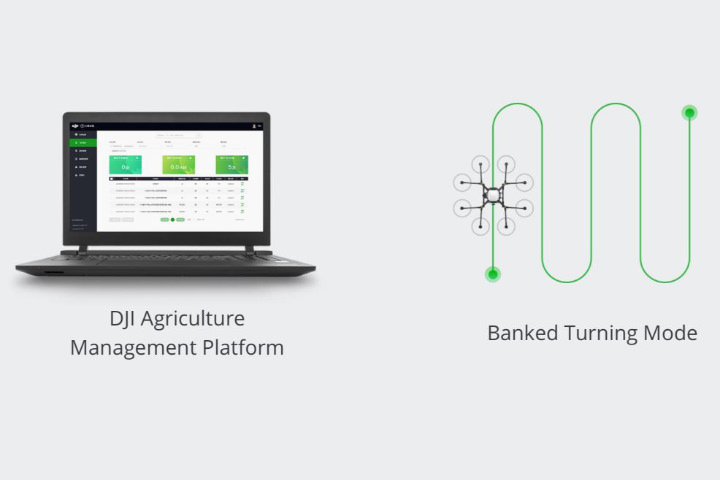 Intelligent Planning
Route Planning - Users can plan, edit, and change flight routes.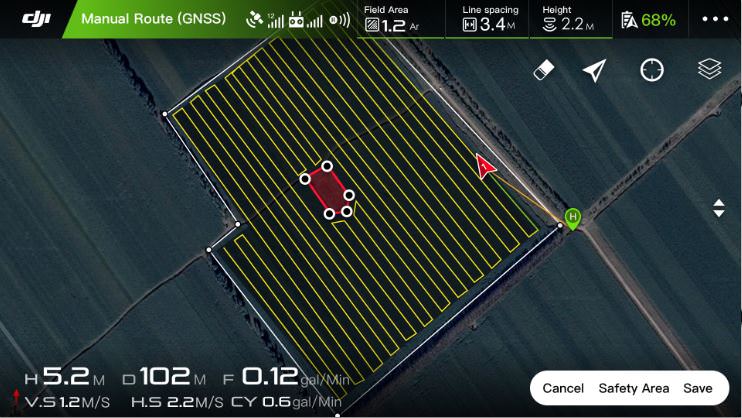 Spraying Parameters - Users can easily set and adjust pesticide usage. You can also choose between Efficient mode and Intensive Spraying mode for different operational needs.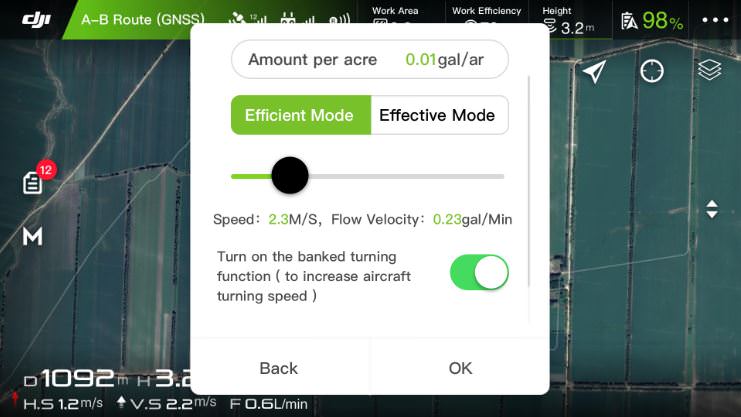 Mapping - Through GS Pro, you can acquire real-time aerial images of the fields, set plant protection tasks, and export the tasks to your agricultural drones to begin a process automatically, making planning and operation more efficient.
Advance Flight Controller
Highly optimized algorithms allow flight controllers to adapt to various agricultural applications and provide stable flight control even when payloads shake during flight.
E Series Propulsion Systems
The E Series propulsion systems communicate with the A3-AG 2.0/N3-AG 2.0 flight controller in real-time, making immediate intervention possible. Short-circuit protection, interrupted motor protection, overcurrent and overvoltage protection, efficient cooling, and other functions allow for stable and reliable flight. Dustproof, waterproof, and anti-corrosion features make plant protection operations possible even under harsh environmental conditions. Strong payloads allow for more possibilities for agricultural applications.
Precision Operation
control the front pair and rear pair of nozzles separately. There are now different spraying modes available including forward, backward, and full spraying. The new pressure and flow sensors monitor the spraying rate in real-time, exerting control over the speed and amount sprayed during use. Nozzles can also be used to attach extended spray booms.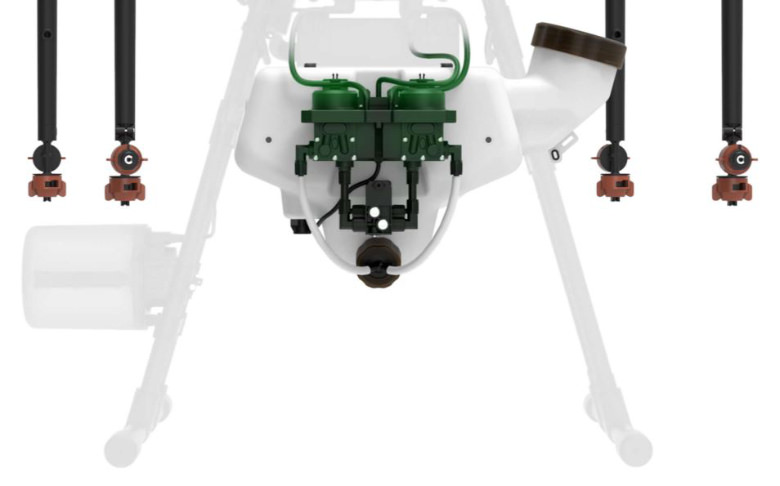 Safe and Reliable
The upgraded flight controller, propulsion system, radar, and obstacle avoidance modules have greatly improved the safety of the DJI Agras MG-1P Complete Combo.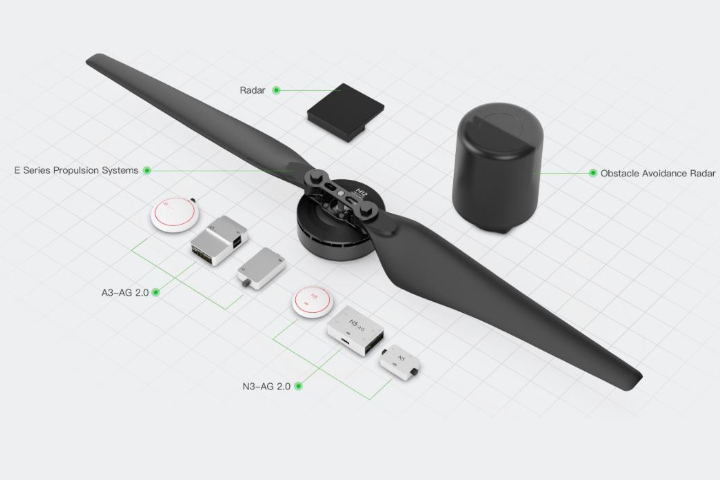 The Agras MG-1P is the latest generation of 10kg payload agricultural spray drones from DJI. This craft is specifically designed for automated operations to spray herbicides and pesticides in an accurate, efficient and repeatable manner. Amongst various other upgrades, the latest MG-1P version offers three key advantages over previous models: Upgraded high-precision radar obstacle avoidance and height management system, Integrated FPV camera with spotlights for night operation and improved drip-free spray heads.
Get in contact with our expert Agras team at Ferntech to discuss your drone spraying operation, or find out when our next demo will be performed.
Product Specifications
AIRCRAFT FRAME
Diagonal Wheelbase:
1500 mm
MG-1P: 1460×1460×578 mm (arms unfolded, without propellers)
780×780×578 mm (arms folded)
MG-1P RTK: 1460×1460×616 mm (arms unfolded, without propellers)
780×780×616 mm (arms folded)
FLIGHT PARAMETERS
Total Weight (without battery):
9.7 kg
Standard Takeoff Weight:
23.8 kg (MG-1P)
23.9 kg (MG-1P RTK)
Max Takeoff Weight:
24.8 kg (at sea level)
Max Thrust-to-Weight Ratio:
1.71 (with 23.8 kg takeoff weight)
Power Battery:
Designated DJI Battery (MG-12000P)
Max Power Consumption:
6400 W
Hovering Power Consumption:
3800 W (with 23.7 kg takeoff weight)
Hovering Time:
20min (@12000 mAh & 13.7 kg takeoff weight)
9 min (@12000 mAh & 23.7 kg takeoff weight)
*Hovering time acquired at sea level, with wind speeds lower than 3m/s.
Max Operating Speed:
7 m/s
Max Flying Speed:
12 m/s(P & F mode, with GPS),
15 m/s (A mode)
Max Service Ceiling Above Sea Level:
2000 m
Recommended Operating Temperature:
0 to 40°C
AIRCRAFT RTK
Positioning System:
GPS+GLONASS (global) or GPS+Beidou (Asia-Pacific)
Frequency Point:
GPS L1&L2, GLONASS F1&F2
Asia-Pacific: GPS L1&L2, Beidou B1&B2
Positioning Accuracy:
Flat Surface: 1 cm + 1 ppm
Orientation Accuracy:
(0.2/R) °R is the distance between two antennas and the unit is a meter.
Velocity Measurement Accuracy:
0.03 m/s
HIGH-PRECISION RADAR MODULE
Working Frequency:
MIC & KCC: 24.05 GHz - 24.25 GHz
SRRC & CE & FCC: 24.00 GHz - 24.25 GHz
Equivalent Isotropic Radiated Power (EIRP):
MIC/KCC/FCC/CE: 20dBm; SRRC: 13dBm
Operating Temperature:
-10 to 40°C
Radar Dimensions:
109×152 mm
Power Input:
DC 12 V – 30 V
If storing < 3 months: -20 to 45°C;
If storing > 3 months: -0 to 28°C
Hold Altitude & Terrain Follow:

Altitude Measurement Range:
1-30 m;
Hold Altitude Range: 1.5-3.5 m
Obstacle Sensory Range:
1.5-30 m
(Varies according to the material, position, shape, and other properties of the obstacle)
Working Condition:
The aircraft's relative altitude is greater than 1.5 m and flying speed is less than 7 m/s.
Obstacle Avoidance Direction:
Forward and backward obstacle avoidance according to flying directions
SPRAY SYSTEM
Standard Operating Payload:
10 kg
Max Battery Size:
151×195×70 mm
Model:
XR11001VS (0.379 L/min)
Recommend Model:
TX-VK8 (0.525L/min)
Droplet Size (XR11001VS):
130 - 250 μm (subject to the working environment and spraying speed)
REMOTE CONTROLLER CHARGER
REMOTE CONTROLLER
Operating Frequency:
2.400 - 2.483 GHz (Europe, Japan, South Korea)
5.725 - 5.850 GHz (China, USA)
Max Transmission Range:
NCC/FCC: 5 km;
SRRC/CE/MIC/KCC: 3 km
CE/MIC/KCC:<20 dBm;
5.8GHz:
SRRC/NCC/FCC:<26 dBm;
Remote Controller Battery:
External Battery 4920mAh, 2s LiPo
Built-in Battery 320mAh, 2s LiPo
Operating Temperature Range:
-10 to 40°C
Storage Temperature Range:
If storing < 3 months: -20 to 45°C
If storing > 3 months: 22 to 28°C
Charging Temperature Range:
5 to 40°C
REMOTE CONTROLLER CHARGING HUB
MG INTELLIGENT BATTERY CHARGER
Rated Input Voltage:
100-240 V
Number of Batteries Available for Simultaneous Charging:
2
Rated Output Voltage:
50.4 V
Total Output Power:
2400 W
In the box
The Agras MG-1P Complete Combo Includes:
Aircraft Body (with Propeller Holders) x 1
Left Landing Gear Leg x 1
Right Landing Gear Leg x 1
Remote Controller x 1
Remote Controller Intelligent Battery (WB37) x 2
Charging Hub x 1
Remote Controller Lanyard x 1
AC Power Adapter x 1
AC Power Cable x 1
Micro USB Cable x 1
USB-C Cable x 1
USB-C OTG Cable x 1
Propeller Blade Pair (CW) x 2
Propeller Blade Pair (CCW) x 2
Propeller Holder x 4
Motor Protector Ring x 2
Power Plug x 1
Hex Keys (2mm x 1, 2.5mm x 1, 3mm x 1)
Screws, Bolts, Nuts, and Washers (M3 x 10, M3 x 18, M3 x 22, M1.6 x 3 (Phillips), Propeller Washers, M4 bolts & Nuts)
Manuals
Agras MG-1P Battery x 4
Spraying System
Spray Tank x 1
Sprinkler x 4 (With XR1100VS Nozzles)
Hose Clip x 5
Fender x 1
Radar Module x 1
Radar Bracket x 1
Measuring Cup x 1
Screws and Nuts
WHY BUY FROM US?
By buying from Ferntech, you'll have the confidence that you are dealing directly with New Zealand's leading drone experts. Our staff are knowledgable drone pilots who offer expert advice, trusted support and superior specialist service. Only through us will you receive a full New Zealand warranty, phone and email support, and access to our certified Repairs Centre with DJI-qualified drone technicians. And we guarantee that we will have the best prices on the market — if not let us know and we will match any price (conditions apply).
Warranty Details
MC: 12 Months
Gimbal Camera: 6 Months
Vision Positioning System: 6 Months
Propulsion system (excluding propellers): 6 Months
Remote Controller: 6 Months
Battery: 6 Months and Charge Cycle less than 200 Times
Battery Charger: 12 Months
Frame: No warranty
Propeller: No warranty
1. How can a single controller be used to control multiple MG-1P aircraft?
Link an RC with up to 5 aircraft in the app and edit flight paths in the Multi-Aircraft Control interface. The process is the same as Auto Operation mode. Users can also choose one aircraft and make it controllable in the app or with an RC. Afterwards, the aircraft can be controlled with the control sticks and buttons and the FPV camera feed of this aircraft will also be shown on the screen.
2. What aircraft models are compatible with Multi-Aircraft Control mode?
Currently, only the MG-1P series are compatible with Multi-Aircraft Control mode.
3. Is there any possibility of collision when multiple aircraft are being controlled by a single controller?
No. The aircraft support flight status broadcasting, where aircraft can actively avoid each other during flight without the risk of collision.
4. What are the advantages of having an FPV camera?
By providing clear video feeds, FPV cameras not only help users to avoid obstacles from a distance but also records waypoints and A/B points on the flight to replace the less efficient manual waypoint recording.
5. Can the FPV camera videos be saved?
No. The video transmissions are displayed to users in real time and cannot be saved.
6. How can the FPV camera be used to record flight waypoints?
In the app, tap "Waypoint Recording", fly the drone to the edge of a field, and finish waypoint recording. After all the waypoints have been recorded, fly the drone back to the recorded calibration point. The process is similar to Field Plan mode, except that the drone has replaced manual waypoint recording.
7. What's the difference between the battery/charger for the MG-1P and MG-1S? Are they cross-compatible?
The battery plugs have been combined from two into one, making the battery easier to use. The battery plug and charge balancing plug can both be replaced on the battery. If any problems occur with the plugs, they can be replaced easily. The plugs' protection has also been improved, protecting them from chemical erosion to improve their service life. Once the new battery has been fitted with a balancing cable, the MG-1S charger can be used to charge it.
8. What are the differences between the MG-1P and MG-1S remote controllers?
The MG-1P remote controller extends the controllable range to 3 km, with 4G connectivity, interchangeable batteries and redesigned antennas for convenient operation and maintenance. Moreover, the Operation Mode Switch and C3/C4 buttons have been removed, and there have been additional changes to both the appearance and hardware inside the remote controller. The two remote controllers are not cross-compatible.
9. What's the difference between the MG-1P RTK and MG-1P?
The MG-1P RTK brings positioning precision to a centimetre-level and thus delivers better spraying results. Dual-antenna technology brings strong electromagnetic interference resistance and ensures flight safety even when the MG-1P is flying in complex environments, such as near high-voltage power lines.
There's currently no reviews for this product, be the first to write one.