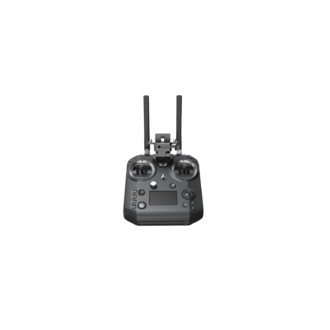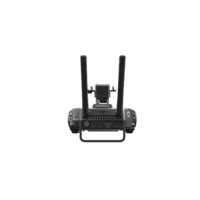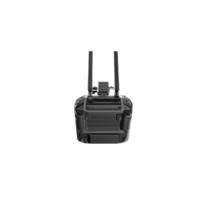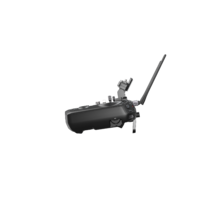 DJI Cendence Remote Controller for Inspire 2 & Matrice 200 Series V1
Or 4 interest-free payments of $474.75 with
Learn more.
The Cendence remote controller is a professional-grade, customizable remote controller designed for full integration with other advanced DJI products like the Inspire 2 and CrystalSky monitor.
---
Features
Cendence offers modular components and controls that realize the full potential of Inspire 2 applications. It provides up to five analog control channels with over ten customizable buttons, improving overall control efficiency. Its design offers antenna interchangeability where a high-gain antenna can augment the power of DJI Lightbridge technology, significantly increasing overall anti-interference and image quality. Cendence comes with the fully integrated Cendence Monitor Mounting Bracket and HDMI, SDI, USB, and CAN ports provide robust expansion capabilities.
The CrystalSky monitor mounts to the Cendence remote controller via the Cendence Monitor Mounting Bracket.
The Cendence remote controller's antennas, PCB, mounting bracket, and battery are all detachable, making its
hardware easily upgradable, allowing you to customize the controller for compatibility with future DJI aircraft.
Highlights
Dual Operator Control
When precision camera control is required, Cendence can connect either as a Master or Slave controller
with the Inspire 2's remote controller or another Cendence remote controller.
Multiple Ports
1. SDI and HDMI ports support broadcasting at 1080i 50 fps and 720p 60 fps.
2. Connect DJI Focus, or other compatible accessories via the CAN port.
3. The USBA port supports connectivity with other mobile devices
Battery system
The Cendence remote controller uses a detachable battery that operates for up to four hours. If you run out of power, just swap in a charged battery or charge Cendence via the power port. Cendence uses the same batteries as CrystalSky monitor for enhanced product synergy.
Compatibility
Inspire 2
Matrice 200 Series
CrystalSky Intelligent Battery
Cendence - Mobile Device Holder
Product Specifications
Type: GL800A
Operating Frequency: 2.400-2.483 GHz; 5.725-5.825 GHz
Max Transmitting Distance: (unobstructed, free of interference)
2.4 GHz: 4.3 miles (7 km, FCC); 2.2 miles (3.5 km, CE); 2.5 miles (4 km, SRRC)
5.8 GHz: 4.3 miles (7 km, FCC); 1.2 miles (2 km, CE); 3.1 miles (5 km, SRRC)
EIRP:
2.4 GHz: 26 dBm (FCC); 17 dBm (CE); 20 dBm (SRRC)
5.8 GHz: 28 dBm (FCC); 14 dBm (CE); 20 dBm (SRRC)
Power Supply:
Intelligent Battery (Type: WB37-4920mAh-7.6V)
Intelligent Battery
4923 mAh LiPo
Charging: DJI charger
Output Power:
20 W (supplying power to DJI CS550 monitor)
12 W (without supplying power to monitor)
Video Output Ports: USB, HDMI, SDI
USB Supply Power
iOS: 1 A, 5.2 V (Max); Android: 1.5 A, 5.2 V (Max)
Dual User Capability: Master-and-Slave connection
Operating Temperature: -4 ° to 104 °F (-20 ° to 40 °C)
Storage Temperature:
Less than 3 months: -4 °F to 113 °F (-20 °to 45 °C)
More than 3 months: 72 °F to 82 °F (22 °to 28 °C)
Charging Temperature: 32 °F to 104 °F (0 °to 40 °C)
Charging Time: About 2 hours and 24 minutes (using a 180 W charger)
Supply Power Time: About 4 hours (only Master remote controller function enabled and without supplying power to monitor)
Weight: 1041 g
In the box
Cendence Remote Controller x 1
WB37 Intelligent Battery x 1
Cendence Monitor Mounting Bracket x 1
Cendence Remote Controller Support Rig x 1
Screwdriver x 1
Screw x 2
Cendence Control Stick Cover x 2
Cendence Control Stick Cover Mounting Key x 1
Remote Controller Strap x 1
WHY BUY FROM US?
By buying from Ferntech, you'll have the confidence that you are dealing directly with New Zealand's leading drone experts. Our staff are knowledgable drone pilots who offer expert advice, trusted support and superior specialist service. Only through us will you receive a full New Zealand warranty, phone and email support, and access to our certified Repairs Centre with DJI-qualified drone technicians. And we guarantee that we will have the best prices on the market — if not let us know and we will match any price (conditions apply).
Warranty Details
What are the main differences between Cendence and the Inspire 2 and Matrice 200 remote controllers?
Unlike the Inspire 2 and Matrice 200 controllers, Cendence has a built-in ultra bright LCD display monitor. A variety of functions in the app can be activated by customizable buttons on the controller. Operation time is longer, and batteries and antennas are interchangeable. Cendence is better equipped to excel in complex environments and is compatible with DJI's CrystalSky monitor.
Why does Cendence have SDI ports?
Standard broadcasting signal can be exported via SDI ports, which enables Cendence to be used in live broadcasting scenarios.

What are the CAN ports on Cendence used for?
CAN ports allow Cendence to connect to DJI Focus, Tracktenna, or external GPS modules.

Does Cendence support dual operator control?
Yes. You can set one master and one slave controller.

Is the LCD display on Cendence touch screen?
No.

How do I reset the functions of the custom buttons?
You can reset the functions of the custom buttons via the app you are using.

Can Cendence switch between 2.4 GHz and 5.8 GHz frequency bands?
Yes.

Can I refit Cendence myself?
For now, no. However, DJI plans to make SDR and Wi-Fi expansions available soon.

Can Cendence use CrystalSky batteries?
Yes.

What do I do if video transmission signal are weak when using Cendence?
Check if there is any interference in the surrounding area and adjust antenna direction accordingly.

What should I do when Cendence with a 7.85'' CrystalSky monitor becomes too heavy to hold?
We recommend using the Cendence Support Rig to help with heavier payloads.

What is Cendence's video transmission range?
7 km when FCC compliant.

Can I set joystick responsiveness?
Yes.

What are the functions of the LCD display?
The LCD screen displays camera parameters, flight status, remote controller, battery information and more.

Do I need to remove the batteries when charging Cendence?
No.
There's currently no reviews for this product, be the first to write one.