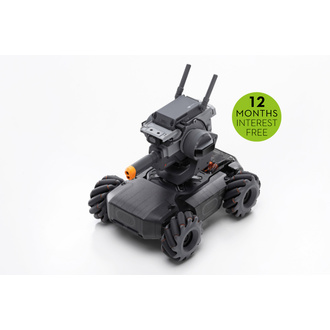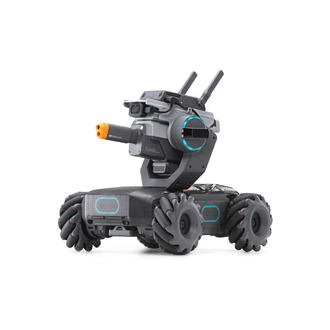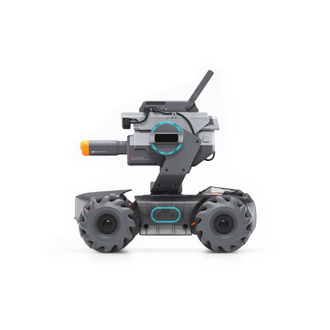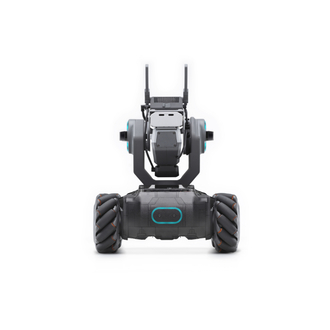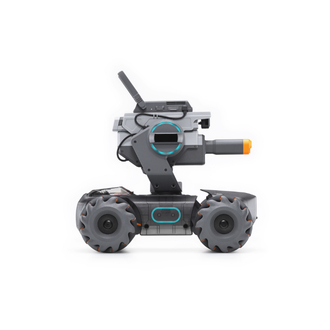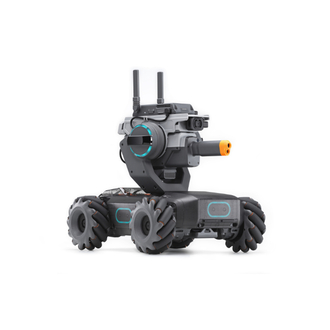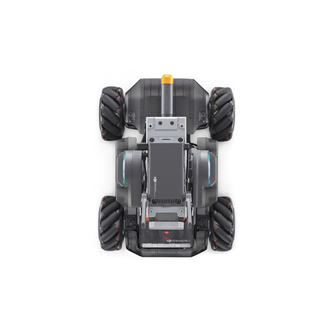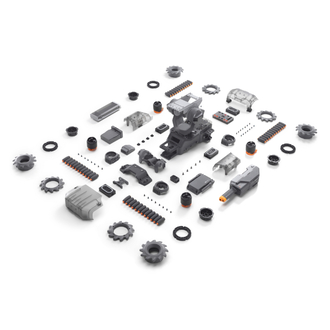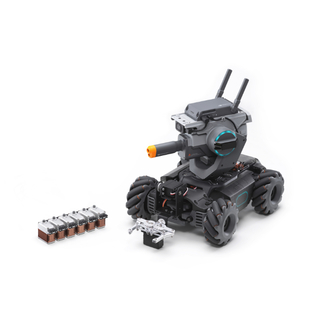 DJI RoboMaster S1
Bonus DJI Robomaster S1 Gamepad Free With Purchase*
WAS $999.00 NOW $799.00
SAVE $200
Offer Ends 30 September 2020
Or 4 interest-free payments of $199.75 with
Learn more.
The RoboMaster S1 is an educational robot built to unlock the potential in every learner. The S1 provides users with an in-depth understanding of science, math, physics, programming, and more through captivating gameplay modes and intelligent features.
---
Features
Learn by Doing
The RoboMaster S1 bridges the digital world with the real one, bringing abstract theories to life through practical operations. The S1 supports Scratch and Python programming languages, allowing users to experience math, physics, and AI technology in a cutting-edge and inspiring way.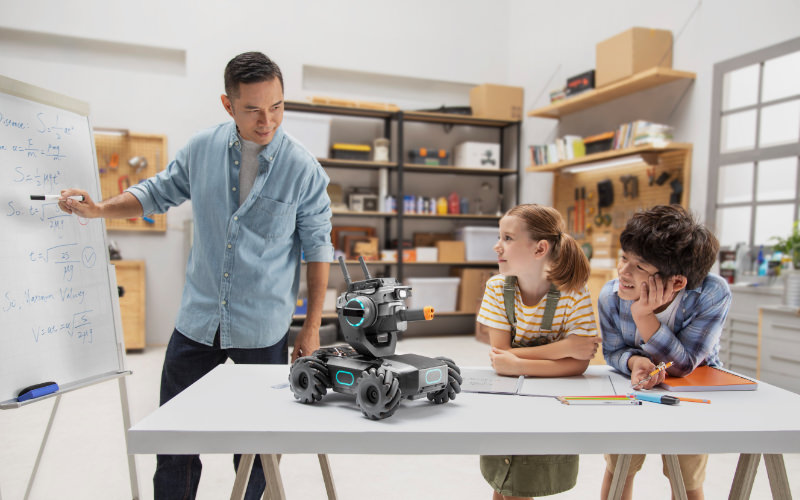 Scratch & Python Programming
The S1 supports the Scratch and Python programming languages. This allows you to take your abilities to the next level, whether you are new to coding or are already on your way to becoming an expert.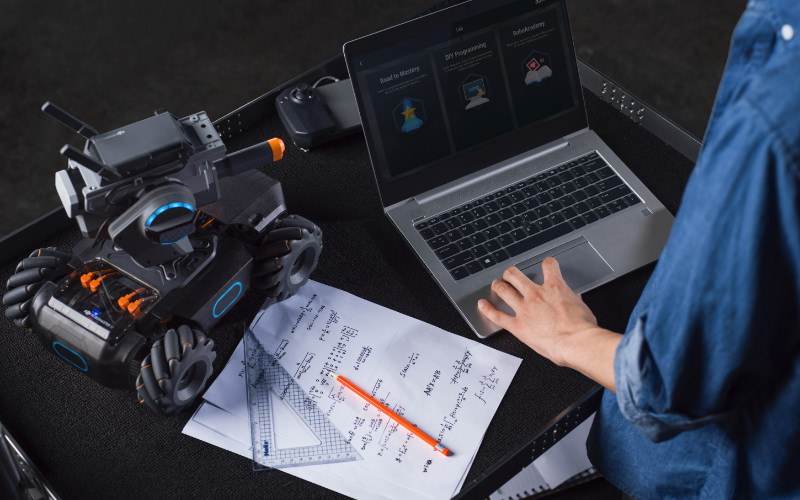 Endless Possibilities
Up to 46 customisable components to give you unlimited space for innovation, helping you grow and learn in an exciting way that expands the capabilities of your S1, and yourself. Six PWM ports to support customised accessories, allowing you to explore the unlimited possibilities of the S1 and the magic of the robotic world.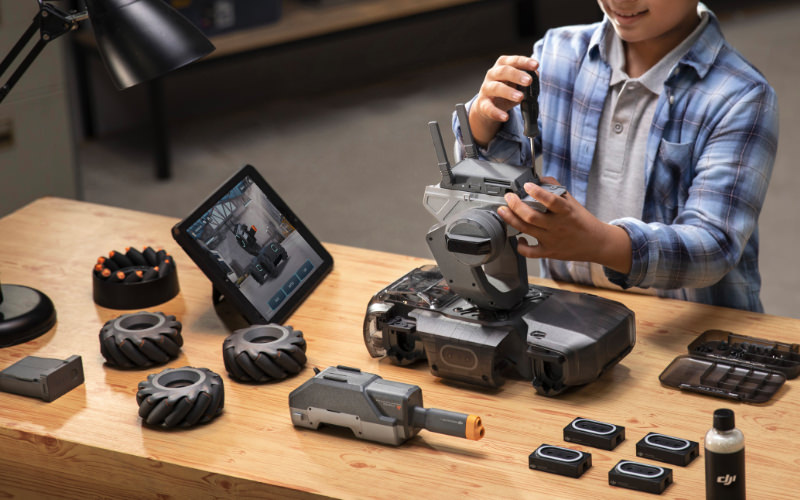 Experience AI Technology
AI technology lets the S1 recognise gestures, sounds, and even other S1 robots. Playing with the RoboMaster S1 opens the doorway to AI learning, giving you a practical introduction to the technologies of tomorrow.
Get Started with Automatic Driving
By utilising Vision Markers to create "traffic lights" and other obstacles, users can write their programs that allow the S1 to drive automatically and execute complex tasks. Explore mathematical principles involving robotic control and motion mechanics through the S1's six programmable artificial intelligence modules. Get an in-depth understanding of AI as you develop these skills and many more.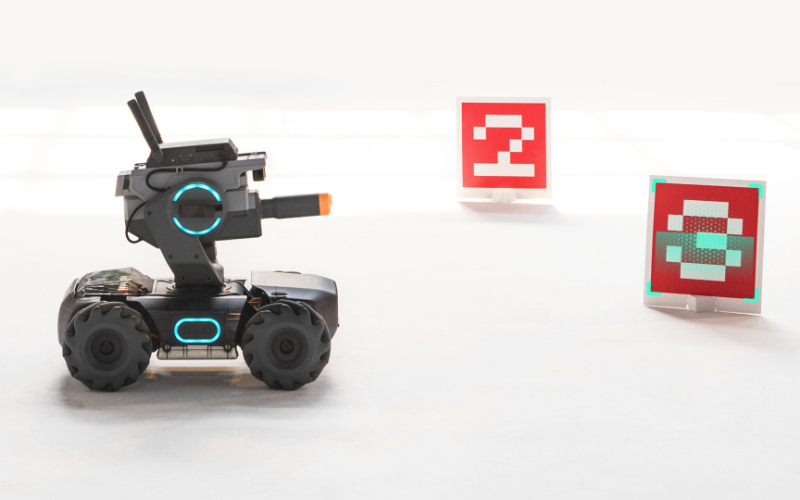 The World is Your Arena
Build your competition arena anywhere, anytime and enjoy a variety of gameplay modes with an immersive FPV experience unlike any other. You can even record and share all the action with the touch of a button.

See the Action
Enjoy a unique and immersive driving experience with the S1's exhilarating FPV perspective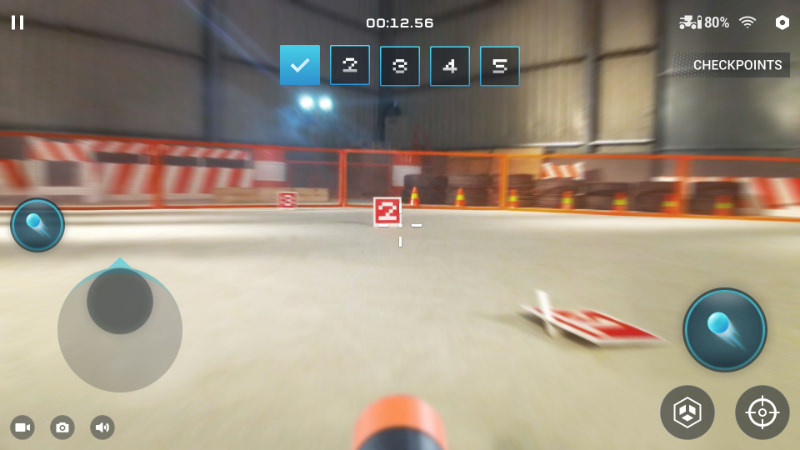 Race
Compete against opponents on your custom track. Unlock special skills like extreme speed by recognising specific Vision Markers, or unleash weapons like dizziness against competitors to gain an edge and win the race.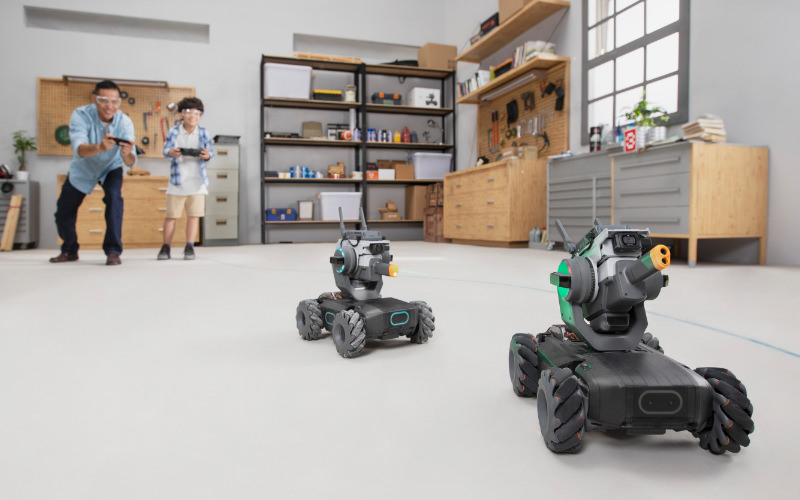 Free-For-All
There can only be one winner in this competition of wits and speed. Use custom skills to get an edge and defeat opponents in this thrilling melee that utilises the S1's unique referee system and intelligent sensing armour.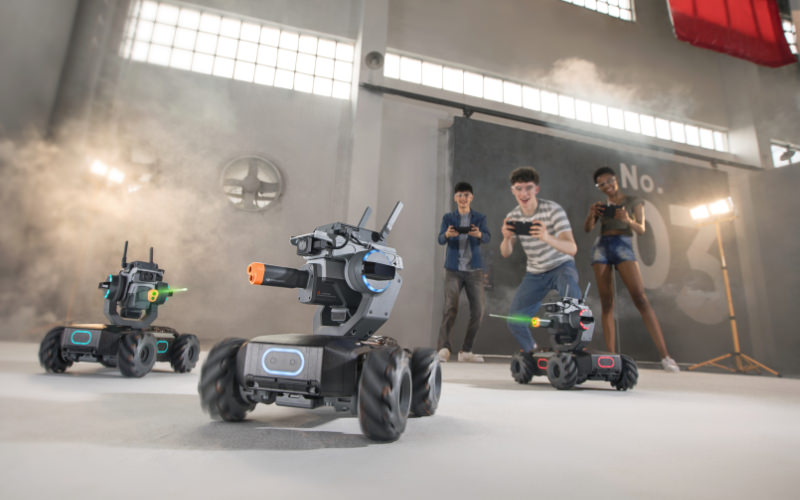 Develop Custom Skills
In any competition, wisdom is equally as important as power. The S1 enables users to apply their classroom knowledge to compile custom coding, unlocking unique functions that will surprise onlookers and defeat competitors. With its new education concept, the S1 helps users embrace the joy of learning in new and exciting ways.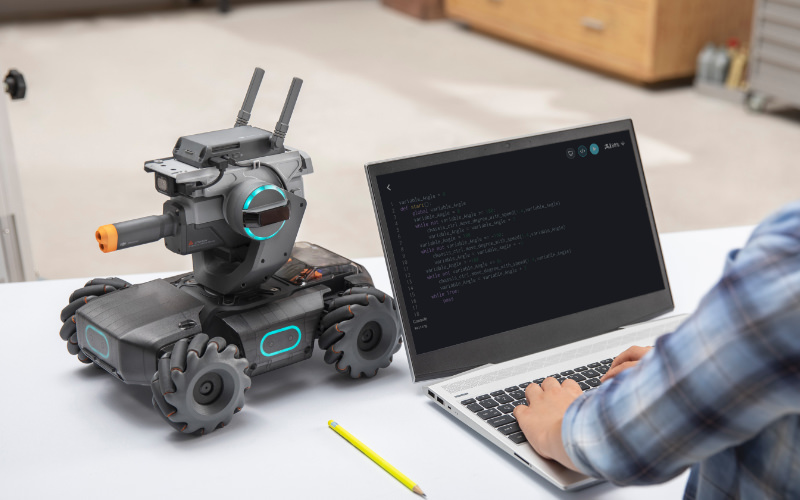 Innovative Hands-On Learning
The S1 comes with everything users need to hit the ground running. Road to Mastery offers project-based courses that enhance users' understanding of programming languages, while RoboAcademy provides a curriculum of videos and an in-depth Programming Guide with detailed explanations of S1 blocks and modules.
RoboMaster App
With the dedicated RoboMaster app, multi-platform interactions and various operation methods for the S1 are supported, along with abundant educational resources and several competition modes.
*Free DJI Robomaster S1 Gamepad valued at $139.00. While stock lasts.
Product Specifications
Camera
FOV: 120°
Max Still Photo Resolution: 2560×1440
Max Video Resolution
FHD: 1080/30fps
HD: 720/30fps
Max Video Bitrate:16 Mbps
Photo Format: JPEG
Video Format: MP4
Sensor: CMOS 1/4″; Effective pixels: 5 MP
Operating Temperature Range: -10 to 40 °C (14 to 104 °F)
Narrow Infrared Units
Effective Range: 6 m (in indoor lighting conditions)
Effective Area:
Varies from 10° to 40°
Effective area decreases as the distance from the target increases.
Wide Infrared Units
Effective Range: 3 m (in indoor lighting conditions)
Effective Width: 360° (in indoor lighting conditions)
Hit Detector
Detection Requirements:
For the Hit Detector to be activated, the following conditions must be met: Gel bead diameter ≥ 6mm, launching speed ≥20m/s, and the angle between the hit direction and hit detector plane is no less than 45°.
Maximum Detection Frequency: 15 Hz
S1
Weight: Approx. 3.3 kg
Dimensions: 320×240×270 mm (length × width × height)
Chassis Speed Range:
0-3.5 m/s (forward)
0-2.5 m/s (backward)
0-2.8 m/s (sideways)
Max Chassis Rotational Speed: 600°/s
M3508I Brushless Motor
Max Rotational Speed: 1000 rpm
Max Torque: 0.25N·m
Max Output Power: 19 W
Operating Temperature Range: -10 to 40 °C (14 to 104 °F)
Driver: FOC
Control Method: Closed-loop speed control
Protection:
Overvoltage protection
Overtemperature protection
Soft-start
Short-circuit protection
Chip and sensor anomaly detection
Blaster
Controllable Launching Frequency: 1-8/s
Max Launching Frequency: 10/s
Initial Launching Speed: Approx. 26 m/s
Average Load: Approx. 430
Gimbal
Controllable Range
Pitch: -20° to +35°
Yaw: ±250°
Mechanical Range
Pitch: -24° to +41°
Yaw: ±270°
Max Rotational Speed: 540°/s
Vibration Control Precision (on the flat surface and with the Blaster idle): ±0.02
Intelligent Controller
Latency:
Connection via Wi-Fi: 80-100ms
Connection via Router: 100-120ms
(unobstructed, free of interference)
Live View Quality: 720p/30fps
Max Live View Bitrate: 6 Mbps
Operating Frequency: 2.4 GHz, 5.1 GHz, 5.8 GHz
Operating Mode: Connection via Wi-Fi, Connection via Router
Max Transmission Distance
Connection via Wi-Fi:
FCC, 2.4 GHz 140 m,5.8 GHz 90 m
CE, 2.4 GHz 130 m,5.8 GHz 70 m
SRRC, 2.4 GHz 130 m,5.8 GHz 90 m
MIC, 2.4 GHz 130 m
Connection via Router:
FCC, 2.4 GHz 190 m,5.8 GHz 300 m
CE, 2.4 GHz 180 m,5.8 GHz 70 m
SRRC, 2.4 GHz 180 m,5.8 GHz 300 m
MIC,2.4 GHz 180 m
Transmission Power (EIRP):
2.400-2.4835 GHz
FCC: ≤30 dBm
SRRC: ≤20 dBm
CE: ≤19 dBm
MIC: ≤20 dBm
5.170-5.250 GHz
FCC: ≤30 dBm
SRRC: ≤23 dBm
CE: ≤20 dBm
MIC: ≤23 dBm
5.725-5.850 GHz
FCC: ≤30dBm
SRRC: ≤30dBm
CE: ≤14 dBm
Transmission Standard: IEEE802.11a/b/g/n
Intelligent Battery
Capacity: 2400 mAh
Nominal Charging Voltage: 10.8 V
Maximum Charging Voltage: 12.6 V
Battery Type: LiPo 3S
Energy: 25.92 Wh
Weight: 169 g
Operating Temperature Range: -10 to 40 °C (14 to 104 °F)
Charging Temperature Range: 5 to 40 °C (41 to 104 °F)
Maximum Charging Power: 29 W
Battery Life in Use: 35 minutes (measured at a constant speed of 2 m/s on a flat surface)
Battery Life on Standby: Approx. 100 minutes
Charger
Input: 100-240 V, 50-60Hz, 1A
Output: Port: 12.6 V=0.8A or 12.6 V=2.2A
Voltage: 12.6 V
Rated Voltage: 28 W
Gel Bead
Diameter: 5.9-6.8 mm
Weight: 0.12-0.17 g
App
App: RoboMaster
iOS: iOS 10.0.2 or later
Android: Android 5.0 or later
Router
Recommended Routers:
TP-Link TL-WDR8600; TP-Link TL-WDR5640 (China)
TP-Link Archer C7; NETGEAR X6S (International)
Recommended outdoor power supply solution for routers: Laptop Power Bank (match the input power of the router)
MicroSD card
Supported Cards: Supports cards with a capacity up to 64GB
Others
Notes:
1. Use of the infrared units will be affected in an outdoor or infrared-intensive environment.
2. Measured in an interference-free and unobstructed environment with a distance of approximately one meter between the mobile device, the router, and the S1. The iOS device used was an iPhone X. The results of testing with different Android device may be different.
3. Outdoor use of the 5.1 GHz and 5.8 GHz frequency bands is prohibited in some areas. Always follow all local laws and regulations in your country or region.
4. Measured in an interference-free and unobstructed environment. For Connection via Wi-Fi, the mobile device used for testing was a sixth-generation iPad (released in 2018). For Connection via Router, several router models were used for testing. FCC: TP-Link Archer C9; SRRC: TP-Link WDR8600; CE: TP-Link Archer C7; MIC: WSR-1160DHP3.
5. The gel beads will swell to a usable size after being soaked in water for four hours.
In the box
Chassis Front Armor x 1
Mecanum Wheel Mounting Plate x 1
Mecanum Wheel Damping Ring x 4
Mecanum Wheel Roller x 48
Grease x 1
Motion Controller x 1
Bottled Gel Beads x 1
Screwdriver Handle x 1
M3508I Brushless Motor and ESC x 4
Motor Mounting Plate x 4
Screw Box x 1
Safety Goggles x 1
X-Shaped Front Shaft Cover x 1
Cable Retainer x 1
Intelligent Battery Charger x 1
Intelligent Battery x 1
AC Power Cable x 1
Left-Threaded Inner Hub x 2
Left-Threaded Outer Hub x 2
Right-Threaded Inner Hub x 2
Right-Threaded Outer Hub x 2
Damping Ring Bracket x 4
Chassis Cabin Cover x 1
Masking Tape x 1
Vision Market x 7
Chassis Cover x 1
Chassis Middle Frame x 1
Intelligent Controller x 1
Front Axle Cover x 1
Front Axle Module Base x 1
Gimbal x 1
Camera x 1
Blaster x 1
Gel Bead Container x 1
Speaker x 1
Hit Detector x 4
Camera Cable x 1
Data Cables (35 cm) x 1
Data Cables (23 cm) x 2
Data Cables (12 cm) x 4
Chassis Rear Armor x 1
Chassis Left Armor x 1
Chassis Right Armor x 1
WHY BUY FROM US?
By buying from Ferntech, you'll have the confidence that you are dealing directly with New Zealand's leading drone experts. Our staff are knowledgable drone pilots who offer expert advice, trusted support and superior specialist service. Only through us will you receive a full New Zealand warranty, phone and email support, and access to our certified Repairs Centre with DJI-qualified drone technicians. And we guarantee that we will have the best prices on the market — if not let us know and we will match any price (conditions apply).
Warranty Details
Standard warranty

Basic Operation

How can I control the RoboMaster S1?
The RoboMaster S1 can be operated using a computer or a smart device via the touchscreen and gamepad. When using the gamepad with a touchscreen device, the robot can also be operated using an external mouse, which can be connected through a dedicated USB port.
How can I connect to the RoboMaster S1?
Users can connect to the RoboMaster S1 via Wi-Fi or a router. When connecting via Wi-Fi, your mobile device or computer connects to the Wi-Fi of the S1. Connection via router provides broader signal coverage, which allows multiple control methods for robots to operate simultaneously on the same network.
When operating the S1 through a router, does the router need to be connected to the internet?
No.
What are the product requirements for the router?
1. The encryption mode of the router Wi-Fi needs to be no encryption or wpa/wpa2-psk;
2. Make sure that the number of devices connected to the router doesn't reach the maximum value;
3. The router needs to allow communication among the linked devices;
4. The router connection does not need to do login confirmation twice.
What types of surfaces are okay for the RoboMaster S1 to operate on?
Flat surfaces such as wood, carpet, tile, and concrete are optimal for operating the S1. Users should avoid surfaces that are too smooth as the S1 wheels may have problems gaining enough traction for precise control. Surfaces with fine particles like sand or dirt should be avoided.
How long is the S1 battery life?
The battery of the S1 can last for 35 minutes of continuous use. This was measured with the S1 moving at a constant speed of 2.0m/s on a flat surface. The battery life on standby is about 100 minutes.
What is the maximum speed of the S1?
The maximum forward speed is 3.5m/s, the maximum backward speed is 2.5m/s, and the maximum speed when moving sideways is 2.8m/s.
What is the maximum transmission distance of the S1?
Connection via Wi-Fi:
FCC, 2.4GHz 140m, 5.8GHz 90m
CE, 2.4GHz 140m, 5.8GHz 70m
SRRC, 2.4GHz 130m, 5.8GHz 130m
MIC, 2.4GHz 140m
Connection via Router:
FCC, 2.4GHz 180m, 5.8GHz 300m
CE, 2.4GHz 180m, 5.1GHz 100m
SRRC, 2.4GHz 180m, 5.8GHz 300m
MIC, 2.4GHz 170m, 5.1GHz 180m
* Note: These results were achieved in an environment without signal interference or blockages. Blocked signals or signal interference will influence the transmission distance and effect. It is recommended to keep the S1 antenna as vertical as possible during use for optimal image transmission.
What shooting methods does the S1 support?
The S1 supports two shooting methods: gel beads and infrared beams.
Is the Blaster safe?
The Blaster can shoot gel beads and infrared beams. The S1's blasting function meets the safety requirements of major countries and regions around the world. The S1 has an additional angle limit protection to make sure that it cannot launch gel beads when the pitch angle is higher than 10 degrees. The infrared beams are also safe and cannot cause any physical damage.
Is RoboMaster S1 waterproof?
No.
Features

What programming languages does the S1 support?
Scratch and Python.
What programming platform does the S1 support?
The S1 only supports the official programming platform provided in the RoboMaster app known as RoboMaster Lab. This feature is available on mobile devices and computers. You can program, connect, and operate the S1 directly when using RoboMaster Lab.
I don't know how to program. Can I still use the S1?
There are abundant teaching resources in the RoboMaster app, including project-based tutorials, video courses, programming guides, and more, that allow users without programming experience to get started quickly. There are also numerous features that users can enjoy that do not require programming knowledge, such as FPV driving and Battle mode.
How can I implement/use the programs that I write?
You can directly run your programs in RoboMaster Lab to see how they affect the S1. You can also set your program as a custom skill or Autonomous Program. Custom skills need to be selected using icons on the FPV interface as you control the robot in the app. Autonomous Programs are written into the robot itself and can be synced by pressing the Autonomous Program Button on the S1. You can also share your programs with others through the RoboMaster app.
What kinds of stimulus can the S1 recognise?
1. Clapping Recognition: the S1 can recognise two or three consecutive claps and be programmed to execute custom responses.
2.Gesture Recognition: the S1 can detect human gestures such as hand or arm signals and be programmed to execute custom responses.
3.S1 Robot Recognition: the S1 can recognise other RoboMaster S1 units.
4.Vision Marker Recognition: the S1 can identify 44 kinds of official Vision Markers, which are comprised primarily of numbers, letters, and special characters. All of the files for these Vision Markers can be downloaded at the web address.
5.Line Recognition: the S1 can detect and follow blue, red, and green tracks with a width of approximately 15-25 mm.
What modules or components can be controlled with custom programming?
Many parts of the S1 can be accessed and controlled through programming, including seven motors, six-hit detectors, seven infrared sensors, 21 LED lights, one vision sensor, one microphone, one speaker, and two gyroscopes.
What is the sufficient detection distance of the S1 in Follow mode?
Follow mode is most effective when the subject is within a range of 1-3 meters from the S1.
Can the RoboMaster S1 record photos and videos?
With a microSD card inserted, the S1 can capture photos and record 1080p videos; without a microSD card, it only supports 720p.
Where are the photos taken by the RoboMaster S1 stored? How can I export them?
Photos taken by the S1 will be stored on the microSD card (when one is inserted). You can download them to your local device or share them directly to social media. For photos on the microSD card, you can remove the card and use an external device to export.
Do I need a microSD card to record and store video? Where are the videos taken by the RoboMaster S1 stored? How can I export them?
Users can record and store video using the RoboMaster app. However, if operating without a microSD card, 720p is the only resolution option. When using a microSD card, users can record in 1080p, although it should be noted that playback within the app will still be displayed in 720p. The 1080p version will be stored on the microSD card and can be exported using an external device.
How many S1 units can simultaneously participate during Battle mode?
A maximum of six S1 units can operate at the same time during the Battle mode.
How are Hit Points (HP) and other game rules determined and enforced?
When you select Battle mode in the RoboMaster app, game rules and HP are detected and implemented with the S1 referee system, letting users enjoy a good gaming experience.
What routers are recommended for multiplayer gameplay?
For Battle mode, it is recommended to use a router that supports 5GHz to reduce signal interference. If you use a router that only supports 2.4GHz, you are recommended to choose the 3x3 MIMO Router.
The following router brands and models are recommended:
TP-Link TL-WDR8600; TP-Link TL-WDR5640 (for users in China)
TP-Link Archer C7; NETGEAR X6S (for users outside of China).
Product Components, Accessories

What ports does the S1 have and what accessories does it support?
The S1 has six PWM ports, which support servos, LEDs, drivers, and more. For more information on supported accessories, please visit the programming guide.
How do I charge the Intelligent Battery of the RoboMaster S1 and how long it will take?
You can charge the Intelligent Battery of the S1 with the official Intelligent Battery Charger. It takes about 90 minutes to charge fully.
How should I maintain the battery if it isn't used for a long period of time?
It is recommended users charge and discharge their battery every three months to keep it active.
Are the gel beads made of safe material? What information do I need to know about using gel beads?
The gel beads for the RoboMaster S1 are made of safe, non-toxic gel that softens and expands when soaked in water. Please use them according to the instructions. At normal temperature, soak them in water for about four hours. The recommended proportion is 500 gel beads (about a full bottle top's worth) per 1000ml of water. The gel beads will begin to evaporate and shrink shortly after they are removed from the water, so it's recommended to use them within 24 hours (in normal temperature and moisture conditions). You can also keep them into a sealed bottle to prolong the storage time. Both the product combo and PlayMore Kit come with gel beads. If you need more, they are available for purchase at the DJI Online Store.
What is the capacity of the gel bead container?
The gel bead container can hold approximately 430 gel beads.
How can I assemble the S1? Are there any tutorials or instructions?
Detailed assembly tutorial videos are available in the app and online. Users can also consult the official user manual for instructions. For more information, please check our tutorial videos.
Activation & Updating
How do I activate the RoboMaster S1?
When you connect your RoboMaster S1 to the RoboMaster app for the first time, the activation prompt will pop up automatically. Follow the activation instructions in the app.
How do I upgrade the firmware?
Download the latest firmware in the RoboMaster app and upgrade according to the instructions.
What should I do if my RoboMaster S1 becomes disconnected with the app while the firmware is updating?
1. When disconnected during the transmission of a firmware kit, repeat the update.
2. When disconnected during the updating process, the update will not be influenced because the app does not participate in the updating process. LED and voice alerts on the RoboMaster S1 will keep users informed of the update status.
What should I do if the firmware versions of any replaced accessories are not compatible with the existing S1 firmware?
Users will be notified of any inconsistencies in firmware. Update firmware according to instructions.
What can cause a firmware update failure?
1. A firmware update will fail if you power off the device during the updating process.
2. A firmware update will fail if the internet is disconnected while the firmware kit is being downloaded.
Note: During the updating process, it is normal for the app to disconnect from the RoboMaster S1, which will not affect the update. You can reconnect the app to the S1 after the update is completed.
There's currently no reviews for this product, be the first to write one.