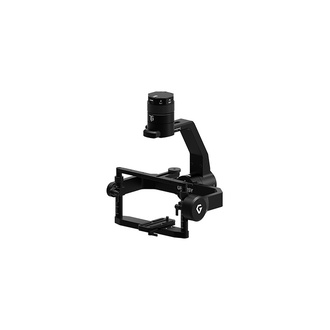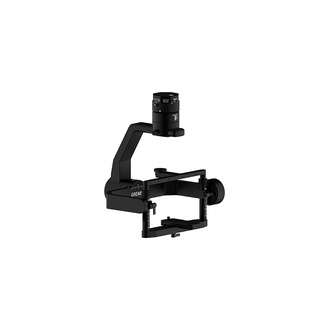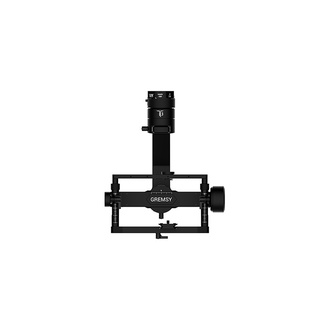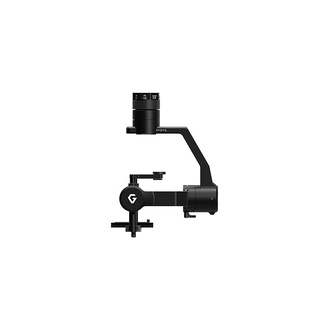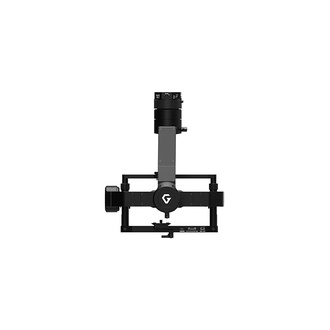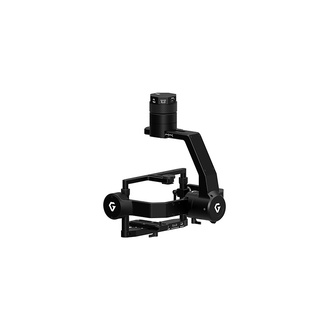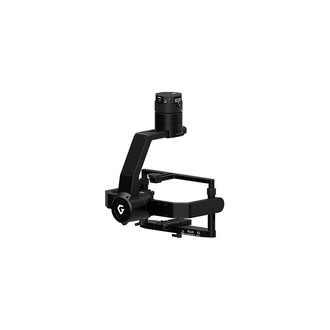 Gremsy Gimbal T3 (V3)
Gremsy T3 (version 3) is the most advanced 3-axis camera stabilizer ready to fly with many industrial cameras for inspection, mapping and other demanding applications.
---
Features
Add $500 + GST to make a bundle for M600
Gremsy T3 (version 3) is the most advanced 3-axis camera stabilizer ready to fly with many industrial cameras for inspection, mapping and other demanding applications. Featuring onboard HDMI and AUX ports, the T3 ensures simple and clean setup as well as increased portability for your system. Not only providing built-in bluetooth functionality for optimal comfort during your setup control, we make your plug & play installation easier within 2 seconds. With Gremsy T3, adapting to various aerial missions has never been so fast and straightforward.
HDMI Hyper Quick Release
HDMI integrated on the gimbal enables clean and straightforward setup while ensuring ability to transmit excellent video quality. With HDMI Hyper QR, the inconvenience is taken away. Just push in, twist to lock, and it's done. Thanks to built-in 14.5V Power Regulator in Hyper QR, the T3 can receive power directly from flight battery to convert to a 14.5V power supply.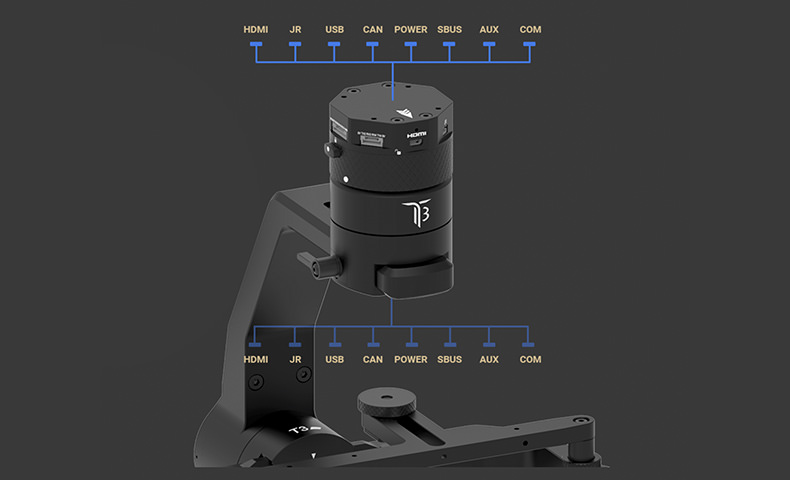 Advanced I/O Interface
Intuitive hardware interface including POWER, CAN, COM, SBUS, JR, USB, AUX and HDMI ports has relocated on QR to quickly interface with multiple devices such as 3rd party flight controller, remote control, auxiliary I/O and power your ideal system of cameras/accessories.
AUX Port

Aux port with S1-S9 optional signals for users to connect to other devices such as AV signal or camera trigger for additional functionality.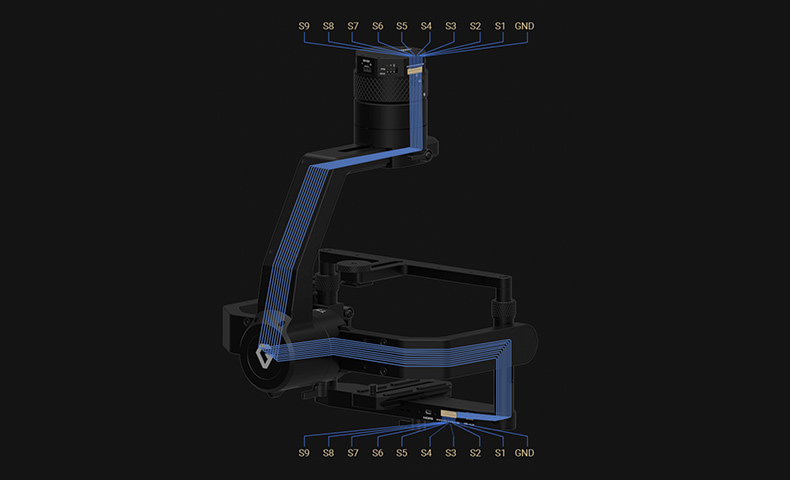 Clean design internal wiring
Remove the need to plug in many cables, the T3 makes it trouble-free to carry out your aerial missions.
Heated and temperature control IMU
The T3 uses 3-axis accelerometer and 3-axis gyroscope IMU to ensure that it performs accurately and efficiently. Heated and temperature controlled IMU sensor is protected by an aluminum-made box. This allows for a flawless operation in too high or too low ambient temperatures.
High performance gimbal controller
The gMotion Controller, designed and made by Gremsy offers unparalleled professional camera stabilization properties at 32-bit level. Sensor data and motors correction are updated as fast as 2000 times per second to enable incredibly smooth footage.
Start-up time within 2 seconds
No need to manually set up the home position every time you boot up the gimbal. Gremsy T3 provides an easy one step plug and play installation that takes only 2 seconds to complete.
Built-in Bluetooth connection
Gremsy T3 has a mid-size design, the weight of 2.65 lbs for a maximum payload of 3.7 lbs.
Built-in Bluetooth functionality allows users to conveniently control the gimbal via smartphone, tablet or other suitable devices.
*Wifi module does not support this model.
Camera compatibility:

Product Specifications
Dimensions & Camera Cage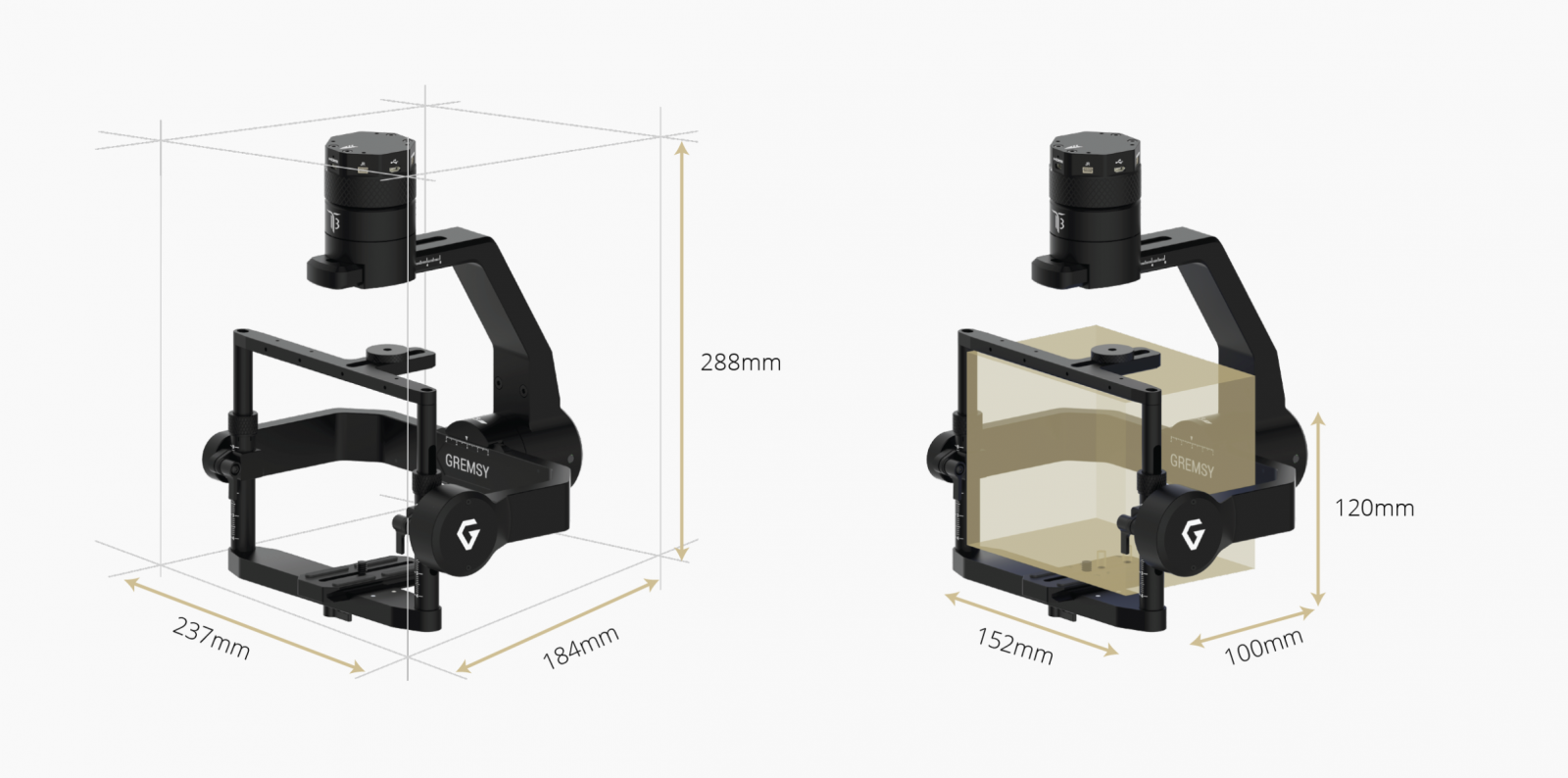 General
Operation Modes
Motor ON/OFF
Lock mode
Follow mode / Mapping mode
Iverted mode
Temperature Sensor
Gremsy Specialized Gimbal Drive Motors with Encoders
Micro USB Connection
Gremsy Advanced 32-Bit high performance ARM microprocessor
S-Bus/Spektrum/PPM Receiver Supported
Mechanical & Electrical Characteristics
Working Current
Static current: 300mA/14.5V
Dynamic current: 600mA/14.5V
Locked motor current: 3.5A/14.5V
Operating temperature: 0° C - 50° C
Weight: 1200 g
Gimbal Dimensions: 237(W) x 184(D) x 288(H)
Peripheral
Camera Tray Dimensions:
Maximum depth from the center of gravity on camera base plate: 100mm
Maximum height measured from top of camera base plate: 120mm
Maximum width: 152mm
Input Power: 15-52V
Connetions: USB 2.0, CAN, UART, S-bus, Spektrum, PPM, Bluetooth
PC Assistant Software Requirements: Windows XP or above; Mac OS X 10.9 or above
Mobile Assistant Software Requirements: iOS 7.1 or above; Android 4.3 or above
Working Performance
Maximum Payload: 3.7 lbs (1700 g)
Angular Vibration Range: ± 0.02°
Maximum Controlled Rotation Speed:
Pan axis: 180°/s
Tilt axis: 180°/s
Roll axis: 180°/s
Mechanical Endpoint Range:
Pan axis control: ±345°
Tilt axis control: ±150°
Roll axis control: +80° to -264°
Controlled Rotation Range:
Pan axis control: ±345°
Tilt axis control: ±120°
Roll axis control: ± 45°
In the box
Gremsy T3V3 x 1

WHY BUY FROM US?
By buying from Ferntech, you'll have the confidence that you are dealing directly with New Zealand's leading drone experts. Our staff are knowledgable drone pilots who offer expert advice, trusted support and superior specialist service. Only through us will you receive a full New Zealand warranty, phone and email support, and access to our certified Repairs Centre with DJI-qualified drone technicians. And we guarantee that we will have the best prices on the market — if not let us know and we will match any price (conditions apply).
Warranty Details
Standard warranty
General
What is the difference between T3V3 and T3/T3V2?
New I/O and Quick Release design.
HDMI Supported.
AUX 9 signals
Built-in 14.5V BEC : you can use the battery from drone (15 - 52V) to power gimbal via Power port connection (more safety and stable power source).
20% stronger in motor power of T3V3 than T3/T3V2
Can I use my old T3/T3V2 and T3V3 in the same quick release?
No, but you can use an adapter to mount the T3/T3V2 on T3V3 quick release.
Note: this adapter just supports mounting on new quick release, the new function of T3V3 will not apply.
How much weight can the T3V3 hold?
Maximum payload of T3V3 is 1.7kg (3.7 lbs).
How many signals of T3V3 AUX port?
It has 9 signals.
What's the input power of T3V3?
T3V3 allows wide range power from drone 15-52V.
How many operation modes does the T3V3 have and how do I switch between the modes?
Gremsy T3 supports 2 types of operation: Normal and Inverted Operation.
The Operation type will be automatically detected when power gimbal.
Camera
What kind of cameras does Gremsy T3V3 support?
It currently supports cameras with a maximum depth of 100 mm (measured from the center of gravity), a maximum height of 120 mm, and a maximum width of 152 mm. The maximum payload of T3 is 1.7 kgs (3.7 lbs).
Gremsy T3 Camera Compatibility List (non-comprehensive list):
Sony A7S (mk I - II),
Sony A7R (mk I - IV)
Sony A9 ( mk I – II )
Sony A6000 series
Fujifilm X-T series
Phase One iXM 50/10 (apply for 80mm lens or lower )
Panasonic GH3, GH4, GH5, GH5s
Canon 5D Mk I, II, III, IV
Nikon D810, D800, Z series
Is it difficult to balance the gimbal and camera?
No. Changing the setup for different camera arrangements is quick and simple.
Does Gremsy T3V3 support HDMI signal?
Yes, Gremsy T3V3 allows you to transfer HDMI signal passthrough gimbal via 2 Micro HDMI ports.
Which trigger devices do you recommend?
Seagull #REC
Intelli-G long range
There's currently no reviews for this product, be the first to write one.