Insta360 ONE X
$689.00
Offer Ends 31 December 2019
Insta360 One X is not just a 360-degree camera It shoots 5.7K at 30 fps, 4K at 50fps and, crucially, 3K at 100fps. Start shooting impossible angles on 5.7k resolution and stay in action.
---

Features
Insta360 One X is not just a 360-degree camera It shoots 5.7K at 30 fps, 4K at 50fps and, crucially, 3K at 100fps. That latter skill enables the One X's two key special effects features; Cinematic Slow-Mo and Time-shift, which let you slow-down or speed-up moments in your finished video. It's also got bullet-time – that Wachowski Brothers-style wraparound shot popularised in The Matrix movies – though to create that involves swirling the One X around your head.

You. In third-person view.
Pair the ONE X with our invisible selfie stick and the stick is gone in an instant. You've got a flying camera without the noise
Natural lighting. In every direction.
High dynamic range shooting means your footage stays true-to-life and true-to-light.
Impossible shots. Made easy.
Snap into the Drifter accessory and let your camera take flight. Airborne slow-mo from a camera that shoots in every direction at once. You've never seen angles like this before.
Control time. And perspective
Highlight key moments with cinematic slow-mo, or speed things up with a stabilized hyperlapse. All in the app.
Simple. Stunning Cinematic editing.
Reframe the best parts of your shot, and connect them with ultra-smooth camera movements. Then add your favourite music and effects. The ONE X app is an editing room in your pocket. Support for both iOS and Android devices.
Be at the heart of the action
Slow-mo Bullet Time shots turn heads like nothing else. The ONE X pulls it off in stunning 3K @ 100fps and with a full 360° field of view.
Track your trek
Control your ONE X. Record GPS data. Track your journey with on-screen stats like speed, altitude and direction. Then, put your expeditions on the map with one-touch upload to Google Street View.
No stitching. No waiting. Just start your edit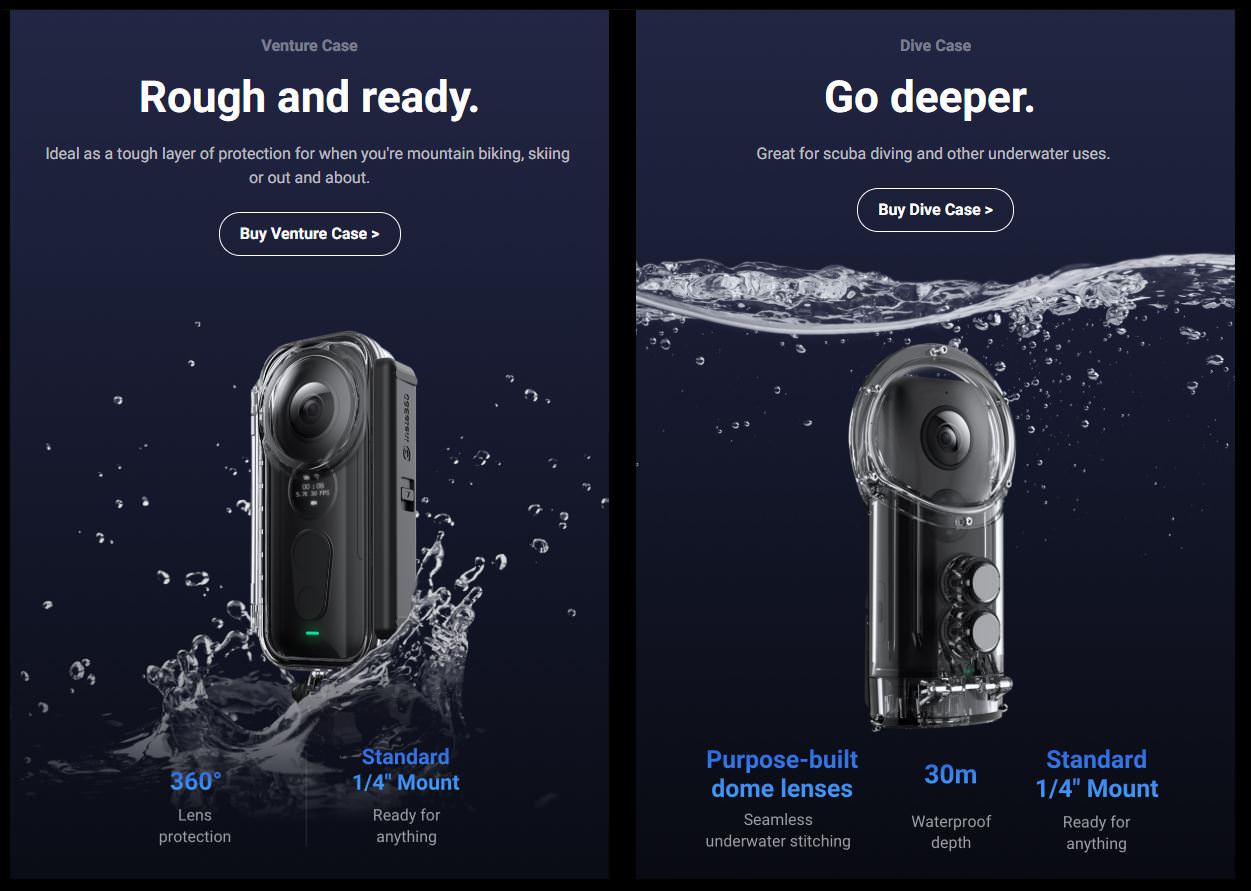 Watch Peter McKinnon reviewing the Insta360 One X
Product Specifications
General
Aperture: F2.0
Photo resolution: 18 MP (6080*3040)
Video resolution: 5760*2880@30fps, 3840*1920@50fps, 3840*1920@30fps, 3008*1504@100fps
Photo format: insp, jpeg(can be exported via App), RAW(dng) (RAW files require software on PC/Mac to stitch.)
Video format: insv, mp4(can be exported via App), LOG (Log files require software on PC/Mac to stitch.)
Video coding: H264
Video Bitrate: Up to 120Mbps
Stabilization: Built-in 6-axis gyroscopic stabilization
Compatible devices: iPhone XS, iPhone XS Max, iPhone XR, iPhone X, iPhone 8/8 Plus, iPhone 7/7 Plus, iPhone 6s/6s Plus, iPhone SE
iPad Pro, iPad (2018)
Photo & Video Specifications
Photo modes: Standard 360 photos, timed 360 photos, HDR 360 photos, interval 360 photos, RAW 360 photos
Video modes: Standard 360 video, time-lapse mode, bullet time, HDR video, log 360 video
Live-streaming: 360 live-streaming, FreeCapture Live (user controls visual perspective)
EV: -3EV~+3EV
Exposure modes: Auto, Manual(Shutter 1/8000s-55s, ISO 100-3200), Shutter Priority(1/8000s-2s), ISO Priority(100-3200)
WB: Auto, Cloudy, Sunny, Fluorescent, Incandescent
Design
Color: Black
Weight: 90.9g (without battery); 115g (with battery)
Dimensions: 115mm x 48mm x 28mm (D x W x H)
Storage & Connectivity
Bluetooth: BLE4.0
Wi-Fi: 5G(Standard range of approximately 20 meters)
USB: Micro-USB
MicroSD Card: Recommends UHS-I V30 speed class, exFAT(FAT64) format; max storage capacity is 128 GB
Battery
Battery Capacity: 1200mAh (5V2A)
Charging Method: Micro-USB
Charging Time: 100 mins with a 5V2A charger or 60 mins with our Dual Battery Charging Dock
Run Time: ONE X lasts roughly 60 mins while shooting 5.7K @30FPS or 4K@50FPS video when it is used independently
Use Environment: Standard Battery suitable for 32° F to 104° F (0° C to 40° C); Cold-Weather Battery suitable for -4° F to 86° F (-20° C to 30° C)
In the box
Insta360 One X x 1

WHY BUY FROM US?
By buying from Ferntech, you'll have the confidence that you are dealing directly with New Zealand's leading drone experts. Our staff are knowledgable drone pilots who offer expert advice, trusted support and superior specialist service. Only through us will you receive a full New Zealand warranty, phone and email support, and access to our certified Repairs Centre with DJI-qualified drone technicians. And we guarantee that we will have the best prices on the market — if not let us know and we will match any price (conditions apply).
Warranty Details
Camera: 12 Months

Best 360 camera before 09/2019 — by
Li Li

on 7 September 2019

Used for the ski trip to Queenstown. All friends are extremely happy and liked the 360 videos took by this camera. Everyone could just watch youtube 360 and look for themselves. I used to have another sony action camera, but it is too easy to lose track of the person inside the view but no one will ever disappear with this 360 camera. Pros: + max 4k resolution to youtube 360 + invisible pole + no out of view for the target + everyone included in the video Cons: - long processing time (1. download to phone, 2. converting 3. upload to youtube. 4. youtube processing). A 10 min video might take 2 hours for processing. - battery last relatively short for one-day shooting. It says 60 min lasting time for one battery, but in cold condition, it might just last 40-50 mins. It is generally enough for me with 2 batteries for skiing as most of the time is on the lift, but it might not enough for other purposes of one-day shooting. At last, I have to mention the premium service I received from Ferntech. The first camera I got was a lemon, but the staff is very responsive and provided a new one for replacement in only 3 days including courier time (I am in Wellington). I am so happy I chose the Ferntech and I would definitely shop here again if I have the chance.