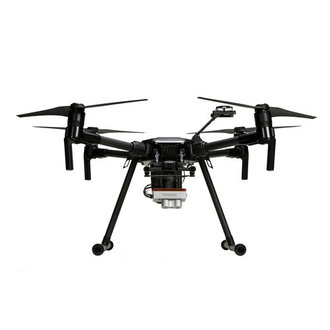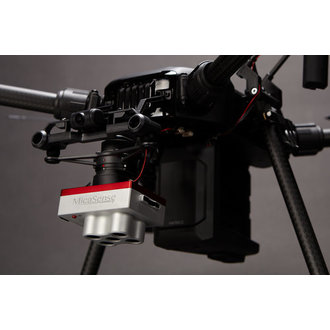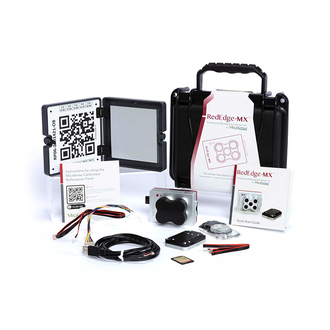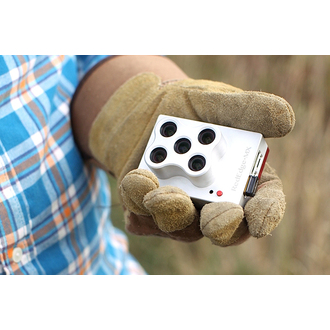 MicaSense RedEdge-MX
Rugged, built-to-last, professional multispectral sensor for agricultural drone mapping. Can be integrated with DJI SkyPort enabled drones (DJI Skyport extra $2,499 inc GST)
---
FEATURES
Thanks to its compact and lightweight design, the RedEdge-MX seamlessly integrates with many drone models. With a flight time of 27 minutes, you can easily fly over a 100-acre field (at 400 ft AGL, 70% overlap) and capture the data you need with fewer flights. RedEdge-M has five bands - blue, green, red, red edge, and near-infrared. Research has shown that these five bands are optimal for sensing crop health as it shows you more data than ever before. The raw images can be processed on third-party image processing software such as Pix4D, or more advanced users can process and analyse the data themselves.
RedEdge-MX is a reliable, accurate, high-precision sensor
We know that flight time is important. With RedEdge-M, you can fly a 100-acre field (at 400 ft AGL, 70% overlap) in 27 minutes! Because you have access to the raw data collected by RedEdge-M, you can choose between various processing and analysis platforms, or process and analyze the data yourself.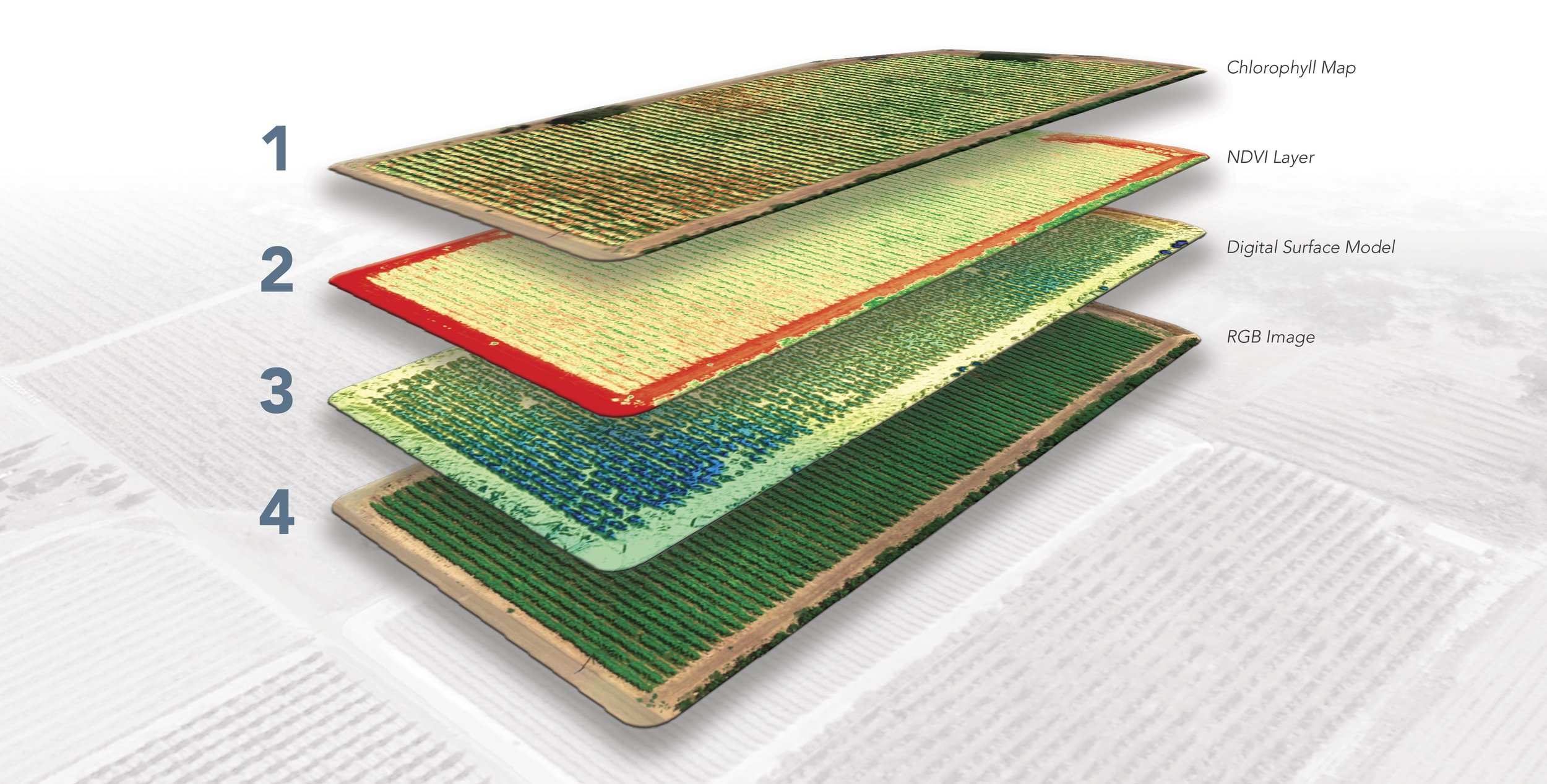 1. Chlorophyll Map: The red edge spectral band is the star here, working in conjunction with the other bands to provide a more accurate measure of not just plant vigor but plant health.
2. NDVI Layer: This commonly known index compares the reflectance of the red band with that of the near-infrared band. However, this index alone provides limited information.
3. Digital Surface Model: A DSM is an astonishingly advantageous tool in any agronomist's arsenal, primarily because of its use in evaluating surface properties and water flow.
4. RGB Image: RedEdge-MX features global shutters for distortion-free images, including narrowband red, green, and blue bands for RGB color images that when processed are aligned to all visible and non-visible bands and vegetation indices.
HIGHLIGHTS
Compact size allows for integration with a wide variety of drones
Simultaneous capture of five discrete spectral bands, including RGB colour
Fast capture rate enables faster flight speeds and lower flight altitudes
Global shutter design for distortion-free results on every platform
Calibrated for precise, repeatable measurements
Expanded voltage range to handle more integrations without extra power conversion
Rugged design with no moving parts
COMPATIBILITY
Phantom 4 series
Matrice 200 series (SkyPort)
Matrice 600 series
Inspire 2
Product Specifications
Weight:
173 grams (6.1 oz) (includes DLS and cables)
Dimensions:
9.4 cm x 6.3 cm x 4.6 cm (3.7 in x 2.5 in x 1.8 in)
External Power:
4.2 V DC - 15.6 V DC 4 W nominal, 8 W peak
Spectral Bands:
Blue, green, red, red edge, near-IR (global shutter, narrowband)
RGB Color Output:
Global shutter, aligned with all bands
Ground Sample Distance (GSD):
8 cm per pixel (per band) at 120 m (~400 ft) AGL
Capture Rate:
1 capture per second (all bands), 12-bit RAW
Interfaces:
Serial, 10/100/1000 Ethernet, removable Wi-Fi, external trigger, GPS, SDHC
Field of View:
47.2° HFOV
Custom Bands:
400nm - 900nm (QE of 10% at 900nm)
Triggering Options:
Timer mode, overlap mode, external trigger mode (PWM, GPIO, serial, and Ethernet options), manual capture mode
In the box
MicaSense RedEdge-MX camera x 1
Downwelling Light Sensor (DLS) x 1
GPS/MAG module x 1
60cm DLS Cable (6pin) ; USB Power Cable x 1
Calibrated Reflectance Panel (CRP) x 1
SD Card x 1
DJI Skyport (Extra $2,499)
WHY BUY FROM US?
By buying from Ferntech, you'll have the confidence that you are dealing directly with New Zealand's leading drone experts. Our staff are knowledgable drone pilots who offer expert advice, trusted support and superior specialist service. Only through us will you receive a full New Zealand warranty, phone and email support, and access to our certified Repairs Centre with DJI-qualified drone technicians. And we guarantee that we will have the best prices on the market — if not let us know and we will match any price (conditions apply).
Warranty Details
There's currently no reviews for this product, be the first to write one.