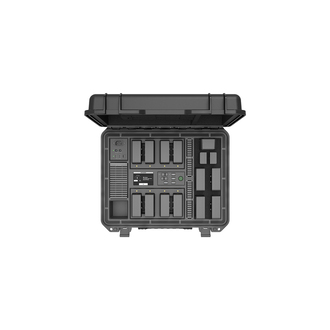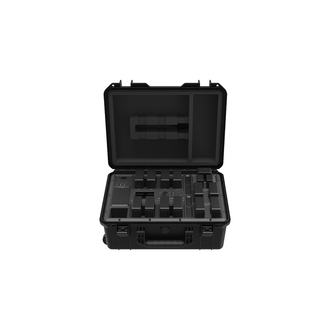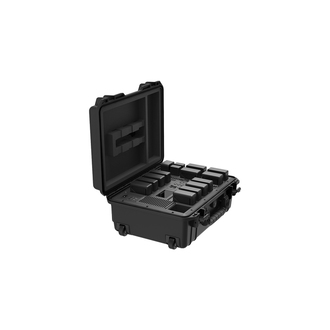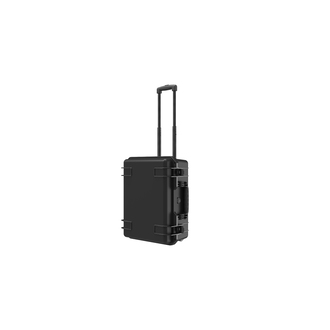 DJI Battery Station (for TB50s) (Part 52)
The DJI Battery Station is an all-in-one solution to charge, store, and transport the TB50 Intelligent Battery.
---
Features
This advanced battery management system equips professionals to handle any scenario. The ability to simultaneously charge eight TB50 batteries and store 12 TB50 batteries makes the Battery Station the most comprehensive battery management system on the market. Due to its multiple charging ports, the system can also charge other devices including the Inspire 2 remote controller, WB37 Intelligent Battery 2 and mobile devices.
The station is equipped with a LCD screen, which displays the battery's power level, charging voltage, remaining time, temperature and firmware version, ensuring safe flight before flight begins. A built-in cooling fan helps to dissipate heat while charging, while an overheating detection monitor provides an additional level of safety.
Other intelligent features of the DJI Battery Station include three charging modes: Normal, Quick and Silent, providing ideal power management for every shooting scenario. In Normal Mode, eight TB50 Intelligent Batteries can be charged simultaneously, while in Quick Mode four TB50 Intelligent Batteries with the highest battery level in the same group will be charged to 90% in just 35 minutes. In Silent mode, charging speed is lowered for a quieter process on noise sensitive film sets.
To ensure reliable charging and storing of all your batteries, the Battery Station is made of a plastic that meets USA UL 94 V-O flammability standards, making it safer in extreme environments. The station also offers Discharge mode, which brings batteries to 25% for transportation and 50% for storage.
Highlights
Super large storage space for up to 16 TB50 Intellegent batteries or 12 TB50 Intelligent Batteries, two CrystalSky/Cendence Intelligent Batteries and one CrystalSky/Cendence Battery Charging Hub.
Charge up to eight TB50 batteries simultaneously. Multiple ports let you also charge the Inspire 2 remote controller, CrystalSky/Cendence Intelligent Battery, and a mobile device.
When charging a TB50 Intelligent Battery, the Battery Station's LCD screen displays its current firmware version.
Quick, simple, and intelligent discharging feature improves battery maintenance for storage and travel.
A built-in cooling fan ensures every battery stays within a safe range. The Battery Station automatically cancels charging and discharging to avoid any safety hazards when overheating is detected.
Wheels and a telescopic handle make the Battery Station convenient for travel.
Compatibility
Inspire 2 TB50 Intelligent Battery
Matrice 200 series TB50 Intellegent Battery
Ronin 2 TB50 Intellegent Battery
CrystalSky/Cendence Intelligent Battery
CrystalSky/Cendence Battery Charging Hub
Inspire 2 Remote Controller
Ronin 2 Remote Controller
Matrice 200 series Remote Controller
Phantom 4 series Remote Controller
Phantom 3 Advanced & Pro Remote Controller
Product Specifications
Model: IN2BS
Dimensions: 484 mm x 226.5 mm x 220 mm (19.1" x 8.9" x 8.7")
Net Weight: 7.7 kg (17 lb.)
Max Internal Load: 12 kg (26 lb.)
Compatible Stored Items:
TB50 Intelligent Battery x 12
CrystalSky/Cendence Intelligent Battery x 2
CrystalSky/Cendence Charging Hub x 1
AC Power Cable x 1
Input: 100-240 V, 50-60 Hz
Output: Battery Port: 26.1 V max., 6.75 A max. x 8
Remote Controller Port: 26.1 V max., 4 A max. x 2
USB Port: 5 V, 2 A x 2
Operating Temperature: 41° to 104° F (5° to 40° C)
Charging Time*: TB50 Intelligent Battery: 90 minutes (Normal mode); 35 minutes (Quick mode); 4 hrs 20 minutes (Silent mode)
Remote Controller: 2 hrs 24 minutes (GL6D10A); 3 hrs (GL800A)
*Charging times are tested in a lab environment at room temperature. These values should be used for reference only.
In the box
Battery Station x 1
AC Power Cable x 1
Remote Controller Charging Cable x 2

WHY BUY FROM US?
By buying from Ferntech, you'll have the confidence that you are dealing directly with New Zealand's leading drone experts. Our staff are knowledgable drone pilots who offer expert advice, trusted support and superior specialist service. Only through us will you receive a full New Zealand warranty, phone and email support, and access to our certified Repairs Centre with DJI-qualified drone technicians. And we guarantee that we will have the best prices on the market — if not let us know and we will match any price (conditions apply).
Warranty Details
There's currently no reviews for this product, be the first to write one.