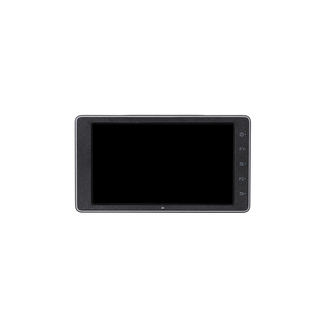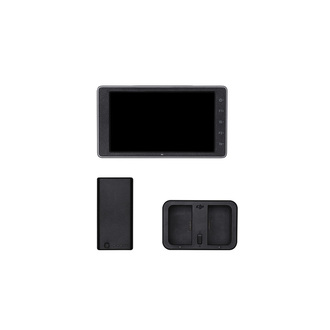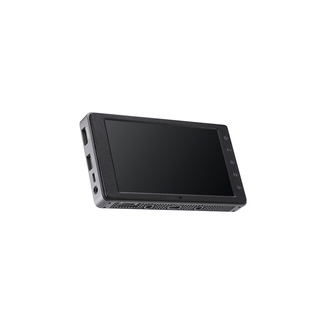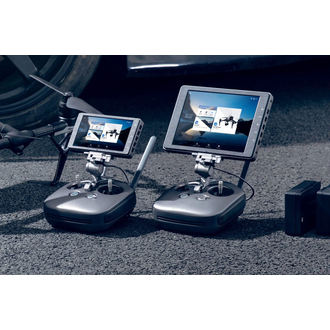 DJI CrystalSky 5.5 (High Brightness)
Or 4 interest-free payments of $207.25 with
Learn more.
Created for outdoor aerial imaging, the CrystalSky monitor features a maximum 1000 cd/m² of brightness. It is designed from the ground up to work seamlessly with the DJI GO app, giving camera operators total control.
---
CrystalSky does not include a charger. C
ompatible chargers include:
Features
A maximum 1000 cd/m² of brightness means the CrystalSky monitor is more than twice as bright as typical mobile devices. On-screen details are clear and sharp, and colours are vibrant, giving the quality needed to fine tune image composition. A dedicated Sunlight Readability Enhancement mode is especially designed for processing the image in real-time to ensure more comfortable viewing under bright light.
Smoother Video Display
The CrystalSky monitor uses optimized video decoding to decode video in real-time. Due to limitations in software access on smartphones and tablets, video decoding in other smart devices is less than ideal. When used to view photos or videos transmitted by the camera, problems can occur including video jitter, long latency and more. The CrystalSky monitor's optimized decoder provides smooth, real-time video with minimal latency.
Customized System and DJI Go/DJI Go 4
A newly designed system removes unnecessary Android apps and services and is resistant to viruses and junk software. This ensures that the CrystalSky monitor is able to offer optimum performance at all times. Its embedded DJI GO/DJI GO 4 app provides full access to all DJI GO/DJI GO 4 features including aircraft parameter adjustment, camera control, footage management, and playback. Using offline maps, maps can be kept available even if going out of Wi-Fi reach.


Power Supply
A two cell 4920 mAh secondary external battery gives the CrystalSky monitor a longer operating time than comparable mobile devices. It supports quick charge, and controls its discharge rate well even in low temperatures. Used with the 7.85" and 5.5" screens, it can achieve a maximum operation time of 4-5 hours and 5-6 hours respectively.


Dual SD Card Slots
Equipped with dual Micro SD Card slots, the CrystalSky monitor's storage can be extended, or footage recorded on a Micro SD Card can be played back directly on the monitor. It can also be used for footage backups. Using editors built in DJI GO/DJI GO 4, high-quality edits can be made quickly and instantly shared to social media.
The CrystalSky monitor supports H.264 and H.265 video decoding, allowing it to play back these files at 30 fps and 60 fps respectively. These videos can also be output through its HDMI port.


Ports and Network
The CrystalSky monitor's HDMI port allows up to 4K video to be output to FPV goggles and other display devices. Built-in dual band Wi-Fi means it can connect to Wi-Fi networks and Wi-Fi hotspots from mobile devices, and it is also compatible with 4G dongles and USB storage through its USB-A port.
When connected to the internet, the CrystalSky monitor gets easy access to system upgrades, live streaming, photo or video sharing, data synchronization and more. File sizes are optimized as much as possible to minimize mobile data demands.
Onboard Micro USB and USB-C ports make it convenient to connect the CrystalSky monitor with a remote controller or other devices.


Extreme Temperature Optimized
Most smart devices are designed to operate in common temperature ranges. The CrystalSky monitor's external battery has been designed for more extreme temperatures. It is able to operate in as low as -4°F (-20°C) and, with its internal cooling system, functions normally in temperatures as high as 104°F (40°C).


DJI Aerial System Compatibility
The CrystalSky monitor can quickly connect to the Inspire series, Phantom 4 series, Phantom 3 series (Phantom 3 Professional, Phantom 3 Advanced), Matrice series, and Osmo series (except the Osmo Mobile) over Wi-Fi or via a remote controller USB port, depending on your specific product. *Also, CrystalSky easily attaches to the Cendence remote controller without an additional mounting bracket.
*Monitor mounting bracket recommended. The Mavic Pro and Osmo series gimbal cameras(excluding the Osmo Mobile) are only compatible with 5.5" Crystalsky monitors.
Compatibility
Mavic Pro
Phantom 4 Series
Phantom 3 Series
Inspire Series
Osmo
Osmo+
Osmo Pro
Osmo RAW
Osmo Pro/RAW - Wired Video Adapter
CrystalSky - Osmo Pro/RAW Mounting Bracket
Cendence Remote Controller
CrystalSky - Remote Controller Mounting Bracket
CrystalSky Mavic/Spark Remote Controller Mounting Bracket
Product Specifications
Tech Specs
Display: Multi-touch display with IPS technology
Resolution: 1920x1080
Brightness: 1000cd/m²
Operating System: Android
App: DJI GO, DJI GO 4, DJI Pilot
Memory ROM: 32GB+RAM 4GB
Connectors: HDMI, MicroSD card slots, Micro-USB and USB-C
Connectivity WIFI: 2.4G, 5.2G&5.8G 802.11b, 802.11g, 802.11n(HT20), 802.11a 4G dongle support
GPS: GPS/Glonas
Gyroscope Support
Compass Support
Speaker Support
Brightness Sensors Support
MIC Support
Built-In Battery: 980 mAh, 3.7V
External Battery: 4920 mAh,7.6V(detachable)
Operation Temperature: -20°C to 40°C (-4°F to 104°F)
4K Video decoding: H.264 4k 30fps / H.265 4k 60fps
Detailed Size Specs
Without Battery: 153.76 mm x 84.94 mm x 19mm
With Battery: 153.76 mm x 84.94 mm x 39.6mm
Outer Battery: 90 mm x 45 mm x 26mm
In the box
CrystalSky Monitor x 1
Intelligent Battery x 1
Intelligent Battery Charging Hub x 1
WHY BUY FROM US?
By buying from Ferntech, you'll have the confidence that you are dealing directly with New Zealand's leading drone experts. Our staff are knowledgable drone pilots who offer expert advice, trusted support and superior specialist service. Only through us will you receive a full New Zealand warranty, phone and email support, and access to our certified Repairs Centre with DJI-qualified drone technicians. And we guarantee that we will have the best prices on the market — if not let us know and we will match any price (conditions apply).
Warranty Details
Intelligent Battery Charging Hub:
12 Months
Remote Controller Mounting Bracket:
12 Months
Intelligent Battery:
12
Months
What is the difference between the High Brightness and Ultra Brightness versions of the 7.85'' CrystalSky monitor?
The brightness of the High Brightness version is 1000cd/m2 while the Ultra Brightness version reaches 2000cd/m2.

What makes CrystalSky different from ordinary smart device monitors?
The maximum brightness on most smart devices is often between 500 cd/m2 and 705cd/m2. The High Brightness CrystalSky monitor and Ultra Brightness monitors reach 1000cd/m2 and 2000cd/m2 respectively, ensuring comfortable viewing under bright light outdoors.

What are the dual microSD card slots on the CrystalSky monitor used for?
They can increase the CrystalSky monitor's storage, be used to play back footage recorded on a micro SD Card and for footage backup.

What are the ports on the CrystalSky monitor?
HDMI (3840 x 2160 output)
Dual microSD card slots
Micro USB port
USB Type-C port
USB-A port

Does the CrystalSky monitor include a speaker and microphone?
Yes.
How is the CrystalSky monitor's brightness adjusted?
The CrystalSky monitor's brightness can be adjusted manually and automatically. When set to adjust automatically, CrystalSky will adjust its brightness based on the ambient brightness detected by its light sensor.

Can the CrystalSky monitor connect to Wi-Fi networks or a mobile device via Bluetooth?
The CrystalSky monitor can connect to Wi-Fi networks or Wi-Fi hotspots from mobile devices. Bluetooth is not supported.

Can I customize CrystalSky monitor button functions?
The F1 and F2 buttons on the CrystalSky monitor can be customized, and some buttons on the remote controller can be set to control CrystalSky functions using the DJI GO app. For more details, see the remote controller section of your respective product's user manual.

What operating system does the CrystalSky monitor use?
The CrystalSky monitor uses a customized Android operating system embedded with the DJI GO , DJI GO 4, and DJI Pilot app.

Can I edit footage on the CrystalSky monitor?
Yes, you can use the CrystalSky monitor to edit your footage using the DJI GO app.

How do I upgrade the CrystalSky monitor's operating system and DJI GO app?
You can upgrade the operating system through an Internet connection or by downloading the upgrade package from the official DJI website, copying it to an SD card, and inserting the SD card into the monitor. The monitor will start upgrading when switched on.
The DJI GO app can also be upgraded using the internet, and you can upgrade DJI GO and the OS at the same time.

Can I install other applications on the CrystalSky monitor?
Yes. CrystalSky supports up to 20 third-party apps, which you can add or remove through System Settings -> Apps. Please note that DJI is not responsible for any rights or information involving third-party security and does not provide any technical support for compatibility issues. Because these apps are not developed or maintained by DJI, they may not guarantee optimal CrystalSky performance. If you experience any problems after installing a third-party app, it is recommended that you remove it or reset CrystalSky to default settings.
There's currently no reviews for this product, be the first to write one.