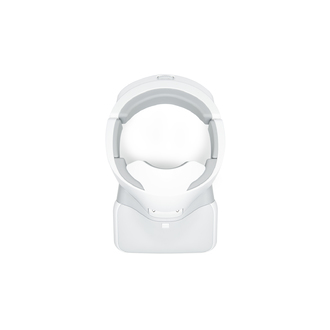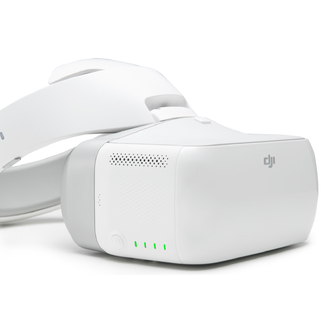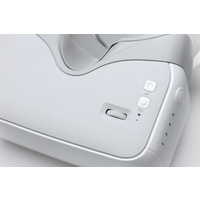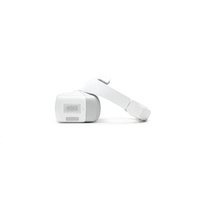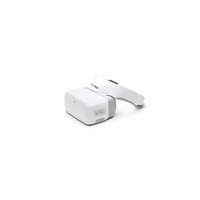 DJI Goggles
$699.00
FREE ABS CASE
Offer Ends 31 December 2019
Immersive First Person Viewing, a pair of 1920×1080 HD screens and a head tracking feature, enabling you to look at the world from above.
| | | | | | |
| --- | --- | --- | --- | --- | --- |
| High Frame Rate | High Quality View | Full Coverage | Low Latency | High Resolution | Operation Time |
| 720p/60fps | 1080p/30fps | 360° | 110ms | Two 1920x1080 screens | 6 hours |
Features
The DJI Goggles are designed for seamless first-person view flying with DJI products.1 They combine a pair of large ultra-high quality screen with long-range, low lag wireless connectivity and direct photo and video capture control. With Intelligent Flight Modes like ActiveTrack, TapFly, Terrain Follow, Cinematic Mode and Tripod mode, a totally new flying experience is created.
Low Lag Transmission
DJI Goggles are able to offer both 720p at 60fps as well as close range 1080p at 30fps viewing2 with an extremely low latency of just 110ms.3 Through DJI's OcuSync wireless transmission system, up to four devices can be simultaneously connected to the Mavic Pro.4 Built in antennas ensure 360° coverage, offering a reliable connection even when the aircraft is flying behind you.5 Share the fun of immersive flying with friends by giving them a bird's eye view of the world as you pilot their experience.
Intelligent Flight
DJI Goggles are a perfect pair with DJI's new Intelligent Flight Mode: Fixed-Wing Mode. In this mode, the aircraft doesn't turn left or right, instead it flies forward with enough rotational movement for realistic flight simulation. Combined with Head Tracking Mode, you can use your head to control the Mavic Pro for a fully realized flight experience. An AR trajectory prediction feature in Fixed-Wing Mode makes using this mode in complex environments safer. Other Intelligent Flight Modes include Terrain Follow, ActiveTrack, TapFly, Cinematic Mode and Tripod Mode.
Comfortable Design
A unique headband design spreads the weight of DJI Goggles around the head evenly, which minimises pressure on the face to keep them comfortable for hours of use. Glasses wearers are also able to wear them comfortably. The screen portion of the goggles can be flipped up to glimpse the real world, or detached entirely for easy portability.
Highlights
High Resolution
DJI Goggles feature two 1920x1080 screens providing more than twice the amount of pixels of a typical 2K single screen.
No Latticing
Each screen packs its pixels together tightly so you see a clean, cohesive image with no latticing.
Optical Design
DJI Goggles use a beam splitter to display an image in front of each eye, as well as polarization to prevent any image overlap. This allows it to create genuine Full HD 1920x1080 resolution per eye. When used with the large aperture aspheric lens, a 85° field of view per eye is created for maximum immersion.
Head Tracking
Your head movements control both aircraft yaw6 and camera tilt in Head Tracking Flight mode as with remote controller sticks. All you need to do is turn left or right to yaw left or right, and straighten your head to stop turning.
Two Ultra High Quality 1920x1080 screens
High Frame Rate viewing at 720p/60fps or 1080p/30fps at close range
Immersive 360° Experience
Ergonomic Design
Up to 6 hours Operation Time
Low 110ms Latency

1 DJI Goggles supports Mavic Pro, Spark, Phantom 4 series and Inspire series. Some functions will be adapted for different DJI Products.
2 HD mode: 1080p/30fps: near-field with no interference; 720p/30fps: at long range or with interference; Smooth Mode: 720p/60fps
3 Using the Mavic Pro, stream wirelessly at 720p/60fps and record video at 720p/120fps
4 For Mavic Pro with two pairs of DJI Goggles and two RCs only
5 The use of a spotter is essential when wearing DJI Goggles. The aircraft should not fly beyond the spotter's line of sight.
6 The rotation around the vertical axis
Product Specifications
Basic
Weight Goggles: 495 g
Headband: 500 g
Dimensions Goggles: 195 mm x 155 mm x 110 mm
Headband (Folded): 255 x mm 205 mm x 92 mm
FOV: 85° (single screen)
Screen Size: 5 x 2 inches
Interpupillary Distance Range: 58 - 70 mm
Refresh rate: 60 Hz
Screen Resolution: 3840 x 1080 (Single Screen: 1920 x 1080)
Operating Frequency: 2.4 GHz
Max.Transmission Distance: Same as the aircraft connected
Video Downlink Resolution: 1080p 30, 720p 60, 720p 30
Video Downlink Latency: (Near field and free of interference)
110 ms (Mavic Pro, 720p60, video format: 720p120)
150 ms (Phantom 4 Pro/Advanced series, 720p60, video format: 720p60/720p120)
167 ms (Phantom 4, 720p30, video format: 720p60)
140 ms (Inspire 2+ X5S, 720p60, video format: 1080p120)
190 ms (Inspire 2+ X4S, 720p60, video format: 1080p60)
Battery Capacity: 9440 mAh
Battery Energy: 35.44 Wh
Max Operating Time: 6 hrs
Operating Temperature Range: 32°F (0°C) - 104°F (40°C)
I/O Interface: Micro USB, 3.5mm audio jack, HDMI type-D, Micro SD card slot HDMI Supported HDMI 1.4b, HDCP 1.4
Sensors: Gyroscope, Accelerometer, Proximity sensor
Charger Input: 100-240VAC, 50/60 Hz. 0.5A
Output: 5V,3A ; 9V,2A;12V,1.5A
In the box
DJI Goggles Body x 1
Headband x 1
Micro USB Cable x 1
HDMI Cable x 1
Wire Clip x 1
Cleaning Cloth x 1
Charger x 1
WHY BUY FROM US?
By buying from Ferntech, you'll have the confidence that you are dealing directly with New Zealand's leading drone experts. Our staff are knowledgable drone pilots who offer expert advice, trusted support and superior specialist service. Only through us will you receive a full New Zealand warranty, phone and email support, and access to our certified Repairs Centre with DJI-qualified drone technicians. And we guarantee that we will have the best prices on the market — if not let us know and we will match any price (conditions apply).
Warranty Details
MC: 12 Months
Battery Charger:
6 Months
Operation

What is the correct way to put on and wear the DJI Goggles?
1. Insert the headband buckle into the slot above the lenses until you hear a click. Check that it has been fastened securely. 2. Align the lenses over your eyes and pull the strap down. Adjust the strap knob until the headset fits snugly and comfortably on your head.

Can I wear glasses while using the DJI Goggles kit?
Yes. The DJI Goggles can be worn over glasses.

Are the DJI Goggles water-resistant?
No, they are not.

How do I adjust the interpupillary distance (IPD) between the lenses? What pupil distance will suit me best?
First, turn the IPD knob to adjust the distance between the lenses until the images are aligned. When the images align, you will have the most suitable pupil distance for you.

How do I avoid touching the touchpad by mistake?
You can lock the touchpad by swiping backwards with two fingers.

When pressing and holding down the power button, my DJI Goggles sometimes only work sporadically. Why?
To ensure normal system functioning, the DJI Goggles will not respond to any on/off command within 10s after the last turn on/turn off.

Connectivity
How many DJI Goggles can be connected to one Mavic Pro drone at the same time?
Apart from pairing the DJI Goggles with a Mavic Pro drone and remote controller, there are three other connection combinations:
1. One Mavic Pro drone + two DJI Goggles + two Mavic Pro remote controllers
2. One Mavic Pro drone + two DJI Goggles + one Mavic Pro remote controller
3. One Mavic Pro drone + one DJI Goggles + two Mavic Pro remote controllers

What happens when more than one pair of DJI Goggles / remote controllers are connected to the same drone?
In Coach Mode, only the master remote controller can change the flight mode. The drone starts to respond to the slave remote controller only when the master remote controller doesn't give any commands for more than two seconds. The master remote controller can override anytime. In Dual Operation Mode (one drone + two DJI Goggles + two remote controllers), the slave DJI Goggles will not support Head Tracking Mode. If the remote controller and DJI Goggles are being operated by the same user, a spotter who is able to give instructions and warnings is required to ensure safe flying.

What DJI drones are compatible with the DJI Goggles through USB cables?
Spark, Phantom 4, Phantom 4 Pro, Phantom 4 Advanced, and Inspire 2.

What devices can be connected with the DJI Googles using the HDMI connector?
Any device that has an HDMI port.

What is the Micro SD Card slot on the DJI Goggles used for?
The Micro SD Card slot on the DJI Goggles is used to download files from the aircraft to the goggle's onboard SD card for backup and to view captured video files.(Only videos with a resolution of 1080P/60fps or lower can be viewed via the Goggles.)

Can I download videos not recorded by a drone to a Micro SD Card and then insert them into the DJI Goggles to watch them?
No.

Why is the Mavic Pro the only drone that can be connected to the DJI Goggles wirelessly?
Because of OcuSync. The same video tranmission system carried by the Mavic Pro has also been integrated into the DJI Goggles, making the wireless connection between these two devices possible.

What are the main differences between HD Mode and Smooth Mode?
In HD Mode, the resolution of video transmission footage reaches 1080p/30fps for near field, lowering to 720p/30fps for far field or when affected by interference. In Smooth Mode, the resolution will remain at 720p/60fps. The former is for a more clear and immersive FPV experience, and the latter is for smoother FPV footage.

Why does the video transmission image quality in my DJI Goggles sometimes change?
The resolution of video transmission footage seen in the DJI Goggles changes along with the video recording resolution. Therefore:
1. When video is recorded at 4K, the highest video transmission resolution is 720p/30;
2. When video is recorded at 2.7K, video transmission resolution tops out at 1080p/30;
3. When video is recorded at 1080p or below, depending on whether the frame rate is higher than 30fps or lower than 30fps, the max video transmission resolution will be 720p/60fps or 1080p/30fps, respectively.

What is the difference between the DJI Goggles 1080p screens and other 2K screens?
Typical "2K" screens inside other brands of goggles are split into two 1280x1440 sections, one for each eye at 720p. The DJI Goggles use dual 1080p screens, meaning that each screen has a maximum resolution of 1920*1080.

What kind of latency is there when the DJI Goggles are connected with different devices?
HD video downlink latency (near field and free of interference) can be as low as: 110 ms (Mavic Pro, 720p60, video format: 720p120) 150 ms (Phantom 4 series, 720p60, video format: 720p60/720p120) 140 ms (Inspire 2+X5S, 720p60, video format: 1080p120) 190 ms (Inspire 2+X4S, 720p60, video format: 1080p60)

How do DJI Goggles provide stable wireless video transmission?
Using DJI's OcuSync wireless transmission system, DJI Goggles link with the Mavic Pro with a transmission range of up to 7 km (when FCC-compliant). Four antennas built into the body and headband provide signal detection in all directions, staying connected to your drone even when it's behind you.

When connecting multiple remote controllers and a pair of Goggles to a Mavic, if the connection between the Goggles and the Mavic is interrupted, what will happen to the connection between the remote controllers and the Mavic?
If the Goggles are powered off or disconnect from the Mavic for 30 seconds, the remote controller connected to the Goggles will automatically connect with the Mavic. This remote controller will be able to control flight, but won't transfer live video to the DJI GO app.

Updating Firmware
How do I update the DJI Goggles firmware?
There are three main ways to update firmware:
1. Directly connect your DJI Goggles to a PC.
2. Pair your remote controller, drone, and DJI Goggles before connecting the remote controller to a PC, and update all three devices together.
3. Pair your remote controller, drone, and DJI Goggles, then connect the remote controller with the DJI GO app (or GO 4.0) to update the three devices simultaneously within the app.

Technology
Do the DJI Goggles offer the same functions no matter what device they're connected to? If not, what are the main differences?
No. For specific functions according to the different devices the DJI Goggles are connected to, please refer to the user manual. (Phantom 4 will soon support head tracking.)

Why does a drone connected to the DJI Goggles keep rotating in Head Tracking Mode even when I have already stopped moving?
In Head Tracking Mode, a drone's yaw depends on the pilot's head movements. If the pilot doesn't stop where he began, the drone will keep rotating until the pilot turns his head back to the original position.

Why do the C1/C2 buttons on the Mavic Pro controller stop responding when the drone is connected to the DJI Goggles?
For ease of operation, when the Mavic Pro is connected to the DJI Goggles, the C1/C2 buttons are automatically set to the Fn/Back buttons, which function the same as on the DJI Goggles.
Great Product — 25 June 2019
Awesome to fly with using the Mavic Pro. Head tracking is great
Response from the Ferntech team:
Thanks for the great review