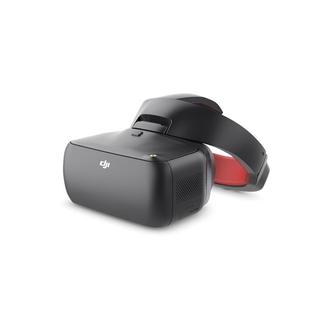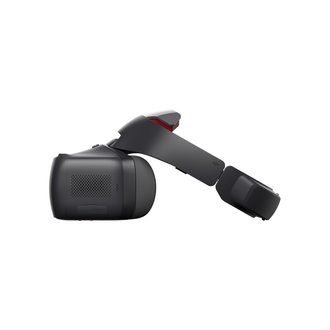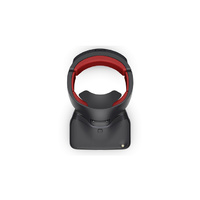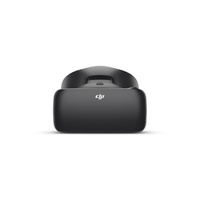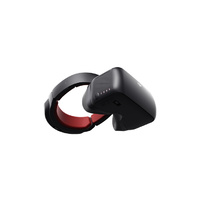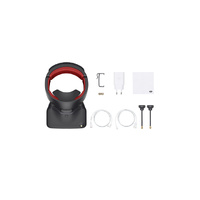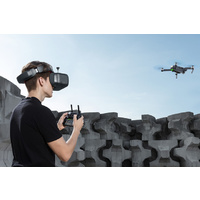 DJI Goggles Racing Edition
Or 4 interest-free payments of $224.75 with
Learn more.
Inheriting all the functions and dual 1080p HD screens from the original DJI Goggles, DJI Goggles RE support Sphere pano viewing and local video playback, offering an upgraded FPV experience.
---
Features
DJI Goggles just got better looking and more powerful, so you can experience FPV racing in style without traditional restraints. DJI Goggles Racing Edition (RE) feature a redesigned metallic matte black visor and headband, accompanied by padding covered in high-quality red leather. Precisely engineered for racing, DJI Goggles RE is compatible with an OcuSync video transmission module and a high-performance camera module, which work together to transmit the digital video signal from up to 7 km away with latency as low as 50 ms,1 in addition to the analog signal. Fly with smooth, clear video and experience the thrill of drone racing like never before.
OcuSync Video Transmission Module2
DJI Goggles deliver FPV video with ultimate speed, stability and clarity. The OcuSync Video Transmission Module offers 2.4 and 5.8 GHz dual-band digital video transmission with latency as low as 50 ms and a maximum control range of up to 7 km.1 Equipped with an array of powerful features, such as 1280×960 HD transmission,3 and automatic Frequency-Hopping Spread Spectrum (FHSS) transmission, this module is compatible with a variety of multi-rotor and fixed-wing aircraft. Packed with advanced tech and features, as well as external modules to suit a variety of setups, DJI Goggles RE achieves immersive drone racing that is unparalleled.
Camera Module2
The DJI OcuSync Camera compatible with DJI Goggles RE uses a 1/3" image sensor, providing much higher-resolution video transmission than most analogue FPV goggles on the market. It also uses a global shutter, significantly reducing rolling shutter effect caused by high-frequency vibration. Also, its 148° FOV with a low-distortion lens delivers a wide, yet natural-looking camera view. With such an advanced camera, users can control flight accurately and even record a whole flight for analysis or sharing.5
Highlights
Ultimate Control for Boundless Flight
DJI Goggles RE offers access to flight setting adjustments, gimbal control, and precise flight data and more. All of which are necessary for effective drone racing.
Flight Control
DJI Goggles RE uses bottom-up processing, which means a signal reception module isn't required. By connecting a third-party controller to the Goggles, users can directly control racing drones with an F3, F4, KISS, Naze, or any other supported flight controller.
Gimbal Control
Users can control the gimbal camera by simply putting on the Goggles and turning their head in Head Tracking Gimbal mode.
On-Screen Display
Essential flight information such as transmission resolution, battery level, and signal quality is easily visible on the screen.
Digital & Analog Transmission
In addition to HD digital transmission, DJI Goggles RE offers analogue transmission via their SMA port.
12 Selectable Transmission Channels
Access to low-interference transmission channels is the key to success for competitive FPV racing, especially when multiple drones are flying simultaneously. Manually choose from up to 12 transmission channels to effectively avoid interference.4
Automatic FHSS Technology
When encountering wireless interference, the OcuSync Module will quickly and automatically switch between the 2.4 and 5.8 GHz channels to maintain unobstructed transmission.
Connect Two Pairs of DJI Goggles RE or an Extra Controller
With an extra pair of DJI Goggles, a spectator can experience the thrill of drone racing from the same perspective as the pilot. A second user can also view the pilot's FPV from a smartphone with a Mavic Controller.
1 Attainable when transmission resolution is set to 480p under FCC regulations at 2.4 GHz in ideal conditions. The recommended transmission distance is 2 km for fixed-wing aircraft and 200 m for drone racing.
2 Camera Module and OcuSync Video Transmission Module sold separately.
3 720p 60 fps, 480p 50 fps transmission are also supported.
4 12 selectable transmission channels are available at 5.8 GHz and seven channels are available at 2.4 GHz.
5 Supported by both OcuSync and analogue video transmission.
Compatibility
Mavic Pro
Spark
Phantom 4 Series
Inspire 2
Mavic 2
Mavic Pro Platinum

Product Specifications
DJI Goggles RE
Weight: (Typical) DJI Goggles RE Body: 502 g;
Headband: 500 g
Dimensions DJI Goggles RE Body: 195 mm x 155 mm x 110 mm;
Headband (folded): 255 m xx 205 mm x 92 mm
Screen Size: 5 x 2 inches
Screen Resolution: 3840 x 1080 (single screen: 1920 x 1080)
Transmitter Power: (EIRP) 2.4 GHz:
25.5 dBm (FCC); 18.5 dBm (CE); 19 dBm (SRRC)
5.8 GHz:
25.5 dBm (FCC); 12.5 dBm (CE); 18.5 dBm (SRRC)
Live View Modes: 1080p30, 720p60, 720p30
Video Format: MP4 (H.264)
Supported Video Play Format: MP4, MOV, MKV (Video format: H264; Audio format: AAC-LC, AAC-HE, AC-3, DTS, MP3)
Battery Capacity: 9440 mAh
Operating Temperature Range: 32°F to 104° F (0°C to 40° C)
Charger Input: 100-240 VAC, 50 / 60 Hz, 0.5 A
Output: 5 V 3 A / 9V 2A / 12 V 1.5 A
DJI Ocusync Camera
Sensor: 1/3'' CMOS;
Effective pixels: 1.2M
Lens: 2.65 mm, f/2.0
Lens Group: 6G + IR
Shutter: Global shutter
ISO: 100 - 3200
FOV: 148° (D); 111° (H); 79.5° (V)

DJI Ocysync Air System
Weight Air Unit: 43.7 g;
Camera (cable included): 18.2 g;
Pagoda Antenna: 9.4 g;
Cylindrical Antenna: 9.4 g;
Dipole Antenna: 4.2 g
Dimensions Air Unit: 72 × 33 × 14 mm;
Camera: 29.4 × 28.2 × 22.6 mm
Communication Frequency: 2.4 GHz / 5.8 GHz
Transmitter Power: (EIRP)
2.4 GHz:
22.5 dBm (FCC); 18.5 dBm (CE); 19 dBm (SRRC)
5.8 GHz:
25.5 dBm (FCC); 12.5 dBm (CE); 25.5 dBm (SRRC)
Live View Modes and min Latency: 960p50: 70 ms; 720p60: 60 ms; 480p50: 50 ms
Max. Transmission Distance: 2.4 GHz:7 km (FCC); 4 km (CE); 4 km (SRRC)
5.8 GHz: 4 km (FCC); 0.7 km (CE); 4 km (SRRC)
Recommended Frequency Band: 5.8 GHz; CE: 2.4 GHz; SRRC: 5.8 GHz
Video Format: MP4 (MPEG4)
I/O Interface: S.Bus, Micro USB, PPM, UART, MMCX, Micro SD card slot
Supported Flight Control Systems: F3, F4, KISS, NAZE
Supported Remote Controllers: X9D (Frsky), DEVO 10 (Walkera), T8FG (Futaba),T14SG (Futaba), WTF09sll (WFLY), AT9S (RadioLink)
Operating Temperature Range: 32° to 104° F (0° to 40° C)
Input Power: 9-16.8 V (3S-4S)
In the box
Racing Goggles x 1
Charger x 1
Wire Clip x 1
Pagoda Antenna (SMA interface) x 2
Reversed SMA Connector
Micro USB Cable x 1
HDMI Cable x 1
Cleaning Cloth x 1
WHY BUY FROM US?
By buying from Ferntech, you'll have the confidence that you are dealing directly with New Zealand's leading drone experts. Our staff are knowledgable drone pilots who offer expert advice, trusted support and superior specialist service. Only through us will you receive a full New Zealand warranty, phone and email support, and access to our certified Repairs Centre with DJI-qualified drone technicians. And we guarantee that we will have the best prices on the market — if not let us know and we will match any price (conditions apply).
Warranty Details
MC: 12 Months
Optical Module: 6 Months
Battery: 6 Months
Battery Charger: 6 Months
Frame: No Warranty
What are the main differences between DJI Goggles Racing Edition (RE) and DJI Goggles?

1. In addition to the 2.4GHz digital transmission band, the new DJI Goggles RE also supports the 5.8GHz band, which can avoid the usual interference on the more crowded 2.4GHz.
2. DJI Goggles RE has redesigned the internal linear polarized omnidirectional antennas and added new external Pagoda antenna, a 5.8GHz single-frequency omnidirectional left hand circularly polarized (LHCP) antenna.
3. DJI Goggles RE has restructured the radio communication strategy and video decoding algorithm to lower transmission latency to 50 ms* (with wireless transmission latency of less than 10 ms), ensuring smooth and reliable video transmission and avoiding video lag and disconnection from the digital video transmission system when operating in a normal environment.
4. DJI Goggles RE supports analog transmission at any integer frequency between 5.650~5.925 GHz and analog video storage on a Micro SD card.
5. DJI Goggles RE can store digital video on a Micro SD card.
6. DJI Goggles RE supports local video playback and Sphere pano viewing, allowing users to turn their head to get a 360° view of the Sphere pano.
7. The facial pad has been redesigned and the headband has used new replaceable leather materials to make it even more comfortable to wear.
*When tested with a 480p video feed.
How long is transmission system latency on DJI Goggles RE?
1. Latency of the transmission system (end to end ) comes from latency in the camera, coding, wireless transmission, Vsync, display, and screen response.
2. According to testing results, a transmission system with the lowest latency has a latency ranging from 30-50 ms, while the latency of an ordinary transmission system ranges from 50-80 ms.
3. The Ocusync transmission system latency range is 50-70 ms, tested in an environment without interference and with a 480p 50fps video feed, with coding latency measured at approx. 5 ms and wireless transmission latency measured at <10 ms.
How many analog transmission frequency channels do DJI Goggles RE support?
DJI Goggles RE supports the 5.8GHz FPV Band A/B/E/F/C (Raceband), up to 40 channels in total. It also receives up to of 275 integer frequencies between 5650~5925 MHz, in which Band C (Raceband) includes 8 channels and the channel interval is 27 MHz. It is recommended to choose Band C when flying multiple aircraft simultaneously.

Which DJI drones are compatible with DJI Goggles RE?
DJI Goggles RE work with all the DJI drones compatible with the original DJI Goggles, including the Spark, Mavic Pro, Phantom 4 Series, and Inspire 2.

What's the SMA port on the body of the Goggles RE for?
In addition to the four antennas built into the original DJI Goggles, DJI Goggles RE are also compatible with external antennas, which work with the built-in ones to support 5.8 GHz video transmission. The external antennas connect to the SMA port on the Goggles' body.

What video formats do DJI Goggles RE support?
MP4, MOV, MKV

Do DJI Goggles RE support any third-party flight controllers or remote controllers?
Yes. Supported flight controllers: KISS, F3, F4, and Naze Supported remote controllers: X9D (FrSky), DEVO 10 (Walkera), T8FG (Futaba), T14SG (Futaba), WTF09sll (WFLY), and AT9S (RadioLink)

How can I view Sphere pano photos with DJI Goggles RE?
1. Sphere panos on SkyPixel can be downloaded to an SD card and viewed with Goggles in the Local Storage interface.
2. If Sphere panos are saved to a DJI aircraft, you can download the photos to Goggles RE from Aircraft Storage then view them in the Local Storage interface.

DJI Ocusync Unit
What is the SD card slot for?
Videos recorded by the DJI OcuSync Air Unit will be stored on the SD card inserted into the Air Unit's SD card slot. Videos rendered from the live view will also save to the Goggles' SD card slot. Please note that these SD slots do not support hot swapping.

Can I connect the Air Unit with any non-DJI camera?
No.

Does the OcuSync Air System support non-DJI antennas?
Yes. However, we strongly recommend you do not use non-DJI antennas as compatibility problems may arise.

What batteries does the Air Unit support?
3S or 4S batteries.

How do I update the video transmission module of the Air Unit?
Connect the video transmission module to a PC with a USB cable. Open DJI Assistant 2 and choose the firmware version you need. Proceed with the firmware update.

Can I remove the metal shell from the video transmission module to reduce weight?
No. The metal shell is used for cooling and fixing the device. It should not be removed.
How many frequency channels does the DJI OcuSync Air Unit support?
1. Under Auto mode, the DJI OcuSync Air Unit automatically chooses a frequency among 105 channels available in the 5.8GHz frequency band and 63 channels available in the 2.4GHz frequency band.
2. Under Manual mode, the DJI OcuSync Air Unit supports 12 5.8GHz channels and 7 2.4GHz channels. Compared to analog video transmission, these frequency channels were designed to have lower interference between adjacent channels. Where simultaneously working analog video transmission systems can cause severe interference, the OcuSync Air Unit supports up to 19 simultaneously working systems.
DJI Ocusync Camera
Can I connect the camera to other devices other than the DJI OcuSync Air Unit?
No.

Can I use the camera of the OcuSync Air Unit to take photos?
No. But you can take screenshot by pressing the touch pad on the Goggles RE with two fingers and hold.

DJI Ocysync Camera
What are the differences between the three compatible antennas?
DJI Goggles RE come with a set of three compatible antennas for different scenarios: • Pagoda: This circularly polarized antenna performs best at 5.8 GHz. • Cylindrical: Also circularly polarized, this antenna operates at 2.4 and 5.8 GHz for fully integrated performance. • Dipole: Linearly polarized, this antenna operates at 2.4 and 5.8 GHz and is lightweight, allowing for a clear video feed at close distances.

Can I bend two antennas to make them cross each other?
Bending the antennas frequently may permanently affect their service life and performance.

Can I remove the silicone cover from a Dipole antenna?
It is recommended you do not remove the silicone cover.

When using Goggles RE to receive analog video transmission, can I use antennas other than the official DJI Pagoda Antenna?
No. In many countries, local laws and regulations do not allow unofficial antennas to be used.
There's currently no reviews for this product, be the first to write one.