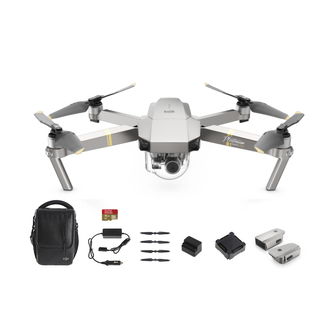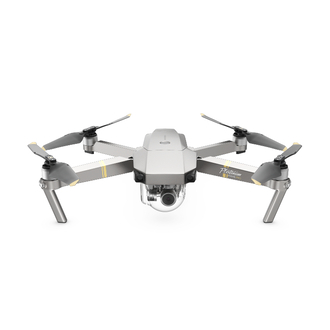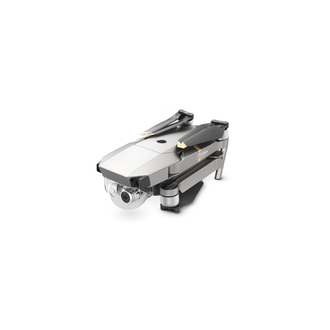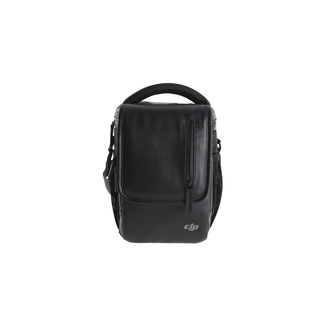 DJI Mavic Pro Platinum Fly More Combo (Refurbished)
This is a refurbished Mavic Pro Platinum from the DJI factory. It has been thoroughly tested and inspected by a DJI technician. The Platinum Refurbished still features an improved 30-minute flight time coupled with a 60% noise power reduction.
---
Features
This is a refurbished Mavic Pro Platinum from the DJI factory. Refurbished units have been returned to DJI for various reasons, often simply because of a damaged box. It has been thoroughly tested and inspected by a DJI technician. As a result, you can purchase a Mavic Pro Platinum that looks and performs like new for a fraction of the price. Our team have found that the reliability and performance of a refurbished product are identical to that of a brand-new model - you won't be able to tell the difference. This model comes with a full DJI warranty and brand new batteries.
The DJI Mavic Pro Platinum is a small yet powerful drone that turns the sky into your creative canvas easily and without worry, helping you make every moment an aerial moment. Its compact size hides a high degree of complexity that makes it one of DJI's most sophisticated flying cameras ever. 24 high-performance computing cores, an all-new transmission system with a 4.3mi (7km)* range, 5 vision sensors, and a 4K camera stabilized by a 3-axis mechanical gimbal, are at your command with just a push of your thumb or a tap of your finger.
*Unobstructed, free of interference, when FCC compliant.
| | | | | | |
| --- | --- | --- | --- | --- | --- |
| Flight Time | Noise Reduction | Video Resolution | Control Range | Gimbal | Effective Pixels |
| 30 Min | 4dB | 4k | 7km | 3-axis | 12mp |
Powerful
Fly Further
Inside the Mavic's pocket-sized remote controller is DJI's brand new OcuSync transmission technology, with a range of 4.3mi (7km)*, HD 720p long range and Full HD 1080p short range video streaming.
*Unobstructed, free of interference, when FCC compliant.
No Bumps and Scrapes
An unprotected drone may hit obstacles during long distance flight, or when descending from an inadequate height in Return to Home mode. The Mavic uses FlightAutonomy technology to sense obstacles up to 49ft (15m) away and allows the Mavic to bypass them, or brake to hover which reduces accidents.
Precision Hover
Satellite positioning can only help a drone hover in an unobstructed outdoor area free of interference. Without satellites, the drone will not be able to position and become susceptible to drifting. However, with forward and downward vision sensors, the Mavic can hover precisely indoors or in places without GPS.
Stay Flying Longer
The Mavic is only 1/6th the size of the Phantom 4 but this reduction in size doesn't mean a reduction in flight time. It reaches a maximum flight time of 30 minutes and a maximum distance of 8mi (13km) due to its powerful, high-efficiency motors.
4K Ultra HD Video
Mavic supports 4K video at 30fps. No Electronic Image Stabilization is used, ensuring all footage is 4K. The miniaturized, ultra-precise 3-axis gimbal for the Mavic is capable of stabilizing the camera, even during high-speed motion for smooth video and sharp photos.
Photos with Altitude
The Mavic's 12-megapixel camera with Adobe DNG RAW support is ready to take beautiful pictures at altitude.
Creative
Shoot Like a Pro with ActiveTrack
You don't need a film crew when you fly the Mavic, all you need is ActiveTrack. Just tell it who to track and it handles the rest, making you shoot like a pro.
Wave for Your Dronie
Take selfies like you've never seen before with Mavic's Gesture Mode. With the Mavic in the air and pointing at you, a gesture is all it takes to snap a photo.
Finely Tuned Control
If you are lining up a photo or flying indoors, you don't want to be flying too fast. Flip on Tripod Mode and every move the Mavic makes becomes slow and precise.
Easy
TapFly
Beginner pilots often have trouble flying in a straight line because they aren't familiar with joysticks, this makes shooting smooth video tricky. TapFly means you can just tap where you want to go and the Mavic will fly smoothly in that direction, so you can focus on controlling the gimbal and capturing photos and video.
Shoot. Edit. Share.
You have shot the most incredible scene imaginable. Now you can edit it with just a few taps in the DJI GO 4 Editor, and share it instantly for all the world to see.
Dual Remote Controller Mode
Dual Remote Controller Mode makes it fun and easy to fly the Mavic and film aerial footage collaboratively. Both Master and Slave remote controllers can control the aircraft and gimbal, but the master remote controller has priority. A more experienced pilot can use the Master remote controller to override a less experienced pilot for better safety.
Worry Free
Twice as Reliable With Two Sets of Sensors
On a drone, the most likely source of a problem is a sensor not working exactly as it should. This is why the Mavic has two of each key sensor. If one stops working, the other takes its place.
Level Headed
Stay at the same level height above the ground automatically. You don't have to worry about flying too low as the Mavic will keep you at an optimal height over uneven terrain.
Safer, Smarter Batteries
The Mavic Platinum's Intelligent Flight Batteries give it a flight time of up to 30 minutes, allowing you to check battery level and status during real-time during a flight through the DJI GO 4 app. It also calculates remaining flight time, helping pilots fly more safely.
A Glance is All You Need
Through the DJI GO 4 app you see everything the camera sees, as well as everything you need to know about your Mavic, from battery life to where it is, to where it is heading and much more.
Highlights
30 Minute Flight Time
7km Control Range
Reaches speeds up to 65 km/h
3 Axis Gimbal to stablise your videos
4K Video Resolution
12MP for great quality pictures
Noise Reduced by 4dB
Product Specifications
Aircraft
Folded: H83mm x W83mm x L198mm
Diagonal Size: (Propellers Excluded) 335 mm
Weight: (Battery & Propellers Included) 1.62 lbs (734 g) (exclude gimbal cover), 1.64 lbs (743 g) (include gimbal cover)
Max Ascent Speed: 16.4 ft/s (5 m/s) in Sport mode
Max Descent Speed: 9.8 ft/s (3 m/s)
Max Speed: 40 mph (65 kph) in Sport mode without wind
Max Service Ceiling Above Sea Level: 16404 feet (5000 m)
Max Flight Time: 30 minutes (no wind at a consistent 15.5 mph (25 kph))
Max Hovering Time: 27 minutes (no wind)
ESC (Electronic Speed Controller): FOC
Max Total Travel Distance: (One Full Battery, No Wind) 9.3 mi (15 km, no wind)
Operating Temperature Range: 32° to 104° F (0° to 40° C)
Satellite Positioning Systems: GPS / GLONASS
Hover Accuracy Range Vertical:
+/- 0.1 m (when Vision Positioning is active) or +/-0.5 m
Horizontal:
+/- 0.3 m (when Vision Positioning is active) or +/-1.5 m
Operating Frequency:
FCC:
2.4-2.4835GHz; 5.150-5.250 GHz; 5.725-5.850 GHz
CE:
2.4-2.4835GHz; 5.725-5.850 GHz
SRRC:
2.4-2.4835 GHz;5.725-5.850 GHz
Transmitter Power:
(EIRP) 2.4GHz
FCC:<=26 dBm; CE: <=20 dBm; SRRC:<=20 dBm; MIC:<=18 dBm
5.2 GHz
FCC:<=23 dBm
5.8 GHz
FCC:<=23 dBm; CE <=13 dBm; SRRC: <=23 dBm; MIC: -


Remote Controller
Operating Frequency: 2.4 GHz to 2.483 GHz
Max Transmission Distance FCC Compliant: 4.3 mi (7 km);
CE Compliant: 2.5 mi (4 km)
SRRC Compliant: 2.5mi (4 km)
MIC Compliant: 2.5 mi (4 km) (Unobstructed, free of interference)
Operating Temperature Range: 32° to 104° F ( 0° to 40° C )
Battery: 2970mAh
Transmitter Power: (EIRP)
FCC:<=26 dBm
CE:<=20 dBm
SRRC: <=20 dBm
MIC: <=18 dBm
Operating Current/Voltage: 950mA @ 3.7V
Supported Mobile Device Size Thickness Supported: 6.5-8.5mm
Max length: 160mm
Supported USB port types: Lightning, Micro USB(Type-B),USB(Type-C)™


Gimbal
Controllable Range Pitch: -90° to +30°
Roll: 0° or 90° (Horizontally and vertically)
Stabilization: 3-axis (pitch, roll, yaw)


Vision System
Vision System: Forward Vision System, Downward Vision System
Obstacle Sensory Range Precision measurement range: 2 ft (0.7 m) to 49 ft (15 m) Detectable range: 49 ft (15 m) to 98 ft (30 m)
Operating Environment: Surface with clear pattern and adequate lighting (lux > 15)
Velocity Range: ≤22.4 mph (36 kph) at 6.6 ft (2 m) above ground
Altitude Range: 1 - 43 feet (0.3 - 13 m)
Operating Range: 1 - 43 feet (0.3 - 13 m)


App/ Live View
Mobile App: DJI GO 4
Live View Quality: 720p@30fps, 1080p@30fps(Remote Controller)
720p@30fps(Wi-Fi)
720p@60fps, 1080p@30fps(DJI Goggles)
Latency: 160-170ms (depending on conditions and mobile device)
Required Operating Systems: iOS 9.0 or later or Android 4.1.2 or later
In the box
Aircraft x 1
Remote Controller x 1
Intelligent Flight Battery x 3
Charger x 1
Power Cable x 1
Propellers (Pair) x 5
RC Cable (Lightning Connector) x 1
RC Cable (Standard Micro USB Connector) x 1
RC Cable (USB Type-C Connector) x 1
Gimbal Cover x 1
Gimbal Clamp x 1
microSD Card x 1
Micro USB Cable x 1
RC Cable Slider (Large) x 2
RC Cable Slider (Small) x 2
Battery Charging Hub x 1
Car Charger x 1
Battery to Power Bank Adapter x 1
Shoulder Bag x 1
SanDisk Extreme 16GB Micro SD x 1
WHY BUY FROM US?
By buying from Ferntech, you'll have the confidence that you are dealing directly with New Zealand's leading drone experts. Our staff are knowledgable drone pilots who offer expert advice, trusted support and superior specialist service. Only through us will you receive a full New Zealand warranty, phone and email support, and access to our certified Repairs Centre with DJI-qualified drone technicians. And we guarantee that we will have the best prices on the market — if not let us know and we will match any price (conditions apply).
Warranty Details
MC: 12 Months
Gimbal Camera: 12 Months
Vision Positioning System: 12 Months
Propulsion System (excluding propellers): 12 Months
Remote Controller: 12 Months
Battery: 6 Months and Charge Cycle less than 200 Times
Battery Charger: 6 Months
Frame: No Warranty
Propeller: No Warranty
Mavic Pro vs. Mavic Pro Platinum – What's the difference?
The only differences are that the Mavic Pro Platinum has an extended flight time of 30 minutes with an increased hover time of 27 minutes. It also has 4dB (60%) aircraft noise reduction.
Can I use a Mavic Pro battery in my Mavic Pro Platinum?
Yes, you can.
Will the Mavic Pro Platinum maintain its noise reduction in all flight modes?
Yes, it will.
There's currently no reviews for this product, be the first to write one.