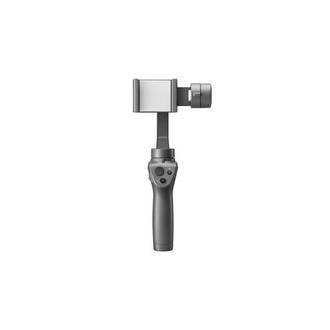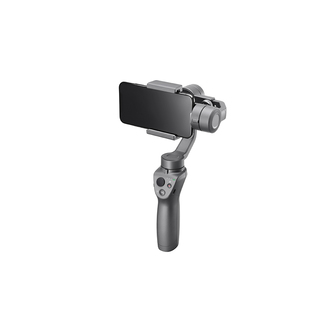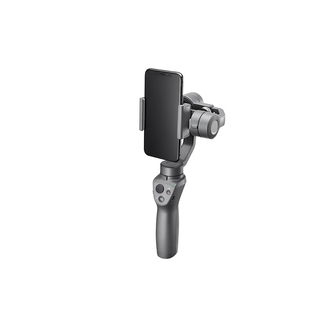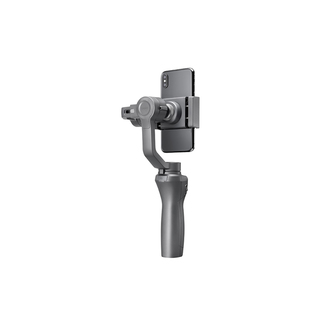 DJI Osmo Mobile 2 (Refurbished)
The Osmo Mobile 2 is a handheld smartphone gimbal made for the storyteller in all of us. This is a refurbished unit which performs and looks like new. Comes in a brand new sealed box along with a full warranty.
---
Features
The Osmo Mobile 2 is a handheld smartphone gimbal made for the storyteller in all of us. This is a refurbished unit thoroughly tested and inspected to ensure they are in perfect condition before being sent to DJI Ferntech in brand new sealed packaging. As a result, you can purchase a DJI drone that looks and performs like it is brand new for a fraction of the price. Refurbished drones come with a full DJI warranty, new batteries and a New Zealand power supply. Only available while stocks last.
Stable and Smooth Moves
The Osmo Mobile 2 was built to film on the go. Just select your subject and ActiveTrack will follow,using built-in sensors and a brushless motors to ensure stability. Whether it's small vibrations from a skateboard or more intense instability from jumping, this smartphone stabilizer stays steady.

Time in Motion
Turn everyday situations into incredible moments with Timelapse. Shoot blooming flowers and rolling clouds, recording all their movements in a stable shot. For an even more dynamic effect, Motionlapse lets you move with the camera while creating equally smooth video.

Cinematic Zoom Control
For aspiring filmmakers, a new built-in zoom slider lets you completely operate your smartphone camera from the handlewith more fluid, cinematic zoom. You can even produce dollyzoom — a visual effect that only professional film sets could produce.

Reveal a Bigger World with Panoramas
Adventures allow us to stumble upon breath taking landscapes and stunning architecture. Relive these moments with high-definition panoramas. The Osmo Mobile 2 moves automatically to capture multiple photos then stitches them together to create a seamless image. You can also set your smartphone to Landscape or Portrait mode, giving you ideal options for every picture.

Hours of Live Streaming
Go live! With up to 15 hours of battery life, the Osmo Mobile 2 can also charge your smartphone for hours of streaming. Beautify mode also keeps you looking great in front of the camera.

Lightweight and Portable
Now you can take your story anywhere. The Osmo Mobile 2 is made of a high-strength composite material cuts the weight to just 485g, perfect for all-day use. Also, its modified design now supports more compact folding for increased portability. Move, shoot, and share with the Osmo Mobile 2
Product Specifications
General
Dimensions: 295 mm x 113 mm x 72 mm
Weight: 485g
Model: OM170

Gimbal
Consumption: 1.2 W * Under ideal conditions with the gimbal fully balanced
Controllable Range: Pan: ±160° Tilt:±155° (landscape orientation)
Mechanical Range: Pan: ±170° Roll:-90° to +70° Tilt:±170°
Max Controllable Speed: 120°/s Width of Compatible Phones: 58.6 mm - 85 mm
Battery
Type: 18650 LiPo
Capacity: 2600 mAh
Energy: 18 Wh
Voltage: 7.2 V
Charging Temperature: 5°C - 40°C
Operating Temperature: 0°C - 40°C
Operating Time:15 hrs *Under ideal conditions with the gimbal fully balanced
Charging Time: 2 hrs

Wireless
Model: Bluetooth Low Energy 4.0
In the box
Mobile Phone Gimbal (with Built-in Battery) x 1
Power Cable x 1
WHY BUY FROM US?
By buying from Ferntech, you'll have the confidence that you are dealing directly with New Zealand's leading drone experts. Our staff are knowledgable drone pilots who offer expert advice, trusted support and superior specialist service. Only through us will you receive a full New Zealand warranty, phone and email support, and access to our certified Repairs Centre with DJI-qualified drone technicians. And we guarantee that we will have the best prices on the market — if not let us know and we will match any price (conditions apply).
Warranty Details
Gimbal Camera: 12 Months
Handle: 12 Months
Battery: 6 Months and Charge Cycle less than 400 Times
Battery Charger: 12 Months
Battery Charging Cable (Osmo Mobile): No Warranty
General
Can the Osmo Mobile 2 hold any phone?
The Osmo Mobile 2 supports smartphones 58.6-84.8 mm wide and up to 8.4 mm thick. This covers most phones currently available, from the iPhone SE to the iPhone 6s Plus and Android phones of similar size. Please note that actual compatibility might be affected by accessories attached to your phone. Certain form factors including side button layout should also be considered.

How do I power on Osmo Mobile 2 for the first time?
Step 1: First, make sure to adequately charge the OM2 by connecting the charging cable to the micro USB port on the right side of the Osmo Mobile 2. If the battery level is low, the Osmo Mobile 2 will not power on.
Step 2: Mount your phone onto the Osmo Mobile 2 and adjust the balance.
Step 3: Press and hold the power button for three seconds to power on the Osmo Mobile 2. Launch DJI GO and choose Osmo Mobile 2. Follow the app's instructions to complete Bluetooth connection, registration, and activation.
Does my smartphone need to meet any phone hardware requirements when using the Osmo Mobile 2?
Osmo Mobile 2 utilizes Bluetooth 4.0 to communicate with phones. Although Bluetooth 4.0 has become a standard for current phones, we suggest you check compatibility by revisiting your phone specs.

How do I change my phone's mounting orientation?
Remove your phone from the mobile phone holder. Loosen the Holder Lock knob, then follow the indicated directions and rotate the mobile phone holder 90 degrees to set landscape or portrait orientation. Tighten the Holder Lock knob and mount your phone again.

How do I switch between Follow and Free modes?
With the Osmo Mobile 2 powered on, press the Mode button once to switch between Follow and Free modes. In Follow mode, the Osmo Mobile 2 will smoothly follow your arm's movements to reduce unwanted shaking from your smartphone. In Free mode, the gimbal locks the camera position regardless of your movements.

How do I recenter the Osmo Mobile 2?
Make sure the gimbal is powered and working normally, then quickly press the mode button twice to recenter the gimbal.

How can I switch between the front and rear cameras?
With the Osmo Mobile 2 powered and Bluetooth connected, quickly press the mode button three times to switch between the front and rear cameras.

How do I zoom Osmo Mobile 2?
A new Zoom slider has been added on the left side of Osmo Mobile 2 to let you zoom in or out.

Can I use auto calibration in Portrait orientation?
No.
DJI Go
Can I use ActiveTrack, Timelapse, and Pano in Portrait orientation?
Yes.
How do I activate ActiveTrack?
Tap the Metering icon on the bottom left of the app to switch to ActiveTrack mode. Mark a subject on your screen to track it as it moves.
Does the resolution of the front and rear cameras affect ActiveTrack performance?
No. ActiveTrack is not affected by camera resolution.
What are the differences among Timelapse, Motionlapse, and Hyperlapse?
Timelapse is suitable for recording the passing of time at a fixed scene by mounting the Osmo Mobile 2 on a tripod or base. Motionlapse allows users to record a moving timelapse video by setting up to five camera points. Hyperlapse allows users to record everything passing by as they hold the gimbal in hand and walk.
Can I set camera parameters in DJI GO?
Yes. You can set parameters manually in the Camera Settings menu. Please note that this function is only supported on iOS devices.
Can I set the speed of the joystick?
Yes, you can choose and set slow, medium, and fast joystick speeds in the app.
Can I set video resolution in DJI GO app when recording video?
When recording video, video resolution is set at 720p in DJI GO by default. You can change video resolution in the app. However, the maximum video resolution depends on your phone's camera.
Are there camera settings in the DJI GO app that directly affect my phone's video resolution?
No.
Is there anything inside the app that tells me how much storage space I have remaining for video on my phone?
If you are an iOS user, the app will tell you how much storage space there is for video. Unfortunately, this does not apply to Android users.
Can I use Beautify and ActiveTrack during live broadcasting?
Yes.
Can I broadcast live videos through a third-party video platform? How?
Yes. Go to Settings, Choose Live Broadcast Platform, choose the Custom option and type in the platform's link to broadcast live videos.
What is the difference between Walk and Sport modes?
These two modes are specially optimized to reduce different shakes generated during walking and running. The main difference between these modes is the gimbal's speed following your movements. In Sport mode, the gimbal follows your movements closely and is suitable for shooting fast-moving objects. In Walk mode, the gimbal moves slower when you walk.
Can I manually adjust metering, focus, and zoom when shooting a Motionlapse video?
No. To ensure optimum image quality, manual adjustment of these functions are disabled when shooting Motionlapse video.
How many points can I set when shooting a Motionlapse video?
A maximum of five.
Can I also save the original photos when shooting a Panorama?
Yes. Go to Settings, tap the Camera icon, and choose to enable or disable the function of saving original photos.
What is Pitch Lock mode?
The shooting direction of the phone camera will not be affected by the movement of your arms in a tilt axis.
Where are photos and video captured by the Osmo Mobile 2 stored?
For iOS users, they will be stored in DJI GO. For Android users, you can choose to store photos and video in either your phone or on an SD card.
Can I use Beautify for taking photos and recording video?
You can use Beautify for both. Beautify is available for taking single photos or photos using a countdown timer. It is also available when recording 720p video.
Is Beautify available when shooting with front and rear cameras?
Yes.
Are all the features available for Android and iOS systems?
The shooting capabilities of the Osmo Mobile 2 depend on what type of mobile phone system you use. Consequently, Android users may not be able to use the fully-optimized functions of the Osmo Mobile 2. DJI is working with Android phone manufacturers to provide a better user experience to all Android users. We thank you for your patience and understanding.
Battery
How long are charge times and battery life of Osmo Mobile 2? Can I swap out the battery?
A full charge requires 2 hours, and battery life is 15 hours*. The built-in battery cannot be swapped out.
* Under ideal conditions with the gimbal fully balanced.
How do I charge the Osmo Mobile 2? What is the maximum charging current for it?
You can charge the Osmo Mobile 2 via the micro USB charging port on the right of the handle. The maximum charging current is 2A.
How does the Osmo Mobile 2 charge a mobile device, and at what voltage?
The Osmo Mobile 2 charges a mobile device via the USB port on the back of the handle. It exports a voltage of 5V and a current of 1.5A.
Can I use the Osmo Mobile 2 when it's charging a mobile device?
Yes.
Bluetooth
How do I know which device is mine when there are several Osmo Mobile 2s around my phone?
We give every Osmo Mobile 2 a unique serial number, which is located on the left of the phone holder. You can easily locate your device by finding the serial number. You can also change the name of your device in DJI GO.
What should I do if I want to connect the Osmo Mobile 2 to another phone?
Please disconnect the previous phone and disable its Bluetooth. Then connect the Osmo Mobile 2 to another smartphone.
Accessories
Are all Osmo accessories compatible with the Osmo Mobile 2?
No. Most Osmo accessories are not compatible with the Osmo Mobile 2. However, Osmo Tripod is compatible with the Osmo Mobile 2 and can be mounted to it via a newly installed mounting hole at the bottom of the gimbal.
What is the size of the mounting hole at the bottom of the gimbal? What accessories does it support?
The mounting hole at the bottom of the Osmo Mobile 2 is the standard 1/4 – 20 UNC thread. It is compatible with the Osmo Mobile 2 Base, Osmo Tripod, and other third-party accessories.
Can I attach an external lens to my phone when using the Osmo Mobile 2?
Yes. However, external lenses may affect the balance of the gimbal. Large, heavy lenses are not recommended.
There's currently no reviews for this product, be the first to write one.