DJI Simulator
DJI Flight Simulator is a professional pilot training software using DJI's leading flight control technology to recreate the natural flying experience. This software tailored for the enterprise allows the users to hone piloting skills.
---
Features
This software built for the enterprise allows you to hone your piloting skills without the potential risks and costs associated with real-life training. Every aspect of DJI's unique flight control technology is analyzed and adapted to create the most realistic simulated flying experience. The DJI flight simulator software comes with 3 training modules
|
Skills Training
Perfect your piloting skills with exercises: basic flight tutorials, hovering and flight route training, and practice tests.
Free Flight
Gain piloting experience by exploring a variety of environments and acclimating to different flight conditions.
Application Training
Be ready for your operations by training for specific workflows such as power line inspections or search and rescue missions.
|
Life-Like Environment
Experience feedback from the surroundings just as you would be piloting a real drone. The software simulates wind effects, ground effects and crashes.
Feature List
| | | | |
| --- | --- | --- | --- |
| Functions | Free Trial Version | Enterprise Version | Customised Version |
| Consumer Drones | ✔ | ✔ | ✔ |
| General Settings | ✔ | ✔ | ✔ |
| Free Flight | ✔ | ✔ | ✔ |
| Enterprise Drones | | ✔ | ✔ |
| Advanced Parameters Settings | | ✔ | ✔ |
| Skills Training | | ✔ | ✔ |
| Application Training - Search and Rescue | | ✔ | ✔ |
| Application Training - Power Line Inspection | | | ✔ |
| Customisation | | | ✔ |
Drone Model Supported
| Mavic Series | Spark Series | Phantom Series | Inspire Series | Matirce 200 Series |
| --- | --- | --- | --- | --- |
| Mavic 2 Enterprise, Mavic 2 Zoom, Mavic Air, Mavic 2 Pro | Spark | Phantom 4 Pro | Inspire 1 Pro, Inspire 2 | M210 RTK |
Seamless Connectivity
Set up and access the Flight Simulator easily through its seamless connection to Windows PC and DJI remote controllers.
Remote Controller Compatibility
Flight Simulator supports the DJI remote controllers for the Phantom 4, Phantom 4 Advanced, Phantom 4 Pro, Phantom 4 Pro V2.0, Lightbridge 2, M600 Pro and Mavic Air.
To download the software please visit www.dji.com/simulator
Highlights
Multiple POVs
Comprehensive Physics Engine
Product Specifications
Computer System Requirement
| Unit | Minimum setup | Recommended | Optimal setup |
| --- | --- | --- | --- |
| CPU | G4560 | i5-6400 | i7-7700 |
| GPU | GTX 1050 Ti | GTX 1060 or 1070 | GTX 1080 Ti |
| VRAM | 4GB | 6GB or 8GB | 11GB |
| RAM | 16GB | 16GB | 32GB |
| HDD | 80GB Free | SSD+80GB Free | SSD+80GB Free |
In the box
DJI Flight Simulator Software x 1

WHY BUY FROM US?
By buying from Ferntech, you'll have the confidence that you are dealing directly with New Zealand's leading drone experts. Our staff are knowledgable drone pilots who offer expert advice, trusted support and superior specialist service. Only through us will you receive a full New Zealand warranty, phone and email support, and access to our certified Repairs Centre with DJI-qualified drone technicians. And we guarantee that we will have the best prices on the market — if not let us know and we will match any price (conditions apply).
Warranty Details
NA
1. How do I get the Free Trial Version?
Click the Download button on the Flight Simulator product page to download and install the Launcher. In the Launcher, log in with your DJI Account and click "Free Trial" to download and start using the software.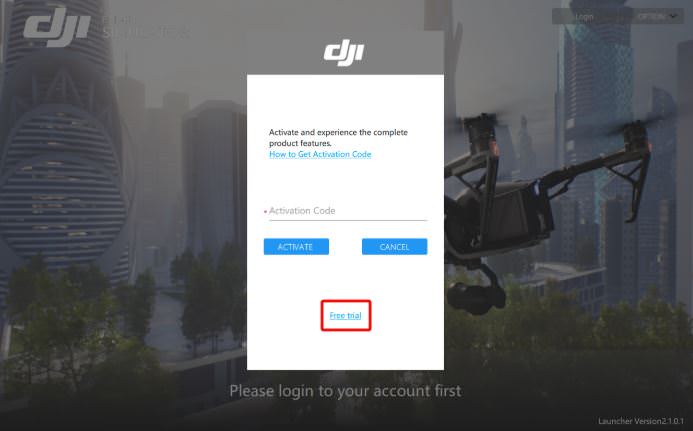 2. How do I purchase the Enterprise Version?
Please fill in the Contact Us form at the bottom of the https://www.dji.com/simulator page, our sales team or dealers will be in touch with you soon. You can also contact enterprise@dji.com or a local dealer to purchase.

3. Can multiple computers use the same software license?
Yes, but only one computer can be logged in at once.

4. What equipment do I need to run the Flight Simulator?
A computer with a Windows 10 system is required to run the program. To connect the remote controller to a computer, you will need a compatible DJI Remote Controller and a Micro-B to USB-A cable.


5. How do I log into/activate the Flight Simulator?
Enter your DJI Account information or register for a DJI Account to log in. Then, the Free Version of the Flight Simulator can be run immediately, and the Enterprise Version can be activated with the activation code that you received when you purchased the Flight Simulator.

6. How do I connect the Flight Simulator to a larger monitor?
You can connect an external monitor to your computer with an HDMI cable, right click on the Windows 10 desktop, go to Display Settings—Multiple Display Settings—Duplicate these displays.

7. Does the DJI Flight Simulator come with a remote controller and a computer?
The DJI Flight Simulator is a software product only and does not come with any hardware products such as a computer, cables, or a compatible remote controller. If you need to purchase these products, please refer to our system requirements table, or talk with a DJI representative or a DJI Enterprise dealer.
There's currently no reviews for this product, be the first to write one.