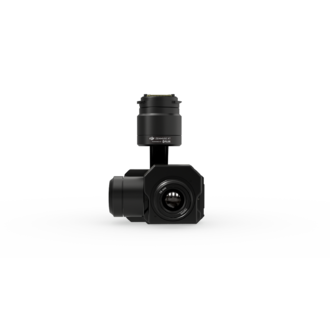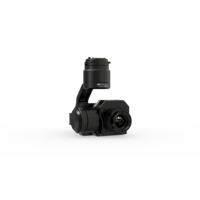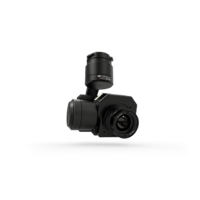 DJI Zenmuse XT
By combining DJI's unrivaled expertise in gimbal technology and image transmission with the industry leading thermal imaging technology of FLIR, the Zenmuse XT is the ultimate solution for rapid and reliable aerial thermal imaging.
---
Features
Integrated thermal camera
The camera on the DJI Zenmuse XT is developed by FLIR. It provides high-sensitivity (50mK) thermal imaging at 640/30 fps or 336/30 fps depending on the camera model. This sensitivity provides accurate temperature measurements ideal for analytics and telemetry. Both cameras are available with four lens options to meet different business needs. Stabilized and controlled by a custom DJI gimbal, it provides smooth, clear imagery and 360 degrees of seamless rotational movement.
Performance Model
Quickly Visualize Temperature Differences
Engineered for Emergency Responders. Performance model Zenmuse XT cameras display thermal imagery in real time while showing a temperature estimate at the center of the camera view, so users can quickly identify large temperature differences.
Radiometric Model
Capture Detailed Temperature Data
Engineered for Inspectors. the Radiometric model allows users to tap any pixel for accurate temperature measurements or select an area to display average, highest, and lowest temperatures within the selection.
Applications
See the unseen. FLIR cameras reveal details invisible to the naked eye by making subtle differences in temperature visible. This new view on the world can reveal when equipment or buildings are damaged, the location of lost people and much more.
Seamless Integration
Mounted to the Matrice 100, Matrice 200 Series, Matrice 600, or Inspire 1, the Zenmuse XT allows professionals to takeoff and capture detailed thermal aerial images in a matter of seconds.* Seamlessly integrated, the Zenmuse XT offers complete access to key DJI drone features such as a long-range video transmission, Intelligent Flight Modes, and customization through the DJI SDK.
*Older Zenmuse XT models may require an upgrade to be compatible with the M200 Series. Actual flight times vary based on drone model, payload, and flight conditions. For more information about flight times for various DJI drones, please visit their corresponding webpages.
Purpose Built Applications - DJI XT Pro
Thermal Imaging Made Easy
Enhance your control of the Zenmuse XT thermal camera with the DJI XT Pro iOS app. Incorporating feedback from firefighters and industrial inspectors, the XT Pro app has a streamlined design that makes using the XT camera for critical missions simple and easy.
Image Enhancement Software
Infra-red imagery requires optimization to ensure maximum definition for capturing information. The Zenmuse XT features a suite of image enhancements designed by FLIR including Digital Detail Enhancement™ (DDE); Smart Scene Optimization™ (SSO), which enhances extremes in bi-modal scenes; Active Contrast Enhancement™ (ACE) that adjusts scene contrast relative to its temperature difference; and Information Based HEQ™ (IBHEQ) which compresses complex image data to create the best quality image.
Highlights
Real-time, low-latency camera view
On-screen temperature estimates
Quick access to color palette, isotherm and other settings
Compatibility
Matrice 100
Matrice 200
Matrice 300
Matrice 600
Matrice 600 Pro
Inspire 1
Product Specifications
General
Model: Zenmuse XT
Dimensions: 103 mm x 74 mm x 102 mm
Weight: 270 g
Camera
Thermal Imager: Uncooled VOx Microbolometer
FPA/Digital Video Display Formats:
640 x 512
336 x 256
Analog Video Display Formats: 720 x 480 (NTSC); 720 x 576 (PAL)
Pixel Pitch: 17 μm
Spectral Band: 7.5 - 13.5 μm
Full Frame Rates:
640 × 512:30 Hz (NTSC) 25 Hz (PAL)
336 × 256:30 Hz (NTSC) 25 Hz (PAL)
Exportable Frame Rates: 7.5 Hz NTSC; 8.3 Hz PAL
Sensitivity: (NEdT) <50 mK at f/1.0
Scene Range: (High Gain)
640 × 512:-13° to 275°F (-25° to 135°C)
336 × 256:-13° to 212°F (-25° to 100°C)
Scene Range: (Low Gain) -40° to 1022°F (-40° to 550°C)
Spot Meter: Temperatures measured in central 4 x 4
File Storage: Micro SD Card
Photo Format: JPEG, TIFF
Video Format: MP4
Environmental
Operating Temperature Range: 14°F to 104°F (-10°C to 40°C)
Non-Operating Temperature Range: -22°F to 158°F (-30°C to 70°C)
Temperature Shock: 5 /min
Humidity: 5% to 95%
Gimbal
Angular Vibration Range: ±0.03°
Mount: Detachable
Controllable Range Tilt: +35° to -90°; Pan:±320°; Roll:±15°
Mechanical Range Tilt: +45° to -135° Pan:±320° Roll:±45°
Max Controllable Speed: 120°/s
Image Processing and Display Controls
NTSC/PAL: (field switchable) yes
Image Optimization: yes
Digital Detail Enhancement: yes
Polarity Control: (black hot/white hot) yes
Color & Monochrome Palettes: (LUTs) yes
Digital Zoom:
640 × 512: 2x, 4x, 8x
336 × 256: 2x, 4x
In the box
Gimbal and Camera x 1
16GB Micro SD Card x 1
WHY BUY FROM US?
By buying from Ferntech, you'll have the confidence that you are dealing directly with New Zealand's leading drone experts. Our staff are knowledgable drone pilots who offer expert advice, trusted support and superior specialist service. Only through us will you receive a full New Zealand warranty, phone and email support, and access to our certified Repairs Centre with DJI-qualified drone technicians. And we guarantee that we will have the best prices on the market — if not let us know and we will match any price (conditions apply).
Warranty Details
Gimbal: 6 Months
Camera: 6 Months
What is the different between Infrared Camera and general camera?
1. Infrared Camera can take thermal images
2. The aperture of Infrared Camera is bigger and the scale of hyperfocal distance is larger
3. The thermal imaging of Infrared Camera can clear distinguish targets at night

Whether the aperture, focus length and shutter of ZENMUSE XT Camera can be adjusted?
The lens of XT is prime lens, and the fixed focus is infinity.
The camera is able to support digital zoom.
The aperture and shutter cannot be adjusted.

Whether ZENMUSE XT is able to take photos and record video simultaneously?
Yes, the camera is able to take TIFF images and video recording simultaneously.
How long is the flight time of Inspire 1 mounting with Zenmuse XT?
The flight time of TB47 is 17 minutes and the flight time of TB48 is 21minutes (test environment: wind power 1-2 level; temperature: 16 degrees)

What kind of equipment does ZENMUSE XT Camera support?
Inspire 1 Series aircrafts and Matrice Series aircrafts.

Can the Zenmuse XT camera be used with the M200 Series platform?
The Zenmuse XT camera can be used with the M200 Series, but will require a gimbal adapter and some versions of the XT camera need to be upgraded. For more information about compatibility with the Matrice 200 Series, please read this document.

Can the lens of ZENMUSE XT Camera be replaced?
No, Zenmuse XT's camera and lens are integrated.

Does the camera come with a standard SD card?
Yes, the camera will come with a 16G SD card, it can supports the FAT format SD card with storage volume up to 32G.

What is DDE?
Digital Detail Enhancement, it can increase the image detail and it is similar to acuteness that enhance the image's sharpness.

What is SSO?
Smart Scene Optimization, it is similar to sensitometry. After strating, it can better distinguish the temperature difference.

Why the maximum resoultion is only 640 × 512?
The Infrared Camera is limited to the technical issues and costing, therefore the lens' resolution of 640 × 512 has already situated in the industry-leading position.

Does the camera support 4K video recording?
No, it does not.
What is Zenmuse XT's video format?
Its video format is MP4.

What is the option 'Palette'?
Palette provides different colour choices for different applications. Users can choose the appropriate colour mode according to their demands.

What is the option 'Scene'?
User can choose different scene modes according to different applications. The built-in AGC (automatic gain control) function will automatically adjust the contrast ratio and photometric brightness due to the modes.

What is the option 'ROI'?
Region Growth Algorithm, user can adjust the mode to remove the sky part (low temperature) in the scene to enable the scene concentrates on the objects on the ground.

What is the 'Isotherm' mode?
Isotherm Mode provides three threshold values that enable user to observe the areas with different temperatures clearly. User can define the three threshold values to modify the isothermal lines and the temperature difference will be easier to be observed in different colours.

What is TIFF format image?
TIFF is a computer file format, called Tagged Image File Format, and the file extension is TIF or TIFF. TIFF (Tag Image File Format) is a kind of graphic format in Macintosh. Its graphic format is complex and TIFF can store more information.

What kind of softwares can open TIFF format images?
Tiff format image can be edited in PhotoShop, Lightroom and other professinal softwares, or use MATLAB to process the image's data.

What is the accuracy and measurement range of TIFF format images?
The TIFF format images will store 14-bit raw data, the temperature can be obtained by multiplying a coefficient to this data.
The temperature measurement range of:
1.High Gain version: -40℃ to +160℃
2.Low Gain version: -40℃ to +550℃
In another word, the Low Gain version camera has wider measurement range, but lower accuracy than the High Gain version.

What factors will affect temperature?
1. The object's reflectivity, as the reflective metal surface has high reflectivity that will cause lower measured temperature;
2. The temperature of the radiation background, the influence will be small if there is no clouds, otherwise it will bring great influence in temperature measurement.
3. The influence from the air factors including temperature and humidity. The higher these two factors, the easier to affect the temperature measurement of the object and lead to low accuracy.
4. The thickness of the air, also the distance from the camera to the measured object. The further the distance, the greater the influence from the air, and less the accuracy of the measurement.

What is R-JPEG format image?
This image format corresponds to the software FLIR Tools (produced by FLIR Company), which allows the original temperature information in the R-JPEG image to be analysed. Meanwhile, the R-JPEG images can also be viewed as the usual JPEG format images. Flir Tools Download Address: http://www.flir.com/instruments/display/?id=54865

Can the Zenmuse XT camera be used with the M200 Series platform?
The Zenmuse XT camera can be used with the M200 Series, but will require a gimbal adapter and some versions of the XT camera need to be upgraded. For more information about compatibility with the Matrice 200 Series, please read this document ( link to document).
There's currently no reviews for this product, be the first to write one.