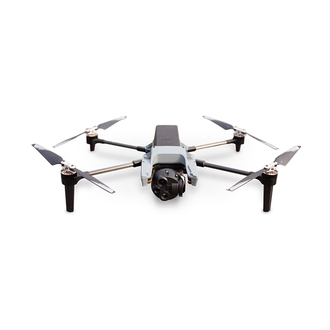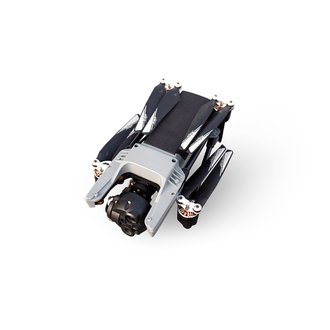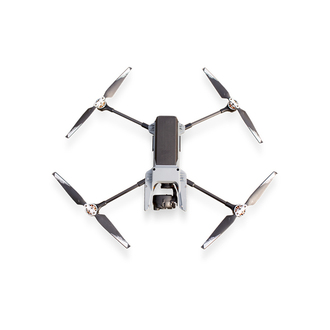 FLIR ION M440
The FLIR ION M440 is a tactical short-range reconnaissance quadcopter purpose-built for austere environments.
---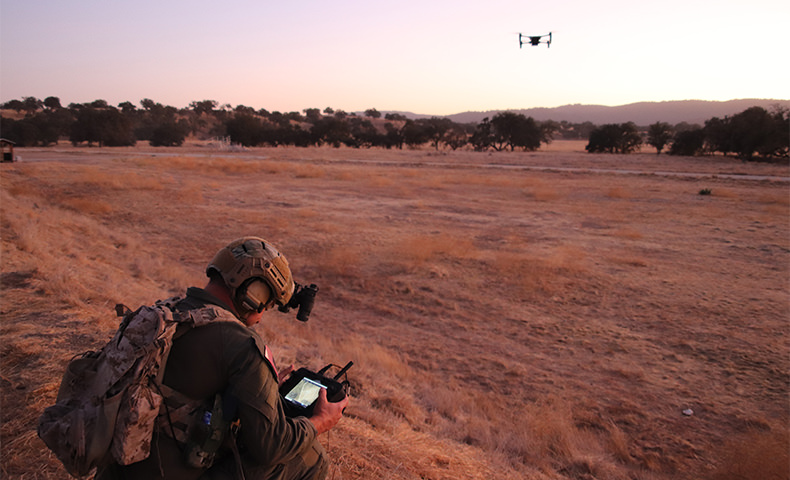 Rugged, agile, and ready to deploy rapidly, the FLIR ION M440 tactical quadcopter is purpose-built for short-range reconnaissance. The ION is rucksack portable and hand-launched. Built-in daytime and nighttime obstacle avoidance reduce cognitive load for operators in tight, obstructive environments. The ION can fly for 35 minutes, reaching a top speed of 23 mph (10.3 m/s).

The ION's nimble flight capabilities pair with GPS-denied navigation. In GPS-denied or degraded environments, the ION can still maintain operation. The ION also utilizes accurate cursor-on-target, providing accurate coordinates for relay to the GCS. These battlefield capabilities combine improved situational awareness with intuitive operation to keep the warfighter safe and out of the line of fire in dangerous environments.

The ION M440 system is an NDAA-compliant drone designed and manufactured in the United States. The ION is pre-approved for government and military acquisition by the Defense Innovation Unit's Blue sUAS Program.

Features
Rapidly Deployable
Immediately soldier-deployable short-range reconnaissance VTOL system.
Safer To Fly
Embedded sensors and advanced flight algorithms offer a continuous collision
avoidance failsafe.
Operable In GPS-Denied Environments
Maintains operational and flight capabilities in GPS-denied or
degraded environments.
Open System Architecture
Features a high-powered discrete mission computer for advanced autonomous
functions, is MAVLINK compliant, and interoperable with C-GCS, including TOGA.
Applications
Immediate ISR
Situational Awareness
Force Protection
Beyond Line-Of-Sight Reconnaissance
Target Tracking
Product Specifications
SPECIFICATIONS
ION M440 Kit Details
Standard Features
Air Vehicle
Two Lithium-Ion rechargeable smart batteries
Battery Charger
Softshell portable case
Pelican hard shipping case
Field repair kit
ION 440 H-GCS
ION M440 H-GCS (ATAK integrated)
Weight – with Payload 3.99lbs (1.8kg)
Dimensions – Folded – 11.1" x 5.7" x 4.9" (28.2cm x 14.5cm x 12.4cm)
Dimensions – Unfolded – 22.5" x 22" x 4.9" (56.4cm x 56cm x 12.4cm)
Payload
Wide EO Sensor – 12.0 MP EO Sensor with 3.37mm 82° FOV Lens
Narrow EO Sensor – 12.0 MP EO Sensor with 3.37mm 28° FOV Lens
IR Sensor – 320 x 256 px FLIR BOSON 320 with 6.3mm 34° FOV lens
EO Sensor – Zoom 4x optical, 10x digital
Time of Flight Sensor – Forward Collision Avoidance
Performance
Endurance 35 min (MSL: 100 ft, Ambient Temp: 4.5-37.7˚ C)
Speed 23 mph (10.3 m/s)
Environment
Wind Tolerance 20kts (10.3 m/s)
Precipitation 0.25" per hour (0.64cm per hour)
Ambient Temperature Limit -20˚C, +50˚ C
Data Link
Frequency 1800-1850 Mhz
Encryption AES 256
Protocol MAVLink
Range 3 km
Radio 1.8Ghz DDL
WHY BUY FROM US?
By buying from Ferntech, you'll have the confidence that you are dealing directly with New Zealand's leading drone experts. Our staff are knowledgable drone pilots who offer expert advice, trusted support and superior specialist service. Only through us will you receive a full New Zealand warranty, phone and email support, and access to our certified Repairs Centre with DJI-qualified drone technicians. And we guarantee that we will have the best prices on the market — if not let us know and we will match any price (conditions apply).
Warranty Details
There's currently no reviews for this product, be the first to write one.