---
A quality, reliable PPK solution compatible with the DJI Matrice series. The UAV kit is modular and can move from drone to drone as you upgrade your fleet and cameras. PPK requires correction data (from base station or NRT subscription as well a KlauPPK post-processing software.
No Survey Equipment or GCPs Required
Using the KlauPPK software, you can use your drone as a survey grade receiver, to collect any number of check or control points. This optimizes your equipment overhead and reduces field time and operational costs. You no longer need to place and recover smart ground control points or measure targets with survey equipment.
Integrated PPK Base Station Data.
KlauPPK software has seamlessly integrated both free and commercial CORS data sources in most parts of the world. This enables users to process their PPK data without having to set up a base station or search for the right data.
Integrated PPP Global Satellite Corrections Data
KlauPPK software will automatically apply your corrections subscription to provide high accuracy post processed positions anywhere in the world without any base station data. This service is locked to KlauPPK hardware products.
3D Lever Arm Correction
This feature brings even more precision to the computed results by modelling the 3D offset between the GPS antenna and the camera centre, or lever arm, which changes as the drone tilts in different directions. This enables the software to determine the exact camera centre position for each photo.
Geoid and Coordinate System Support
KlauPPK software converts the default WGS84 geographic coordinates to any published coordinate system and applies the geoid separation. Users can also add a new coordinate system, perform datum transformations and site localization to calculate accurate camera positions in their local site frame of reference.
Smart Geotagging
Computed high-accuracy camera positions with their horizontal and vertical accuracy values can be written to the image EXIF data, or to a text file with other survey report information. The accuracy values are applied in photogrammetry processing software, again helping to achieve the best possible results.
Added efficiency, reliability and accuracy.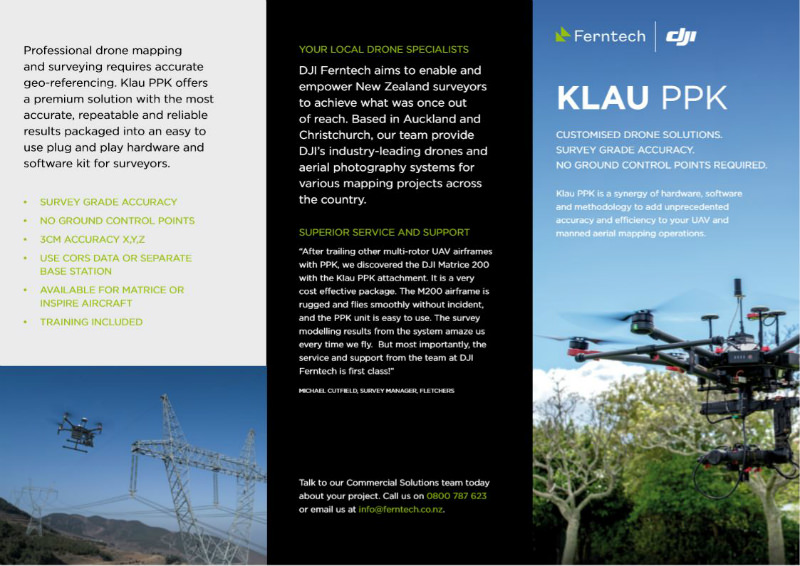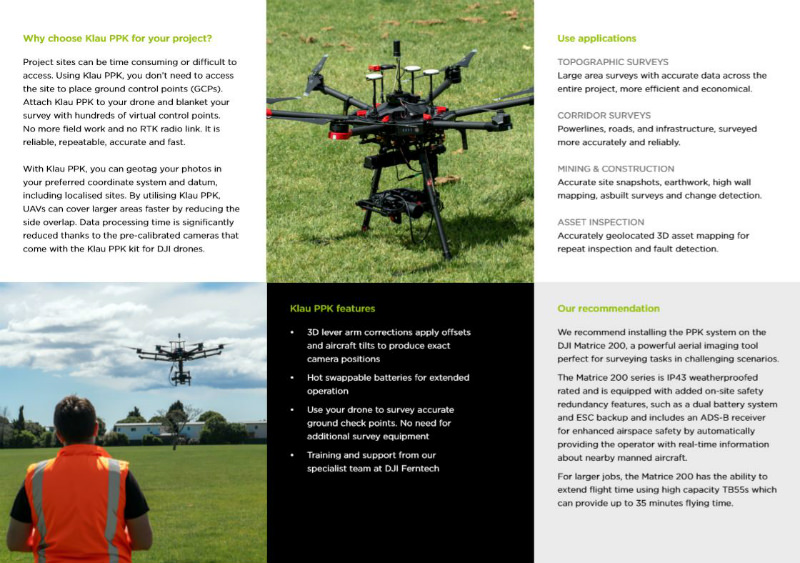 In the box
Klau BBC Basic Module
Includes: 4 constellations, with antenna (requires mounting kit & Software)
WHY BUY FROM US?
By buying from Ferntech, you'll have the confidence that you are dealing directly with New Zealand's leading drone experts. Our staff are knowledgable drone pilots who offer expert advice, trusted support and superior specialist service. Only through us will you receive a full New Zealand warranty, phone and email support, and access to our certified Repairs Centre with DJI-qualified drone technicians. And we guarantee that we will have the best prices on the market — if not let us know and we will match any price (conditions apply).
Warranty Details
There's currently no reviews for this product, be the first to write one.