PolarPro LiteChaser iPhone 12 Pro Max Grip
Or 4 interest-free payments of $14.75 with
Learn more.
The only minimalist filter system completely redesigned for iPhone® 12
---
Features
Completely redesigned for iPhone 12 Pro and Pro Max.
A minimalist system for content creators.
Compatible with Moment® M-Series lenses. (Not compatible with LCP12 filters when using Moment® lenses.)
MagSafe™ magnet array enables charging and mounting via any MagSafe™ accessory.
Adventure Assurance™ - Be satisfied with your PolarPro gear throughout your adventures or your money back.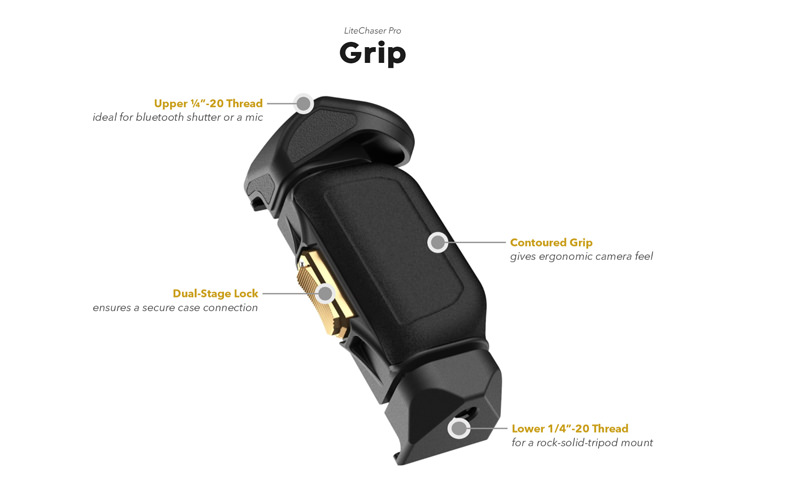 Product Specifications
DIMENSIONS
85.58mm x 37.1mm x 27.9mm
WEIGHT
69g
In the box
PolarPro LiteChaser iPhone 12 Pro Max Grip x 1
WHY BUY FROM US?
By buying from Ferntech, you'll have the confidence that you are dealing directly with New Zealand's leading drone experts. Our staff are knowledgable drone pilots who offer expert advice, trusted support and superior specialist service. Only through us will you receive a full New Zealand warranty, phone and email support, and access to our certified Repairs Centre with DJI-qualified drone technicians. And we guarantee that we will have the best prices on the market — if not let us know and we will match any price (conditions apply).
Warranty Details
What iPhone 12 model(s) is the system compatible with?
iPhone 12 Pro and iPhone 12 Pro Max.
How do I identify my iPhone model?
On iOS, go to Settings > General > About. To the right of the Model Name, you'll see the iPhone model listed.
Is the LiteChaser Pro | iPhone 12 System compatible with existing PolarPro products?
At this time all LiteChaser Pro iPhone 12 components are only compatible with products from the same system (iPhone 12 filters, grips, and cases).
Will the weight of the LiteChaser Pro System affect my gimbal's balance?
Compatibility will be affected by the weight of the LiteChaser Pro Case and we do not recommend the use of a gimbal. However, the iPhone's cinematic stabilization feature helps to stabilize your video for smoother footage.
Will there be any chance of vignetting in my wide-angle shots?
Vignetting will only occur with the VND 3-5 and MIST 3-5 when the camera is in the Ultra-Wide setting. We recommend shooting in either Wide or Telephoto when using VNDs, for best results - there should be no vignetting at those focal lengths.
How do I know what filters I need?
STANDARD FILTERS
Circular Polarizer Filter
The essential filter for capturing deeper colors and reducing glare, reflections, and haze from your photos.
Works with the following cameras:
ULTRA-WIDE
WIDE
TELEPHOTO
VND 3-5 Filter
3-5 stops for a run-n-gun filmmakers who want to create smooth cinematic footage.
Works with the following cameras:
WIDE
TELEPHOTO
DIFFUSION FILTERS
MIST Filter
Give your content a dream-like cinematic glow and increased production value. Our Mist filter evens out highlights and excels at giving human subjects a polished appearance without sacrificing image sharpness.
Works with the following cameras:
ULTRA-WIDE
WIDE
TELEPHOTO
MIST 3-5 Filter
The first of its kind, a diffusion + VND in a single aluminum frame. Revolutionizing the ability to combine both filters in one, the Mist 3-5 filter gives complete light control while adding a soft, angelic, and creative look to your footage.
Works with the following cameras:
WIDE
TELEPHOTO
There's currently no reviews for this product, be the first to write one.