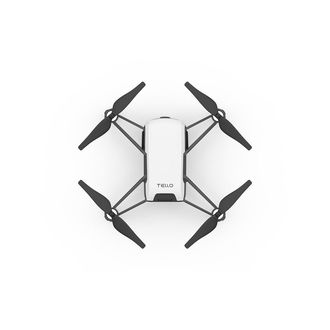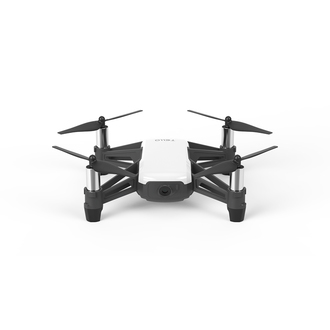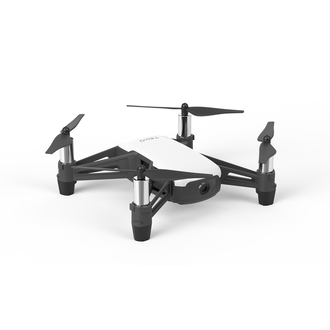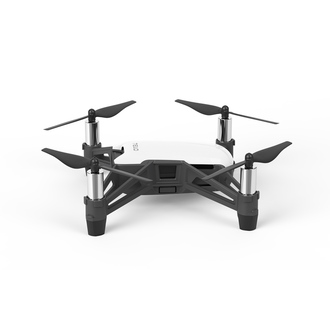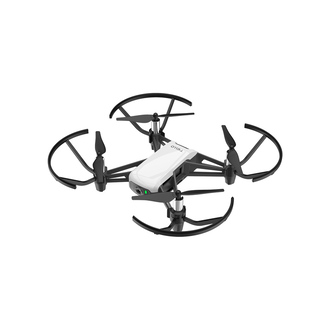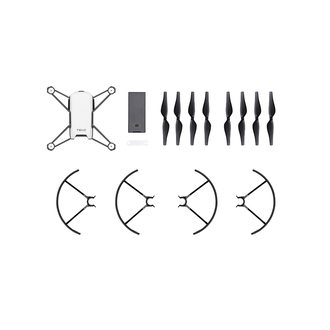 Tello
Or 4 interest-free payments of $49.75 with
Learn more.
Perform flying stunts, shoot quick videos with EZ Shots, and learn about drones with coding education. Get yourself a Tello to find out just how awesome flying a drone can be!
---
Features
See the World from the Sky
Whether you're at a park, in the office or hanging out at home you can always take off and experience the world from exciting new perspectives. Tello has two antennas that make video transmission extra stable and a high-capacity battery that offers impressively long flight times.
Fantastic Features for Endless Enjoyment
Thanks to all the tech that Tello's packing like a flight controller powered by DJI you can perform awesome tricks with just a tap on screen. Flying has never been so fun and easy!
Throw & Go: Start flying by simply tossing Tello into the air.
8D Flips: Slide on screen to perform cool aerial stunts
Bounce Mode: Tello flies up and down from your hand automatically
Capture Great Pictures and Videos
Equipped with a high-quality image processor Tello shoots incredible photos and videos. Even if you don't know how to fly, you can record pro-level videos with EZ Shots and share them on social media from your smartphone.
EZ Shots: Record coordinated short videos with Circle 360, and Up & Away.
Electronic Image Stabilization: Capture consistently clear images.
Intel Processor: Professional processing yields high-quality footage.
5 MP Photos: Preserve great memories with high-resolution pictures.
Relax! Tello's Super Safe.
Tello's lightweight, yet durable design combined with software and hardware protections make it so you can always fly with confidence.
Auto Takeoff/Landing: Lift off or land with a single tap.
Low Battery Protection: Alerts go off when your battery gets low.
Failsafe Protection: Land safely even if you lose connection.
Vision Positioning System: Smart tech that facilitates precise hovering
Learn & Create
Play is an essential part of learning so Ryze Tech made Tello programmable with Scratch an MITdeveloped coding system allows kids and teens to learn the basics of programming while having fun. If you're a more advanced user, you can also develop software applications for Tello using the Tello SDK.
Scratch: Simple block-based visual programming.
SDK: Unlock new possibilities through software development.
DIY Accessories: Create customized Tello accessories
Product Specifications
Aircraft
Weight: 80g (propellers and battery included)
Dimensions: 98mm x 92.5mm x 41mm
Propeller: 3 inch
Built-In Functions
Range Finder, Barometric Altimeter, LED Indicator, VISION SYSTEM(downward), WIFI/802.11n/2.4G, 720P Live View Port Micro USB Charging

Flight Performance
Max Transmission Distance: 100M
Max Speed: 8m/s
Max Flight Time: 13min
Battery: Detachable
Battery: 1.1AH/3.8V

Camera
Photo: 5MP (2592 x 1936)
FOV: 82.6°
Video: HD 720p30
Format: JPG(Photo); MP4(Video)
EIS: Yes
The Tello will work on the below devices:
iOS
Requires iOS 9.0 or later. Compatible with iPhone 5s, iPhone SE, iPhone 6, iPhone 6 Plus, iPhone 6s, iPhone 6s Plus, iPhone 7, iPhone 7 Plus, iPhone 8, iPhone 8 Plus, iPhone X, iPad mini 4 and iPad mini 4 Wi-Fi + Cellular.

Android
Android version 4.4.0 or later. Compatible with Samsung S7,Samsung S6 edge,Samsung S5,Samsung Galaxy note 4,Samsung Galaxy note 3,Huawei Honor 8,Huawei Honor 9,Huawei P8 Max,Huawei P10,Huawei Honor V8,Huawei P9,Huawei nova2,Xiaomi 6,Xiaomi Note3,Redmi 4A,OnePlus5,vivoX6,Google Pixel1 XL,Google Pixel2.
In the box
Aircraft x 1
Propellers (Pair) x 4
Propeller Guards (Set) x 1
Battery x 1
Propeller Removal Tool x 1
WHY BUY FROM US?
By buying from Ferntech, you'll have the confidence that you are dealing directly with New Zealand's leading drone experts. Our staff are knowledgable drone pilots who offer expert advice, trusted support and superior specialist service. Only through us will you receive a full New Zealand warranty, phone and email support, and access to our certified Repairs Centre with DJI-qualified drone technicians. And we guarantee that we will have the best prices on the market — if not let us know and we will match any price (conditions apply).
Warranty Details
Aircraft: 6 Months
Battery: 6 Months and Charge Cycle Less than 200 Times

Aircraft
How do I control Tello?
You can control Tello directly via Tello app or with a supported Bluetooth remote controller connected to the Tello app.
Supported devices
iOS: Requires iOS 9.0 or later.
Compatible with iPhone 5s, iPhone 5 SE, iPhone 6, iPhone 6 Plus, iPhone 6s, iPhone 6s Plus, iPhone 7, iPhone 7 Plus, iPhone 8, iPhone 8 Plus, iPhone X, iPad mini 4 and iPad mini 4 Wi-Fi + Cellular.
Android: Android version 4.4.0 or later.
Compatible with Samsung S7, Samsung S6 edge, Samsung S5, Samsung Galaxy note 4, Samsung Galaxy note 3, Huawei Honor 8, Huawei Honor 9, Huawei P8 Max, Huawei P10, Huawei Honor V8, Huawei P9, Huawei nova2, Xiaomi 6, Xiaomi Note2, Redmi Note, OnePlus5, vivoX6, Google Pixel1 XL, Google Pixel2.
*Support for additional devices available as testing and development continues. For the latest information, please refer to the official Tello website.
What kind of interesting things can Tello do during flight?
Tello can perform eight different flips, fly up and down from your hand in Bounce mode, or automatically record short videos with EZ Shots.
Can Tello fly indoors?
Yes, Tello is safe to fly indoors. Tello can also fly outdoors, but it is only recommended to do so in windless conditions.
Is Tello waterproof?
No.
Camera
What does Tello's camera feature?
Tello's camera is capable of capturing photos and recording videos. With EZ Shots, users can fly in three specific patterns while recording short videos.
Where are my captured photos and video saved? How can I export them?
Photos and video will save to your smartphone. You can export files from your smartphone as needed.
Do I need to insert an SD card to store photos and video?
No.
What is Tello's video transmission range?
Maximum video transmission range is approximately 100m, but that range may vary according to your environment.
Batteries
How do I charge Tello's battery?
You can either charge one battery via the USB port on the aircraft or charge three batteries simultaneously using the battery charging hub.
Does Tello support battery hot-swapping?
No. If you do so, you may lose the photos or video taken during your last flight.
Propellers
How do I replace propellers?
You can replace propellers by manually by detaching the old ones and mounting new ones.
How can I differentiate clockwise (CW) and counterclockwise (CCW) propellers? Do I have to mount different propellers in specific places?
Tello's propellers and motor casings are marked for differentiation. CW and CCW propellers must only be attached to CW and CCW motors, respectively. CW propellers have notches near where they attach to the motors, and CW motor casings are also marked with notches. CCW propellers and motors both do not have notches.
Updating Firmware
How can I update my Tello's firmware?
You can update Tello's firmware via the Tello app.
What should I do the update is interrupted or fails?
If the update fails, reconnect your Tello to the Tello app and try again.
Can I update my Tello on a computer?
Not at this time.
Accessories
Which Bluetooth controllers are compatible with Tello?
Tello is currently compatible with the customized Gamesir or Gamevice remote controller.
Which programming platforms can I use to program Tello?
Tello currently supports Scratch programming. More programming platforms will be available in future.
There's currently no reviews for this product, be the first to write one.