Ligh-T V4 Drone Tether System
The Elistair Ligh-T 4 is a rugged tethering station, offering unlimited flight time for a range of commercial drones.
---
Features
PORTABLE AND COMPACT DRONE TETHER
The Elistair Ligh-T 4 is a rugged tethering station, offering unlimited flight time for a range of commercial drones.
This portable tethering system is ideal for a variety of missions where long flight times are key, including surveillance, public safety, and incident response.
The Elistair Ligh-T 4 can be deployed rapidly and is designed to withstand harsh transport conditions.
This Elistair tether is compatible with 20 drones, including the DJI M300 RTK, DJI M200 Series and the Inspire 2.
The key features of the Elistair Ligh-T V4 are:
1200W power
70m hovering altitude
Automated motorisation
10.5g/m tether weight
New hybrid winch system
Rapid set-up and deployment
Compatible with 20 drones, including DJI aircraft
T-Monitor compatibility for enhanced flight data management
Elistair Ligh-T V4 builds on the success of previous versions
With the first version released back in 2015, Ligh-T has been widely deployed by police forces, public safety, private security and industries in more than 50 countries, and was selected for various major events such as the Superbowl 2019, held in Atlanta, or Trinidad Carnival 2019 - known as the biggest carnival in the Caribbean. The Elistair Ligh-T 4 builds on this success of the previous Ligh-T stations and provides a superior tethered solution.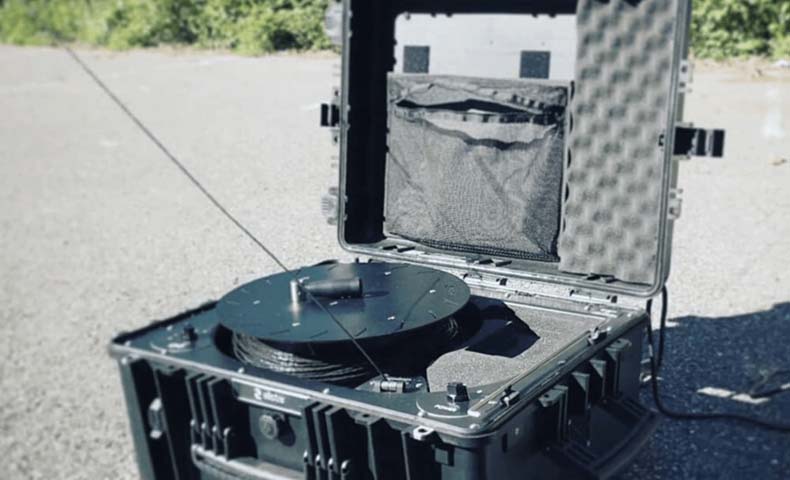 A new standard for tethered drone solutions
Since the launch of its first tethering station in 2015, Elistair has quickly become the industry leader in tethered drone systems with more than 600 stations deployed to help security forces monitor events, secure sites, and protect assets. The Safe-T 2 which has been built on the success of the Safe-T product line - deployed in more than 60 countries by governmental organisations, industrial groups, and security forces - will take tethering operations to a new level.
VAST COMPATIBILITY AND RAPID DEPLOYMENT
Plug and Fly Air Modules.
With its 70 metre (230ft) long micro-tether, the Ligh-T V4 provides unlimited power to a range of drones.
This vast compatibility is enabled through Plug and Fly Air Modules, such as DJI's M200 V2 and V1 Series, and the DJI Inspire 1 and Inspire 2.
This system enables rapid deployment, allowing your drone to be attached to the micro-tether and sent into the air in less than a minute.
It means that the Elistair Ligh-T 4 is the perfect plug-and-fly tool to have to ensure fast and safe missions across surveillance, defence, public safety, live incidents, and pop-up communications.
Housed in a rugged case with an open and accessible interface, the tether system is easily transportable and fully-protected from the elements.
Not only can operators benefit from rapid deployment, but they can also utilise unlimited data transfer through the Ligh-T V4's 10.5g/m (0/.11 oz/ft) micro-tether.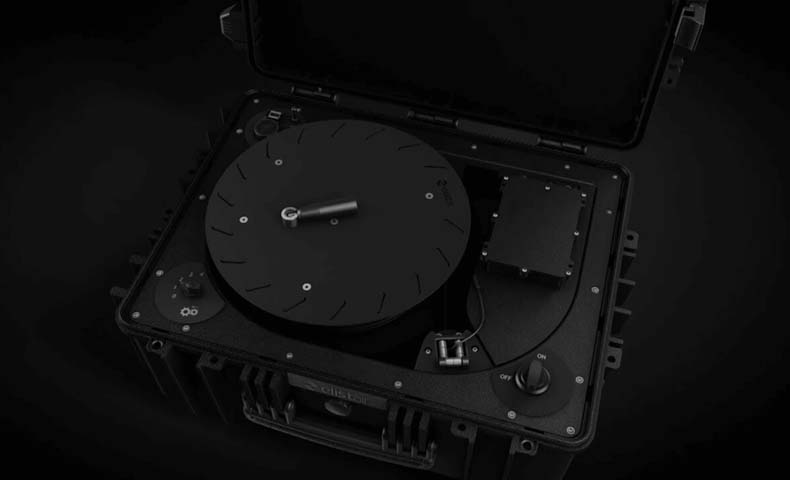 EASY MANAGEMENT FOR STREAMLINED OPERATIONS
Dual Mode Tether Management.
The Ligh-T 4 winch is now powered with a compact engine for secured tether unwinding.
For enhanced availability, the tethered system can be wound and unwound manually.
Operators of the Ligh-T 4 also benefit from enhanced flight data management with the T-Monitor application.
This solution provides improved operational management through flight data recording and gives access to a wealth of key information, such as flight statistics, overview of the tethered station, and onboard battery status to monitor drone performance and ensure optimal operations.
Product Specifications
Micro-tether Length: 70m (229ft)
Micro-tether Weight: 10.5g/m
Output Voltage: 6S or 12S
Power (output): Up to 2500W (peak)
Safety Battery Switch: Onboard
Power Input: 110-250 VAC, 50-60Hz
Data Speed: Up to 200Mb/s
Tensile Strength: 100 daN
Built-in Protection: Electronic crowbar/circuit-breaker
Tether Management System: Manual vertical reel
Total Weight: 20kg (44lbs)
Dimensions: 538 x 405 x 250mm (21" x 16 x 10").
In the box
Ligh-T V4 Drone Tether System x 1
WHY BUY FROM US?
By buying from Ferntech, you'll have the confidence that you are dealing directly with New Zealand's leading drone experts. Our staff are knowledgable drone pilots who offer expert advice, trusted support and superior specialist service. Only through us will you receive a full New Zealand warranty, phone and email support, and access to our certified Repairs Centre with DJI-qualified drone technicians. And we guarantee that we will have the best prices on the market — if not let us know and we will match any price (conditions apply).
Warranty Details
.
What is the difference between the Elistair Ligh-T V4 and the Elistair Safe-T 2?
The latest iterations of Elistair's drone tethering solutions are the Ligh-T V4 and the Safe-T 2. But which should you choose? The Ligh-T 4 is a more compact solution than the Safe-T 2, but the Safe-T 2 provides a longer micro-tether (125m v 70m) and is compatible with a larger range of drones.
Which drones are compatible with the Elistair Ligh-T V4?
A wide range of drones are compatible with the Elistair Ligh-T 4, thanks to specific air modules. The Elistair Ligh-T 4 is compatible with commercial DJI drones, such as the M300 RTK, M200 Series V2, the M200 Series V1, the Inspire 2, Inspire 1, and the DJI M100, and DJI S900. The Elistair Ligh-T 4 is also compatible with the Yuneec H920 and Acecore Zoe.
What are the advantages of using a tethered drone?
A tethered drone solution can effectively keep your aircraft up in the air 24/7, giving increased endurance over deploying a drone by itself. Because of this extra-long flight time, a tethered drone station is ideal for persistent intelligence, surveillance, and reconnaissance missions, as well as high-bandwidth communications. Thanks to the heights that drone tethers afford, operators are provided with a wide coverage area. A tethered drone solution also enables secure and unjammable communications. As well as providing unlimited flight times, a drone tether also provides the physical security of keeping your drone in place.
Which industries can use a tethered drone?
Tethered drones are being utilised by major industrial companies and government agencies in more than 60 countries. Tethered drones serve a range of applications, including defence, emergency services, telecommunications, prisons, traffic management, sporting events and festivals, and for humanitarian needs and following major disasters.
There's currently no reviews for this product, be the first to write one.