MicaSense Altum-PT Sensor Kit
Altum-PT seamlessly integrates an ultra-high-resolution panchromatic imager, a new thermal imager that provides twice the ground resolution of the previous Altum, and five discrete spectral bands.
---
Features
1 Sensor To Do The Job Of 3
Altum-PT is an optimized 3-in-1 solution for advanced remote sensing and agricultural research. It seamlessly integrates an ultra-high-resolution panchromatic imager, a new thermal imager that provides twice the ground resolution of the previous Altum, and five discrete spectral bands, allowing plant-level applications such as early-stage stand counting. Altum-PT also features a global shutter for distortion-free results, open APIs, and a new storage device allowing for up to 2 captures/second.
Increased Storage
New professional removable storage standard in CFexpress, enabling over two captures per second, immediate turnaround time between flights by swapping cards, and super-fast card-to-computer upload speeds for more efficient data management.
Twice The Spatial Resolution Of The Previous Altum
Altum-PT features an ultra-high resolution panchromatic sensor which allows for "pan-sharpening" the multispectral imagery, ultimately increasing the spatial resolution of the multispectral data: 1.2 cm (0.47in) pan-sharpened ground resolution when flying at 60m (200ft).
Upgraded Thermal Sensor
Altum-PT features a built-in 320 x 256 FLIR Boson® that enables thermal maps at twice the ground resolution of Altum - 17cm from 60m flight altitude.
Ultra-High Resolution, Unlimited Analytical Capabilities
RGB, multispectral, and thermal imagery at higher resolutions for advanced vegetation research applications.
Irrigation Scheduling
Determining irrigation time, frequency, and duration is a critical factor in production agriculture since it directly impacts the health of crops. Altum-PT thermal imagery provides powerful insights into water management, helping irrigation managers determine the correct watering and identify leaks or clogs in the irrigation system by the difference in crop canopy and soil temperature.
Fruit Yield Estimations
Popular fruit yield estimation methods like manual fruit count or time series analysis are time-consuming and expensive. Altum-PT offers a combination of high-resolution RGB, multispectral, and thermal imagery, enabling more precise yield predictions by allowing algorithm-based fruit counts and temperature analysis.
Disease, Pest And Nutrient Deficiency Detection
With the high-resolution multispectral imagery from Altum-PT, users have a better chance to identify problems affecting the physiology of the plant canopy. Diseases, insects, and nutrient issues often cause physiological damage before symptoms are visible in RGB. Using the different multispectral indices and composites of the pan-sharpened data, these issues can be detected sooner.
Water Stress Prediction
Canopy temperature is a valuable indicator of plant stress. Altum-PT thermal imager allows farmers to periodically evaluate plant physiological status and detect subtle changes in canopy temperature that could be an indicator of water stress.
Plant Phenotyping
Manually measuring plant characteristics is time-consuming. Altum-PT captures more data in less time, allowing researchers to more easily understand how different traits react to different growing conditions.
Pressure Issues And Clog Detection In Irrigation Systems
Altum-PT's thermal imagery can help identify clogs and irrigation leaks through the water cooling effects or lack thereof on the vegetation and ground. Areas with excessive irrigation will appear noticeably cooler than the rest of the field. Areas with no irrigation will show higher temperatures than the rest of the field.

Optional Extra
Altum-PT Sensor Kit with DJI SkyPort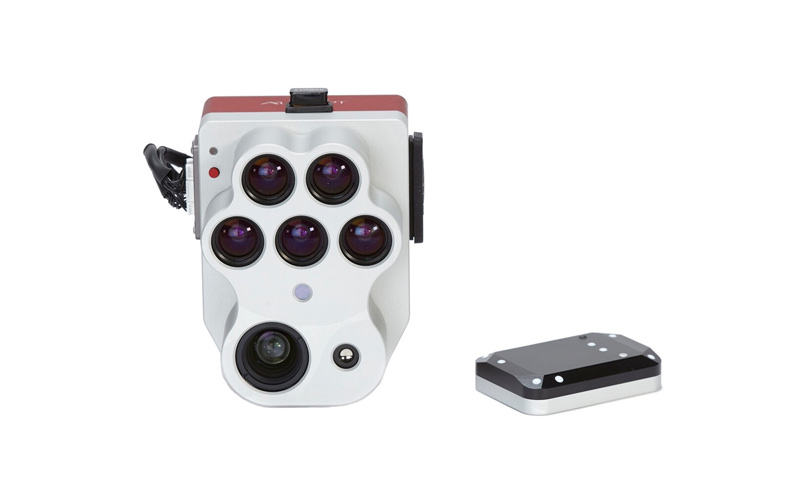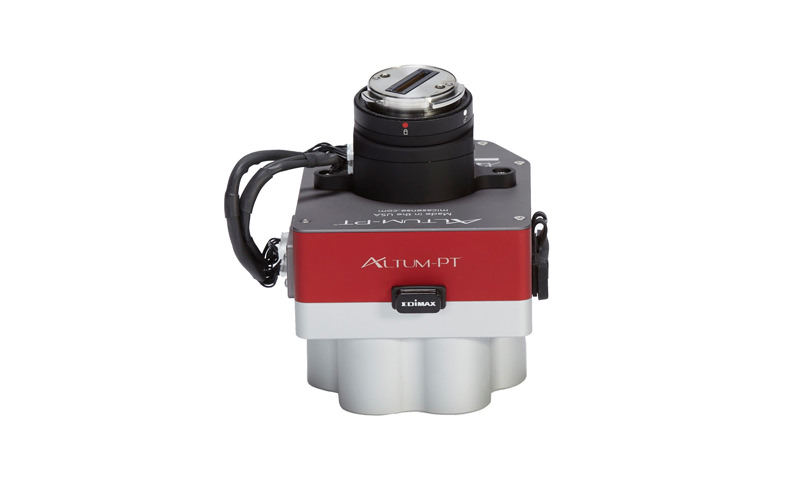 This sensor kit comes ready to integrate with DJI SkyPort compatible drones (Matrice 300, Matrice 200 V2, and Matrice 210 V2). However, integration with DJI M210 RTK drone has not been validated, therefore we cannot ensure compatibility.
The Altum-PT sensor kit with DJI SkyPort comes with: Altum-PT sensor, SkyPort adapter, DLS 2 with embedded GPS, Calibrated Reflectance Panel (CRP 2), USB WiFi dongle, lens cover, necessary integration cables, assorted mounting hardware, CFexpress card, CFexpress card reader, Hard Carrying Case, Quick Start Guide.
Product Specifications
Weight: 460 g (16.2 oz.) Altum-PT + DLS2
Dimensions: 11.0 x 8.0 x 6.9 cm (4.3 in x 3.1 in x 2.7 in)
External Power: 7.0 V - 25.2 V
Power Input: 5.5/7.0/10W (standby, average, peak)
Sensor Resolution: 2064 x 1544 (3.2MP per MS band), 4112 x 3008 (12MP per PAN band), 320 × 256 thermal infrared
Spectral Bands: Blue 475(32), Green 560(27), Red 668(14), Red Edge 717(12), NIR 842(57)
RGB Color Output: 12.4 MP (global shutter, aligned with all bands)
Thermal: FLIR LWIR thermal infrared 7.5-13.5um radiometrically calibrated
Multispec GSD (per multispec band): 5.28 cm per pixel at 120 m
Thermal GSD: 33.5 cm per pixel at 120 m
Panchro & Pansharpened GSD: 2.49 cm per pixel at 120 m
Capture Rate: 2 capture per second raw DNG*
Interfaces: 3 configurable GPIO: select from trigger input, PPS input, PPS output, and top of frame signals. Host virtual button. USB 2.0 port for WiFi. Serial. 10/100/1000 Ethernet. CFexpress for storage
Field of View: 50° HFOV x 38° VFOV (multispectral), 46° HFOV x 35° VFOV (panchromatic), 48o x 39o (thermal)
Storage: CFexpress Card
In the box
Altum-PT sensor × 1
DLS 2 with embedded GPS × 1
Calibrated Reflectance Panel (CRP 2) × 1
USB WiFi dongle × 1
Lens cover × 1
Necessary integration cables × 1
Assorted mounting hardware × 1
CFexpress card × 1
CFexpress card reader × 1
Hard Carrying Case × 1
Quick Start Guide × 1
WHY BUY FROM US?
By buying from Ferntech, you'll have the confidence that you are dealing directly with New Zealand's leading drone experts. Our staff are knowledgable drone pilots who offer expert advice, trusted support and superior specialist service. Only through us will you receive a full New Zealand warranty, phone and email support, and access to our certified Repairs Centre with DJI-qualified drone technicians. And we guarantee that we will have the best prices on the market — if not let us know and we will match any price (conditions apply).
Warranty Details
There's currently no reviews for this product, be the first to write one.