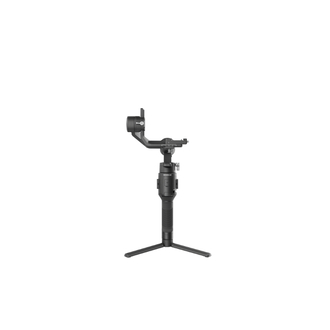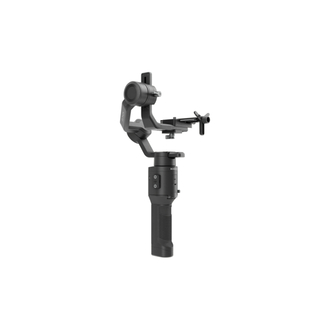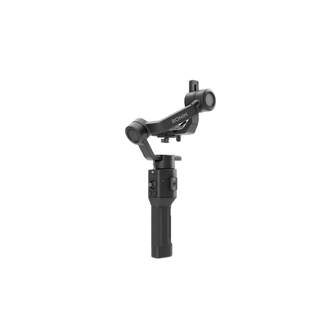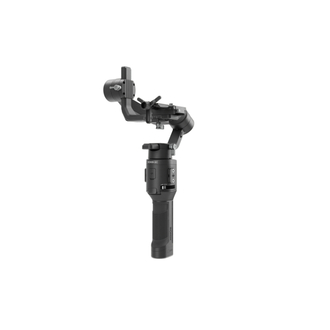 DJI Ronin-SC
Or 4 interest-free payments of $124.75 with
Learn more.
The DJI Ronin-SC was built to go anywhere. Its magnesium and aluminium construction, along with high-strength composite materials providing robust performance at just 1.1 kg makes it the most compact, quick to set up, and easy to carry 3-axis gimbal.
---
Lightweight & Compact
Opening possibilities for filmmakers and content creators in almost any situation, Ronin-SC was built to go anywhere. Magnesium and aluminium construction, along with high-strength composite materials provide robust performance at just 1.1 kg. With a modular, quick setup design, Ronin-SC can pack neatly in limited spaces and be carried with ease.
| | | |
| --- | --- | --- |
| Dimensions | Tested Payload Capacity | Max Battery Life |
| 220 x 200 x 75 mm | 2.0 kg | 11 hours |
Greater Compatibility

Ronin-SC supports a wide range of cameras and lenses while meeting strict performance standards. It has been rigorously tested to support a payload of 2.0 kg while still achieving a smooth, cinematic shot. Intuitive and user-friendly controls for shutter and focus are also available for most camera brands.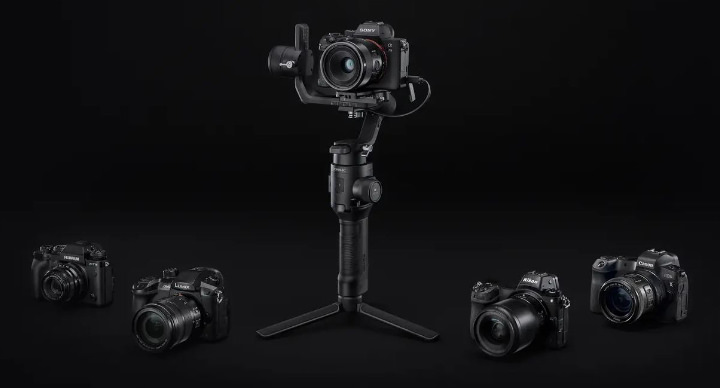 Download Ronin-SC Compatibility List
Camera and Lens Compatibility Chart
Dynamic Stability

Even in action-packed scenes, Ronin-SC gives a perfectly stable shot. Sport mode improves the sensitivity of each axis while continuing to maintain stabilization, making Ronin-SC more effective in fast follows, sudden motions, and even complete changes in direction.
Unobstructed Roll Axis Arm

An innovative framework elevates camera payload above the roll axis, keeping the camera's built-in display free of obstruction. After DJI introduced this concept, it has been embraced throughout the handheld gimbal industry.
Unlimited Pan Axis

The pan axis allows for continuous movement, freeing the camera for more ambitious shots. Options like an infinite 360° roll allow filmmakers to achieve completely unique shots.
Down to Every Detail
The buttons and trigger are easy to reach for every essential control. A flared battery grip makes extended holding easier and slip-resistant, letting you capture moments throughout the day.
Automated Features
Ronin-SC offers a suite of advanced capturing features to unleash your imagination.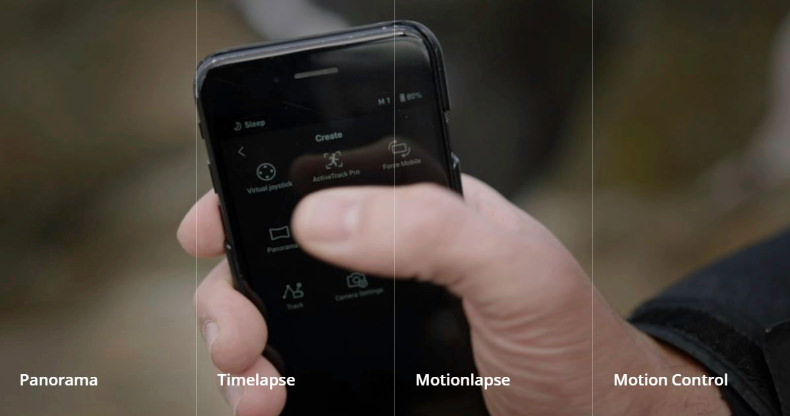 ActiveTrack 3.0
ActiveTrack technology arrives for the first time in the Ronin series. A smartphone mounted above the camera, the Ronin app, and Ronin-SC work together seamlessly to achieve smooth, precise gimbal movement at all times, allowing you to focus more on creating the shot that matches your vision.
Force Mobile
Ronin-SC introduces Force Mobile, an app-based version of the Force Pro camera movement control system. By tilting and rotating your smartphone, users can control the gimbal with ultra-low latency, delivering a fluid, expressive shot with an instinctive feel.
Ronin App
The Ronin app has also been improved for an even better user experience making Ronin-SC professional and easy to use. The layout has been refined to offer quicker access to preset scenarios, and we've also included a camera balancing guide, along with tutorials to help users master their handheld gimbal. The app also minimizes hardware tuning, setting filmmakers free to produce great footage.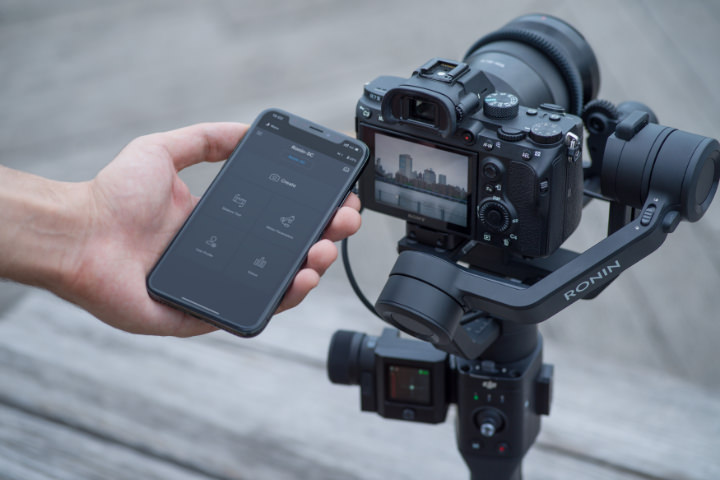 Simple Setup with Safety Features
Axis locks on each arm allow for faster storage and individual axis balancing. The Quick-Release Plate includes a positioning block to memorize the perfect camera position for instant remounting. When powering off, the motors gradually power down the gimbal, ensuring reliability and quick setup wherever your shot takes you.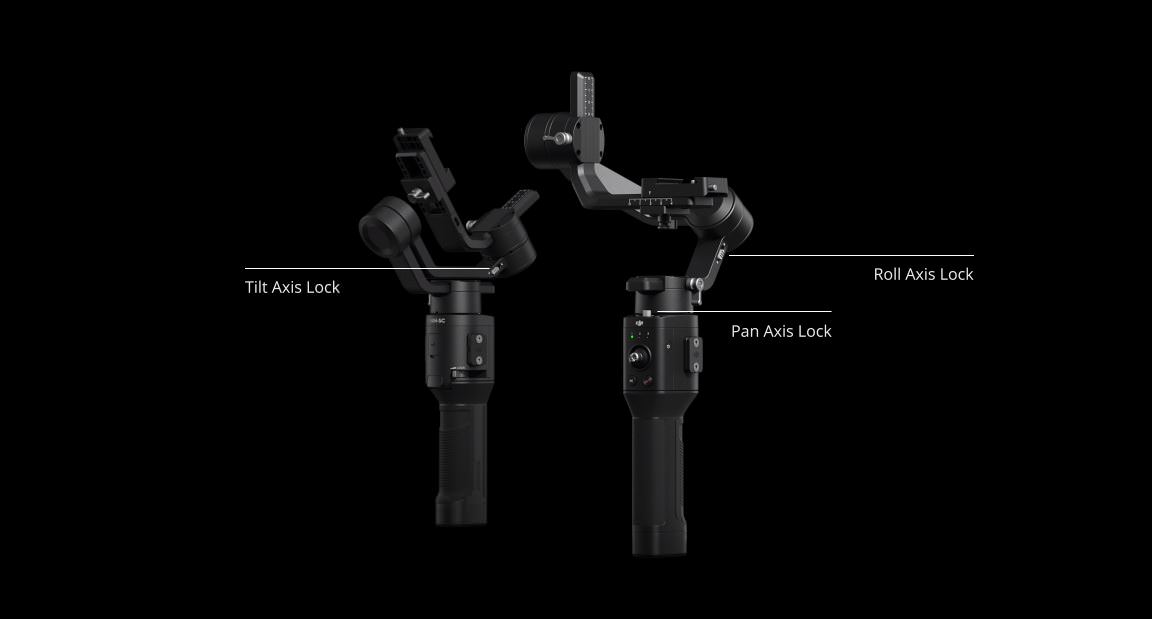 An Ecosystem of Accessories
An ever-growing list of powerful accessories empowers Ronin-SC to push boundaries further and gives filmmakers the tools for endless imagination.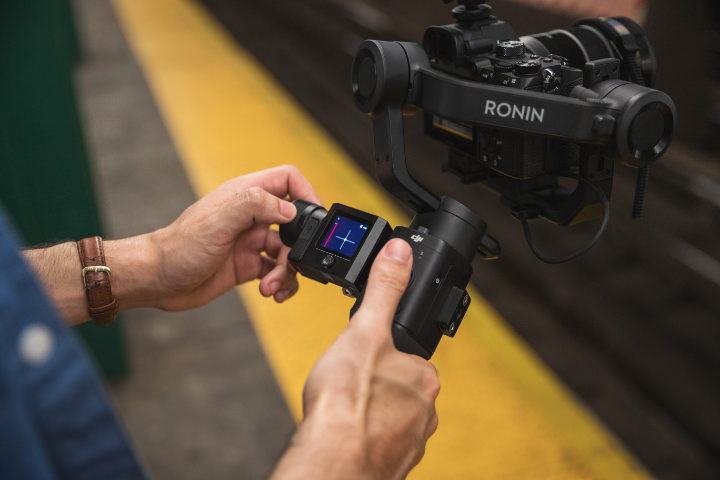 Product Specifications
Peripheral
1/4" Mounting Hole, 3/8" Mounting Hole, Camera Control
Port, Accessory Port, USB-C Port, RSA Port
Model: RB2-2450mAh-7.2V
Type: 18650 LiPo
Capacity: 2450 mAh
Power: 17.64 Wh
Max. Battery Life: 11 h
Charging Time: 2.5 h (5 V/2 A)
Charging Temperature: 5° to 40°C (41° to 104°F)
Bluetooth: 5.0; USB-C
Mobile Assistant Software Requirements:
iOS 9 or above; Android 5.0 or above
Working performance
Angular Vibration Range:
±0.02°
Maximum Controlled Rotation Speed
Pan axis control: 180°/s
Tilt axis control: 180°/s
Roll axis control: 180°/s
Mechanical Endpoint Range
Pan axis control: 360° continuous rotation
Tilt axis control: -95° to +220°
Roll axis control: -202.5° to +112.5°
Controlled Rotation Range
Pan axis control: 360° continuous rotation
Tilt axis control: -90° to 145°
Roll axis control: ±30°
Mechanical & Electrical Characteristics
Working Current

Static current:
0.2 A
Working Frequency:
2.400 GHz to 2.4835 GHz
Transmission Power:
≤ 8 dBm
Operating Temperature:
-20° to 45°C (-4° to 113°F)
Gimbal: Approx. 830 g
BG18 Grip: Approx. 258 g
Tripod: Approx. 160 g
Gimbal Dimensions

Folded:
220×200×75 mm
Unfolded: 370×165×150 mm
In the box
Gimbal x 1
BG18 Grip (built in battery) x 1
Extended Grip/Tripod (plastic) x 1
Quick Release Plate x 1
Camera Riser x 1
Carrying Case x 1
Phone Holder x 1
Lens support x 1
8-pin Port Cover x 2
Allen Wrench x 2
Camera Screw 1/4" - 20 x 3
Screw M4 x 4
Multi-Camera Control Cable (Type-C) x 1
Multi-Camera Control Cable (Multi-USB) x 1
USB-C Cable x 1
Multi-Camera Control Adapter (Type-C To Micro USB) x 1

WHY BUY FROM US?
By buying from Ferntech, you'll have the confidence that you are dealing directly with New Zealand's leading drone experts. Our staff are knowledgable drone pilots who offer expert advice, trusted support and superior specialist service. Only through us will you receive a full New Zealand warranty, phone and email support, and access to our certified Repairs Centre with DJI-qualified drone technicians. And we guarantee that we will have the best prices on the market — if not let us know and we will match any price (conditions apply).
Warranty Details
Standard warranty
Basics

What's the difference between Ronin-SC and Ronin-S?

Ronin-SC is built for mirrorless cameras, while Ronin-S is a professional handheld stabilizer designed for large and heavy cameras such as DSLRs and larger mirrorless cameras. Compared to Ronin-S, Ronin-SC is lighter, easier to carry, and more flexible when moving quickly while filming. In addition, a wide range of auxiliary shooting functions and hardware designs have been optimized for better performance.
How do I upgrade the firmware for Ronin-SC?
You can upgrade the firmware for Ronin-SC through the Ronin app via Bluetooth. Users do not need to connect their Ronin-SC to a computer.
What versions of Ronin-SC are available?
Ronin-SC comes in two versions: Ronin-SC and Ronin-SC Pro Combo.
Is Ronin-SC built with a Wi-Fi video transmission system?
No.
How are the axis locks on Ronin-SC axes used?
You can use the axis locks when transporting Ronin-SC while it is folded or when trying to balance the gimbal.
What is the purpose of the slider on the quick-release plate?
The slider is used to help establish the perfect balancing position for your camera. It also helps secure the balancing position of the tilt axis.
What can I do to prevent Ronin-SC from becoming unbalanced and the camera potentially falling off after filming for an extended period?
Enable the Balancing Test feature to test whether your camera is properly balanced in the Ronin app to ensure your camera is always balanced. The Ronin-SC has a safety lock in place to prevent the camera mounting plate from sliding off.
Performance
What is the optimal payload that should be mounted to Ronin-SC?
As tested, Ronin-SC performs the best when mounted with a payload of 2.0 kg or less.
What is the battery life of Ronin-SC?
Ronin-SC can be used up to 11 hours when the battery is fully charged and the gimbal is well balanced.
What is Sport Mode, and how can I enable it?
In Sport mode, the gimbal follows your movements more quickly and efficiently, which is perfect for shooting fast-moving objects. To enable Sport mode, press and hold the M button and wait until the LED indicator turns yellow. You can lock the gimbal in Sport mode by pressing and holding the M button, then double tapping the trigger.
Parameter Settings
What is Auto Calibration?
When Auto Calibration is enabled, the gimbal will automatically set an appropriate motor stiffness value based on the weight of the mounted payload. After finishing mounting a camera and balancing the gimbal, it is recommended that you enable Auto Calibration before filming.
What is Deadband?
Deadband helps regulate gimbal movement. Having a large value means that the movement range neglected by the gimbal will also be large.
How do I manually adjust the gimbal direction?
You can manually adjust the gimbal direction by selecting User Profile in the Ronin app and enabling Push Pan.
How do I rotate the gimbal 360° while filming?
By selecting User Profile in the Ronin app and enabling 3D Roll 360.
How do I quickly switch between different shooting parameters?
You can preset three groups of parameters for Ronin-SC and adjust them in the User Profile section of the Ronin app. By pressing the M button, you can switch between these three groups of parameters while filming.
What is System Calibration? In what situation do I need to perform a System Calibration?
Ronin-SC stabilization may be affected when filming in extreme environments. By performing a System Calibration, you can reset parameters and reduce operational errors to ensure Ronin-SC is performing at its best. Place the gimbal on a level surface before beginning System Calibration.
How do I access Pan & Till Follow, Pan Follow, FPV, and 3D Roll 360?
Launch the Ronin app, tap User Profile, and you can set gimbal parameters and choose different follow modes. In Full Follow mode, the pan and tilt axes will follow your movements, while in Pan Follow mode, only the pan axis will follow your movements. In FPV mode, the pan, tilt, and roll axes will follow your movements. In 3D Roll 360 mode, the gimbal will automatically enter Flashlight mode, allowing you to rotate it 360°.
Shooting Functions
What is ActiveTrack 3.0?
ActiveTrack 3.0 is an automatic tracking function that incorporates DJI's optimized deep learning algorithms. After launching the Ronin app and selecting ActiveTrack 3.0, the gimbal will automatically recognize human subjects and track objects. You can also manually choose an object for the gimbal to follow, which is perfect for filming in more difficult to control environments.
What does ActiveTrack 3.0 feature?
ActiveTrack 3.0 stabilizes your composition during tracking while also allowing you to re-frame with the gimbal joystick. In addition, when focusing on the head and shoulders of a human subject, ActiveTrack 3.0 achieves a higher success rate of tracking.
How do I use ActiveTrack 3.0?
Attach your phone to the top of the camera's hot shoe. Select Create in the Ronin app
and then enable ActiveTrack 3.0. Afterward, choose a target and tap the Trigger to start tracking.
What is Force Mobile?
By enabling Force Mobile, you can use your mobile phone to control gimbal movements with the built in accelerometers on your mobile phone.. Currently, this function is only available on iOS mobile devices.
What is the maximum control distance that Force Mobile supports?
Approximately 20 meters.
Accessories
What accessories does Ronin-SC have?
You can learn about all Ronin-SC accessories at the DJI Online Store.
Is the Ronin-S Focus Motor compatible with Ronin-SC?
No. Only the Ronin-SC Focus Motor is compatible with Ronin-SC.
How do I use the Phone Holder?
By attaching your phone to the top of the camera's hot shoe or at the side of the gimbal with the phone holder, you can use your phone as a live view monitor via the camera's Wi-Fi video transmission. You can also use the Force Mobile feature by attaching your phone to the tripod.
Is the Ronin-S Camera Quick-Release Plate compatible with Ronin-SC?
No. Additionally, the Ronin-SC Camera Quick-Release Plate is not compatible with Ronin-S.
Ronin-SC — 4 August 2019
unknown
Great compact light weight gimbal, great new features and value for money.