Emlid Reach RS2+ GNSS Receiver
Multi-band RTK GNSS receiver with centimeter precision. For surveying, mapping and navigation. Comes with a mobile app
---
Features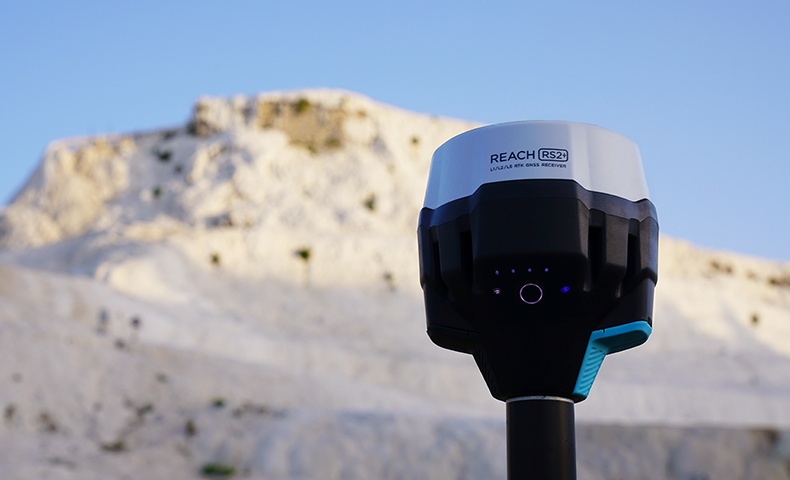 Multi-band, centimetre-accurate GNSS receiver
The Emlid Reach RS2+ is a multi-band GNSS receiver which allows you to collect data with centimetre accuracy.
It has an LTE Modem, a baseline of up to 100km, an update rate of 10Hz and can be used in conjunction with the ReachView 3 app.
The RS2+ is an evolution of the popular Reach RS2 receiver. Key upgrades include:
LTE Modem: Reach RS2+ comes with a power-efficient global 4G LTE Modem. The Reach RS2 has a 3.5G HSPA modem.
Dual Diversity Antennas: Reach RS2 had one cellular antenna, but RS2+ features dual diversity LTE antennas for better cell reception.
20+ Design Improvements: Based on field experience of Reach RS2, the RS2+ features more than 20 design improvements to ease your work in the field.
The Reach RS2+, which has 16GB of internal memory, works in RTK and PPK modes. Deploy the Reach RS2+ for surveying, mapping and navigation. It can be used for land surveying or drone mapping workflows.
The Reach RS2+ is a powerful yet cost-effective solution, compared to other receivers on the market.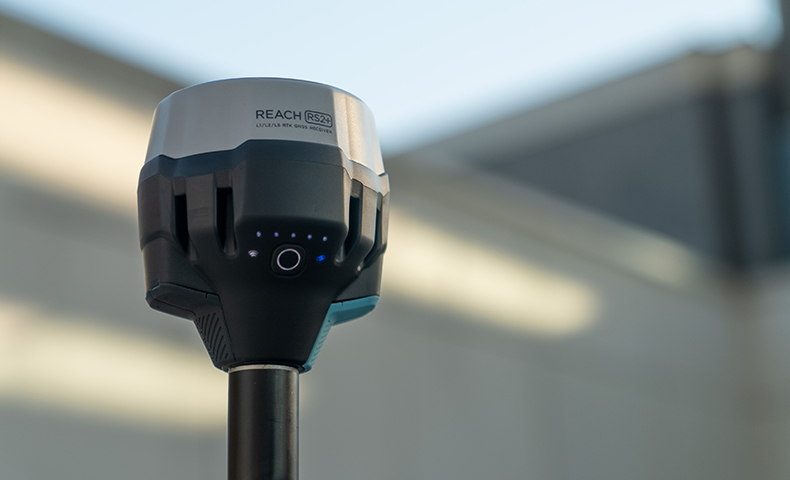 ACCURATE DATA COLLECTION
Key features for high-precision surveying
Achieve quality survey results with the Emlid Reach RS2+. Key features include:
Gets Fix In Seconds: Reach RS2+ gets fixed solution in just seconds and maintains robust performance even in challenging conditions. Centimetre accuracy can be achieved on distances over 60 km in RTK, and 100 km in PPK mode.
Built-in LTE Modem: Reach RS2+ features a power-efficient 4G LTE modem with global coverage. Now corrections can be accessed or broadcasted over NTRIP independently, without relying on an internet connection on your phone.
PPP Support: RINEX raw data logs are compatible with PPP services so now you can get centimetre-precise results in any place on Earth. Process RINEX files in an online service and get position with absolute accuracy. RINEX is logged at an update rate of up to 10Hz. Support for satellite navigation systems such as GPS, GLONASS, BeiDou, Galileo, and QZSS.
Long Life: Up to 22 hours of autonomous work when logging data and up to 16 hours as a LTE rover, even in cold weather. Reach RS2+ can charge from a USB wall charger or on-the-go via a power bank over USB-C.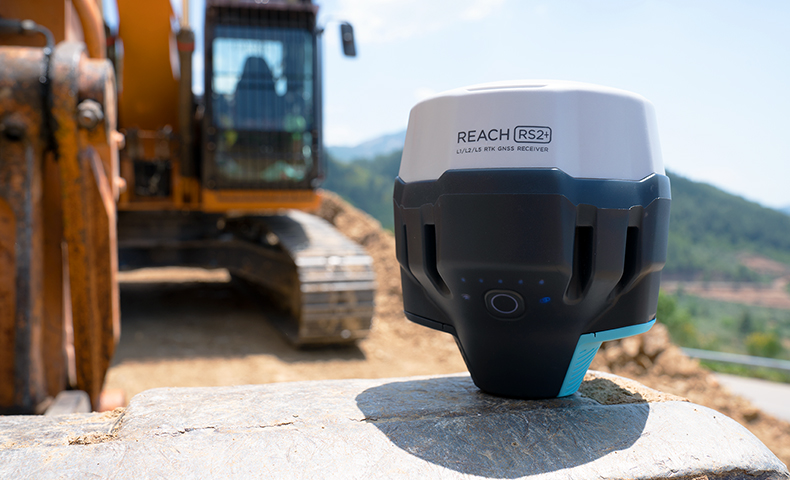 TOUGH AND ROBUST DESIGN
Collect data - no matter the weather
Engineered to be tough, compact and lightweight, the Emlid Reach RS2+ is designed to work in the most challenging environments.
Compact and Lightweight: Measuring 126 x 142 mm, the Reach RS2+ has a compact design, enabling it to be carried in a small bag. At 950g, it weighs less than a typical survey pole.
Weatherproof: Reach RS2+ has an IP67 rating. It is waterproof up to 1m depth and is also dustproof. All connectors are completely sealed and protected from water and dust with silicone plugs.
Built for Extreme Conditions: The Reach RS2+ has a working temperature of -20°С to 65°С, making it a reliable solution in hot and cold conditions.
Polycarbonate Body: Reach RS2+ is impact-resistant. Its body is made of polycarbonate, an extremely durable material that is used in bulletproof glass.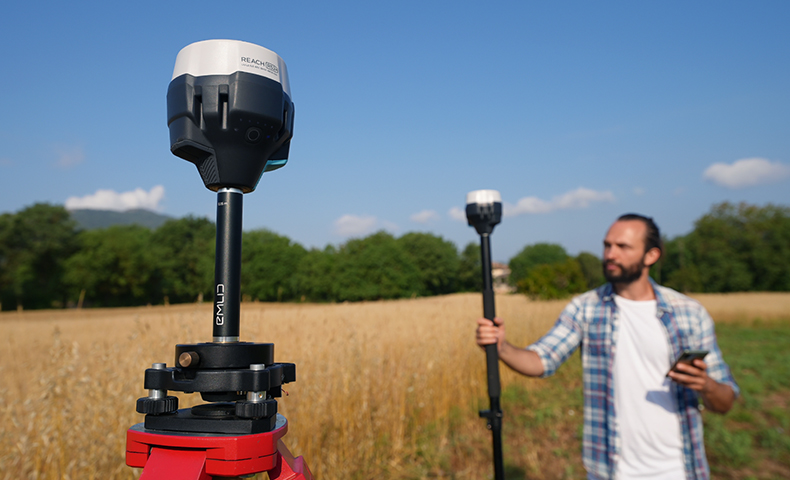 REACH RS2+: CONNECTIVITY
Real-time position, NTRIP, & Base Stations
The Emlid Reach RS2+ offers seamless connectivity:
Real-time Position: Reach provides data in standard NMEA that is used by most GIS apps. Connect your device to Reach over Bluetooth or with a cable, and turn on 'Position Output' in the ReachView 3 app.
Reach can turn on and off automatically, in sync with an external battery connected over RS-232.
Compatible Apps: FieldGenius for Android, ESRI Collector, QField.
Position Streaming (interfaces): RS-232; TCP; Bluetooth.
NTRIP: Reach RS2+ needs a base station as a source of corrections. That's a requirement for centimetre accuracy in RTK and PPK. The base can be another Reach RS2+ receiver or an NTRIP service. VRS is also supported.
Reach RS2+ works seamlessly with other Reach receivers over any link.
Input and Output Corrections (Interfaces): TCP; LoRa; Bluetooth; RS-232; NTRIP.
Formats: RTCM3.
Max distance from base: Over 60 km in RTK; 100 km in PPK; Any place on Earth with PPP.
Surveying with ReachView 3
ReachView 3 is an intuitive software for data collection. It is available for Android and iOS and is a powerful data collection software for Emlid Reach receivers.
ReachView 3 provides everything in one app: Collect and stake out points using your local coordinate system and control your Reach RS2+ unit. Set up a base station, log RINEX data, configure NMEA output and manage survey projects.
The ReachView 3 supports thousands of different coordinate systems worldwide. The selection is based on the EPSG and IGN registries. The ReachView 3 has a custom tool for manual coordinate system creation for areas without a predefined coordinate system.
Product Specifications
Mechanical
Dimensions: 126 x 126 x 142mm
Weight: 950g
Temperature: -20 °C to +65°C
Ingress protection: IP67 water and dustproof
GNSS
Signal tracked: GPS/QZSS L1C/A, L2C, GLONASS L1OF, L2OF, BeiDou B1I, B2I, Galileo E1-B/C, E5b
Number of channels: 184
Update rates: Up to 10 Hz
Connectivity
UHF LoRa radio: Frequency Range: 868/915MHz, Power: 0.1W, Distance: Up to 8km
LTE modem:
Regions: Global
Bands: FDD-LTE: 1, 2, 3, 4, 5, 7, 8, 12, 13, 18, 19,20, 26, 28, 66; TD-LTE: 38, 40, 41; UMTS (WCDMA/FDD): 1, 3, 2, 4, 5, 6, 8, 19; Quad-Band: 850/1900, 900/1800 MHz
SIM Card: Nano-SIM
Wi-Fi: 802.11 b/g/n
Bluetooth: 4.0/2.1 EDR
Ports: RS-232, USB-C
Electrical
Autonomy: 16hrs as LTE RTK rover
Battery: LiFePO4 6400 mAh, 6.4V
External power input: 6–40V
Charging: USB-C 5V 2A
Data
Position output: NMEA, LLH/XYZ
Corrections: NTRIP, RTCM3
Data logging: RINEX at update rate up to 10Hz
Internal storage: 16GB
Positioning
Precision:
Static: H: 4mm+0.5ppm
V: 8mm+1ppm
PPK: H:5mm+0.5ppm
V:10mm+1ppm
RTK: H: 7mm+1ppm
V:14mm+1ppm
Convergence time: ~5s typically
IMU: 9DOF
In the box
Emlid Reach RS2+ Kit × 1
WHY BUY FROM US?
By buying from Ferntech, you'll have the confidence that you are dealing directly with New Zealand's leading drone experts. Our staff are knowledgable drone pilots who offer expert advice, trusted support and superior specialist service. Only through us will you receive a full New Zealand warranty, phone and email support, and access to our certified Repairs Centre with DJI-qualified drone technicians. And we guarantee that we will have the best prices on the market — if not let us know and we will match any price (conditions apply).
Warranty Details
Standard warranty
There's currently no reviews for this product, be the first to write one.